Freeport upends West Mifflin, 42-6, in WPIAL quarterfinal
Moving On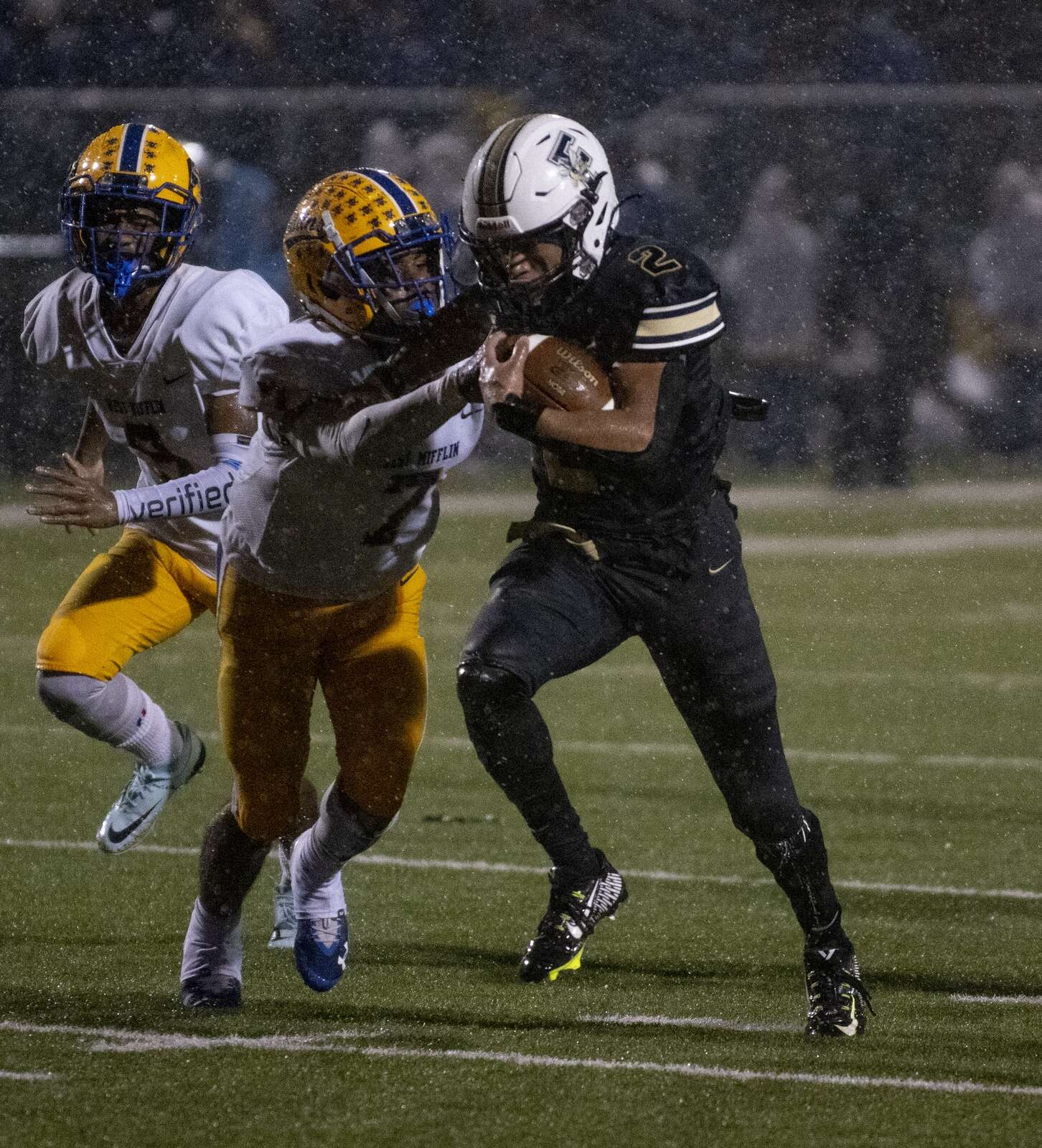 BUFFALO TWP — The rain ceased to stop. After settling in, Freeport's rearranged offense followed suit.
The Yellowjackets trailed after a quarter against visiting West Mifflin, then posted six unanswered touchdowns in a 42-6 WPIAL Class 3A quarterfinal triumph.
An element of offensive surprise was a big reason why. Freeport (10-1) began implementing Wing T concepts into its attack prior to the bye week, adding a new dimension that the Titans wouldn't have been able to prepare for.
"Whenever we played against Kittaning and Ford City, I absolutely hated playing them because it's so hard to defend," Gaillot said. "You might stop it like they did at the beginning, but once you get hit off one, they're always second-guessing."
Play after play, senior Zach Clark and junior Colton Otterman motioned across quarterback Gavin Croney's face. They'd take jet sweeps, or Ben Lane would bring carries into the teeth of the West Mifflin (6-6) defense. On top of that, Croney could roll out after the misdirection to find a receiver.
Freeport was set up with a pair of golden opportunities, starting both of its first two possessions already in the red zone. Fumbles killed both of those chances and, later in the initial period, the Titans' DelRon White broke the seal on the scoreboard put his squad up with a 25-yard rumble.
"You can't really let plays like that bring you down, because that's when you really start feeling the effects of those fumbles," Lane said. "It was early, so we kind of just flushed it and moved on."
"I honestly thought this would be a 3-0 game," Gaillot said. "When we wavered and missed that opportunity, I was just thinking, 'Please don't let it bite us.' Then, they scored. We were kind of a little bit worried, but looked at the kids and after that next series, they just turned it on."
After the guests scored, senior Ben Lane replied with his first of four rushing scores on the night, emphatically bowling over a defender in the process. West Mifflin went three-and-out, then Lane punched it in for the second time in less than three minutes. It would take the Titans another four series before it picked up a first down.
It took the 'Jackets four plays to extend their lead to 15 points out of the halftime. Nearly eight minutes after that, Lane hit paydirt again.
"When we came out, I said, 'If you put one on, they're going to start doubting. If you get two, we're rolling,'" Gaillot said.
"(With) the turnovers there and there was a spurt where they scored 21 points in less than six minutes," West Mifflin coach Rod Steele said. "In big games, you've got to eliminate the mistakes. You can't turn the ball over in critical situations."
Gaillot's Saturday plans are to begin sizing up No. 1 seed Belle Vernon (8-2), a 55-7 winner over East Allegheny Friday night.
"Anything can happen," Gaillot said. "I still don't think we've peaked yet. We're playing some good football right now."
Lane, who finished the contest with 170 yards on 15 totes, admitted the players have had their eye on the Leopards for much longer.
"Over the regular season, everyone in the locker room, we've been talking about how we hope to see Belle Vernon in the playoffs," said Lane, who galloped 61 yards for a score in the fourth quarter, as well. "They're definitely going to be pretty good competition."
On the other side of the bracket, sixth-seeded Shady Side Academy upset third-seeded Elizabeth Forward, 31-17, on the road. As part of what is now a seven-game win streak, Freeport escaped with a 12-7 victory in a conference matchup with the Bulldogs on Sept. 30.
"Pretty good for the Allegheny Six," Gaillot said. "Nobody really takes any notice to us. We're not as bad a conference as what everybody thinks."
West Mifflin 6 0 0 0 — 6
Freeport 0 14 14 14 — 42
First Quarter
WM — DelRon White 25 run (Nicholas Kosuda kick missed), 4:33
Second Quarter
F — Ben Lane 9 run (Isaac Wetzel kick), 9:30
F — Ben Lane 32 run (Wetzel kick), 6:48
Third Quarter
F — Zach Clark 6 run (Wetzel kick), 10:49
F — Ben Lane 14 run (Wetzel kick), 2:52
Fourth Quarter
F — Ben Lane 39 run (Wetzel kick), 9:49
F — Zach Clark 23 run (Wetzel kick), 9:31
Individual Statistics
Rushing: West Mifflin, DelRon White 15-112, Rich Fix 6-32, Shai Newby 11-19. Freeport, Ben Lane 15-170, Zach Clark 7-60, Colton Otterman 7-31, Gavin Croney 1-17, Madden Wisniewski 1-4, Dawson Gaillot 1-0, Amos Glenn 1-(-1), TEAM 1-(-2).
Passing: West Mifflin, Shai Newby 3-10-23-1. Freeport, Gavin Croney 6-10-97-0.
Receiving: West Mifflin, Ty'Jeir Williams 1-19, Rich Fix 2-4. Freeport, Brady Stivenson 2-36, Parker Lucas 1-36, Ben Lane 2-16, Zach Clark 1-9.
STORIES YOU MAY ALSO LIKE