Harmony Museum opens Art of Harmony show
HARMONY — For a borough with less than a thousand residents, Harmony is uncommonly bursting with artistic talent.
On Friday night, the Harmony Museum showcased that talent with the opening of The Art of Harmony, a two-week-long exhibit of the finest art the community has to offer.
The museum brought out more than 60 pieces of art, ranging from paintings and pencil drawings to pottery and photography. While the displays may have varied in form, one aspect they all had in common was their origin. As the name of the show suggests, all pieces on display had some connection with Harmony.
"You either have to live in Harmony and be an artist, or you can be an outside artist, as long as the art was of Harmony," said Gwen Lutz, vice president of the Harmony Museum. "Hence the name, The Art of Harmony."
Not all of the art on display was visual. Guests at the event had the opportunity to purchase a copy of Grammy Award-winning cellist Eugene Friesen's album "In Harmony: Harmonist Music For Our Time" on compact disc.
The album consists of music originally composed by some of the Harmonists — the original founders of Harmony — which Friesen adapted for cello. Friesen, who lives in Vermont, will return to Harmony to play a concert at the museum on Saturday, Oct. 14.
Friesen's wasn't the only music at the show's opening night, as McKenzie Holt provided live violin music. Holt, who has been playing for nearly 30 years now, is also a violin instructor at the museum and is looking to start a music store in Harmony in the near future.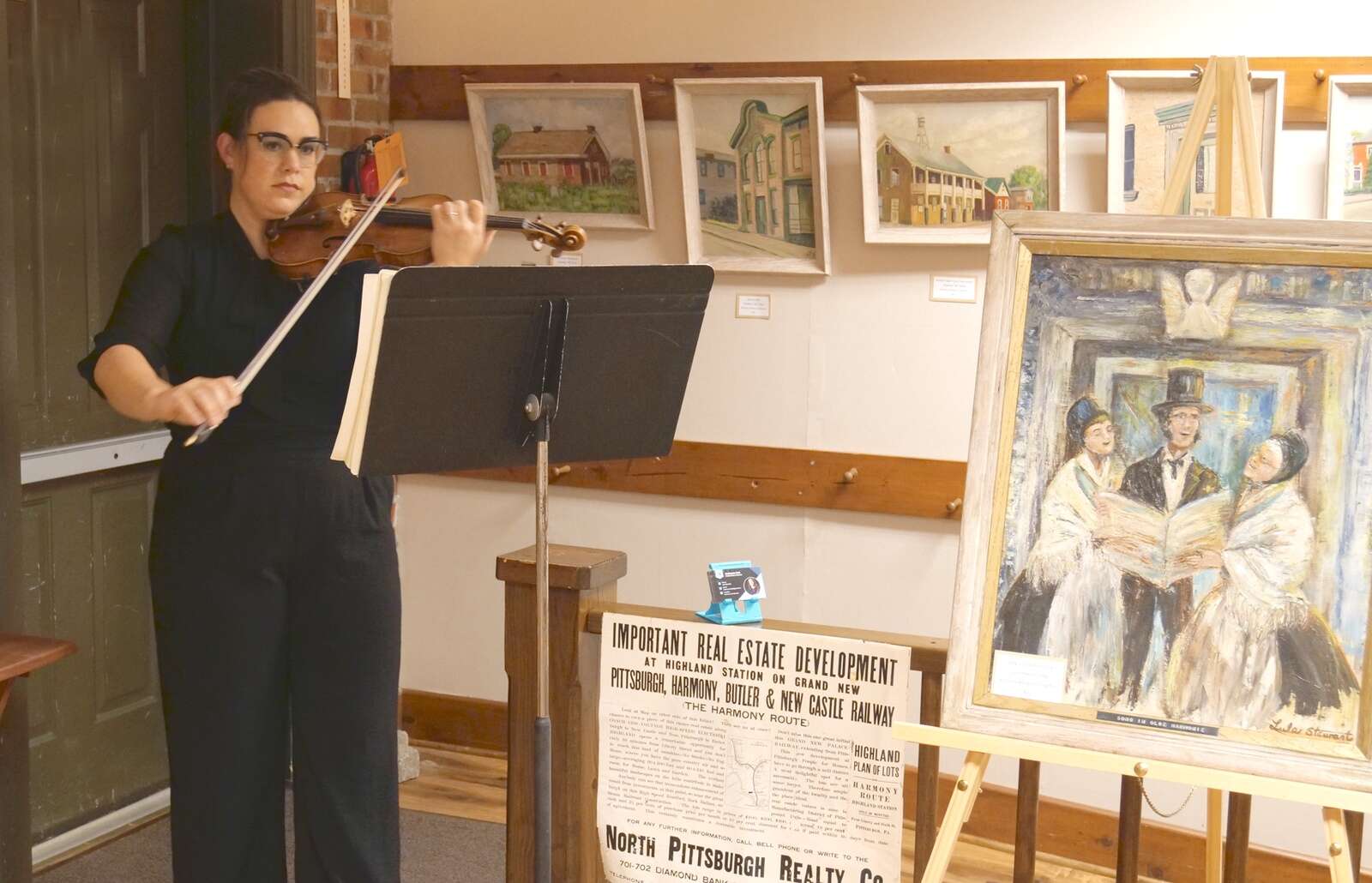 "It will rent instruments to local stores and to local students, and it will also sell music and all different types of instrument accessories that we would need for all instruments," Holt said.
For a dollar, guests could pay for a raffle ticket and a chance to win a massive 91-by-103-inch quilt which was hand-quilted by the Historic Harmony Quilters. The drawing will take place on May 21, 2024.
While most of the art was available for sale at prices in the triple digits, some pieces belong to the Harmony Museum, and were brought out of the museum's archives for this two-week event. Some of these pieces have never been displayed publicly at all.
"Our collection … most of it is up in the archives, and no one ever gets to see it," Lutz said. "So this is a chance for everyone to get to see those things that are stored away most of the time."
The exhibit officially opens to the public on Saturday, Sept. 16, and lasts through Saturday, Sept. 30 at Stewart Hall at the Harmony Museum. Opening hours are Saturday from 10 a.m. to 4 p.m. and Tuesday through Friday from 11 a.m. to 4 p.m.
More in Community