Retiring teacher leaves her heart lessons at Dassa McKinney
CLAY TWP — Dassa McKinney Elementary School and the American Heart Association honored retiring physical education teacher Sue Scialabba on Wednesday, May 31, for her 28 years of promoting student heart health.
Kim McBryar, a STREAM teacher and longtime colleague, introduced Scialabba to a crowd of cheering students.
"This woman is amazing," McBryar told the crowd. "Ms. Scialabba, you have taught generations of students here at the Moniteau School District — you've left an indelible mark on this educational community with your humility, your strength, your perseverance, kindness, positivity and your pure love of teaching."
Scialabba said she has been with the school district for 32 years, starting as a substitute Moniteau High School teacher in 1991.
"Then I came to the elementary school, and I've been here ever since," Scialabba said. "And I've coached volleyball, basketball, track, soccer, cross-country and golf at Moniteau."
Her path to teaching, she said, began in junior high school after watching fellow students being belittled by her own physical education teacher.
"It's a funny story; usually the motivated teacher is what pushes you into education," she said through tears. "But whenever she was kind of mean to the others kids who weren't as good as we were in sports and stuff, I thought, 'That's what I want to do, so I never have to make a kid feel like that.'"
In addition to her dedication to physical education, Scialabba has been involved with the American Heart Association for 28 years.
"I've done the Heart Association's Jump Rope for Heart and then also the Hoops for Hearts since 1992, I believe we started," Scialabba said, "and it's our big fundraiser for the Heart Association that we do every year."
Wednesday, Scialabba said, was the culmination of that fundraiser.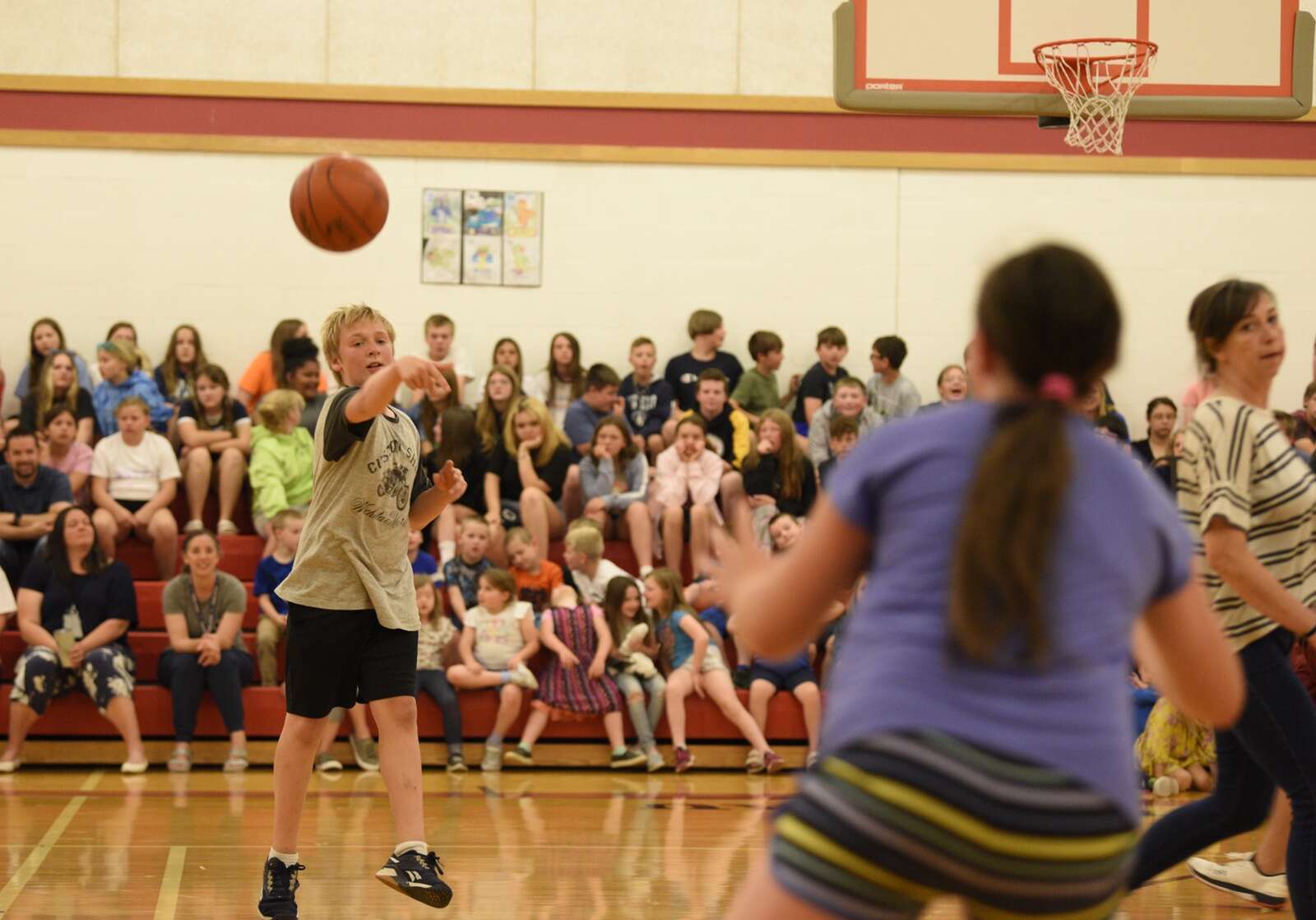 'March Madness'
The event, in addition to honoring Scialabba, recognized the students' fundraising efforts as part of the Kids Heart Challenge — a monthlong fundraiser for the American Heart Association organized by Scialabba.
Emma Eisert-Wlodarczyk, youth education coordinator for the American Heart Association, said this year was record-breaking for the school.
"They had their best year ever in fundraising for the American Heart Association," she said. "They raised over $11,000 for our mission."
The fundraising was done primarily online, according to Eisert-Wlodarczyk, but some students went the extra mile.
"I know this year a few students actually went above and beyond and coordinated a bingo game for friends and family outside of the school community," she said. "They raised almost — I think — either $800 or $1,000 in funds for the American Heart Association from their bingo event that they hosted."
The students also completed the school's "Principal's Challenge," according to Eisert-Wlodarczyk, by registering at least 50% of the student body to participate in fundraising.
"That was basically the only requirement there," she said. "And then the school in turn received $500 from the American Heart Association to purchase PE and recess equipment through a partnership we have with US Games."
The event also served as the championship game for Scialabba's American Heart Association "March Madness" basketball tournament for participating students in grades three through six.
"All through the month of March, we play tournaments," she said. "We had 32 teams this year in it, and now we're down to the final two teams that are playing in the championships."
During the assembly, the final two teams faced off against each other for the opportunity to play against a team of the school's teachers.
"After, we have little shoot-offs and games and stuff for the little kids that we've picked some positive role models to come out and do and give prizes," Scialabba said. "Then our sixth-graders get a big gift certificate for being positive role models all through their elementary years, and we give a teacher of excellence award at the end of the assembly."
Lifelong memories
As a final boon to an already memorable day, Scialabba said the event would close with "slime time."
"Any student who raised $150 or more gets to slime an adult, so they've gotten a chance to pick the person that they want to slime," she said. "So we're going to go outside after lunch and do that."
After a day of recognition, basketball madness and slimy times, Eisert-Wlodarczyk said she hoped that last day of school stayed with the students for a long time.
"It's to celebrate heart health and everything that they learned and to just continue celebrating that we have one heart and let's take care of it," she said, "and in a fun manner that the students will definitely make a memory for their lifetime."
Eisert-Wlodarczyk made it clear, though, that the credit for these lifelong memories goes to Scialabba.
"So today we're recognizing Ms. Scialabba for 28 years of being an incredible volunteer for the American Heart Association," Eisert-Wlodarczyk said. "Helping kids with special hearts, helping every single student who has passed through the doors here for the last 28 years learn how to be heart healthy through movement and making healthy choices — all because of Ms. Scialabba's efforts."
Scialabba, who is originally from Huntingdon County, said she almost returned home after graduating from Slippery Rock University in 1990 — until she fell in love with the people and the area.
Over 30 years later, as she prepares to enter retirement, she said she hopes the area remains the place she fell in love with.
"I think Moniteau is a really nice little community, and the kids here are really nice — they're very, very genuine — and the people here are just awesome," Scialabba said. "I just hope that they continue to strive for their goals and do the best they can and be kind to one another."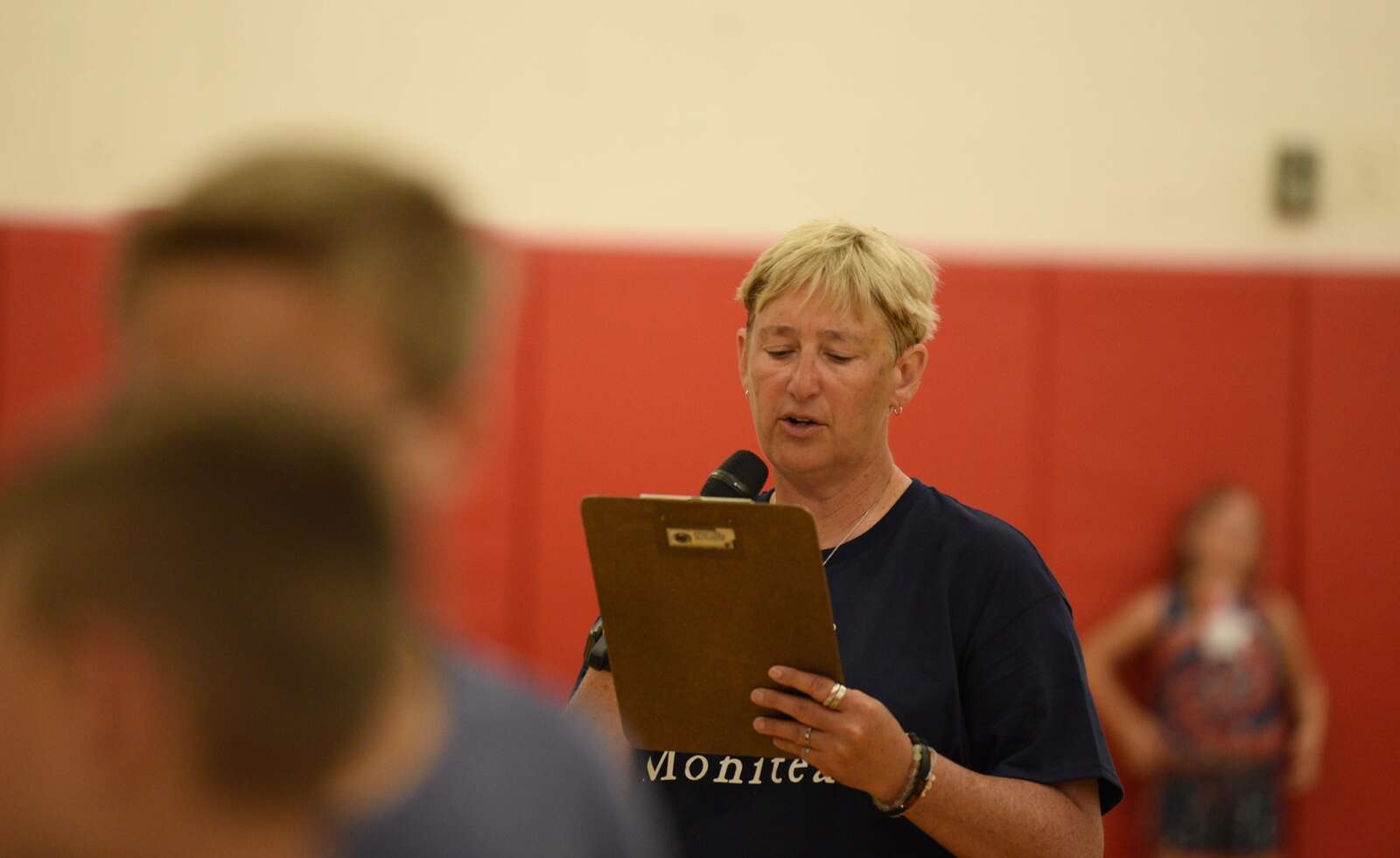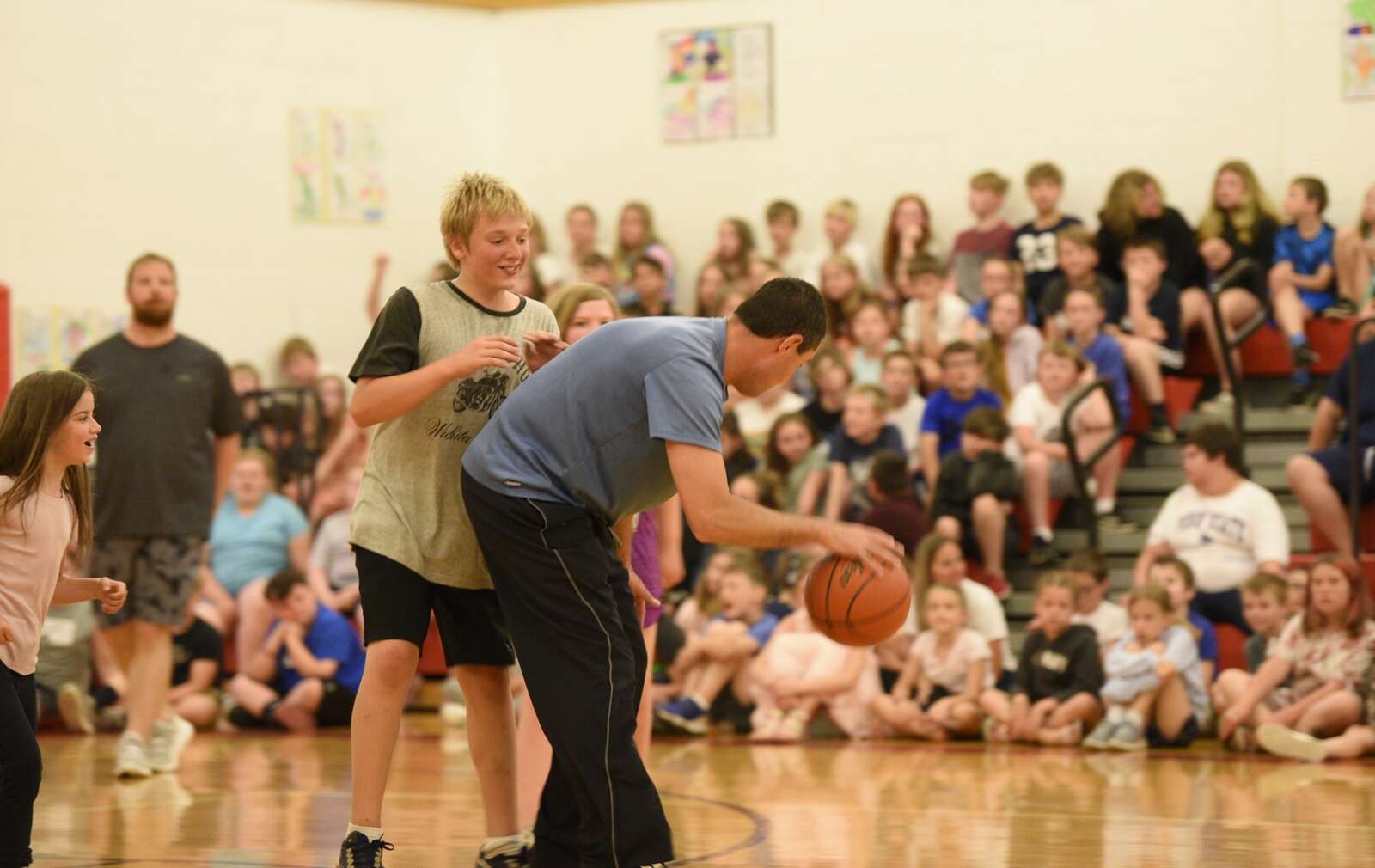 More in News