Prospect Memorial Day Parade a hit with townsfolk
PROSPECT — Traffic on Prospect's Main Street came to a grinding halt on Saturday afternoon, May 27, as residents lined the street for the annual Prospect Memorial Day Parade and Community Day.
The population of Prospect seemed to triple on this day, with some attending their very first Memorial Day parade in town, and others coming as repeat visitors.
"This is my second (parade). I enjoyed it very much the first time, so we brought even more friends with us to see it this time," Diane Goehring said.
Vehicles and floats began gathering at the intersection of Main Street and Kennedy Road at 9 a.m. The parade kicked off shortly after 11 a.m. with the ceremonial laying of the wreath, followed by the playing of taps and a 21-gun salute by the Bantam Marine Corps League Detachment 743.
Leading the way down Main Street were vehicles from the state police and Prospect police, followed by the Rotary Club of Portersville-Prospect.
When the remaining vehicles finally took off, many of the drivers and passengers threw candy into the crowd to children from the surrounding Prospect neighborhood.
Few vehicles threw out as much candy as the flatbed truck carrying children and teachers from Moraine Elementary School, which was followed closely by Cub Scout Pack 33 and Boy Scouts Troop 33.
There was no shortage of places to grab sweets and other concessions at the parade, as vendors lined Main Street selling everything from cotton candy to caramel apples to balloon animals.
The parade wasn't the only attraction Saturday afternoon, as bouncy houses, face painting and costumed Disney characters lined up along the street.
"This is the longest parade that we actually know to be around, so we actually saw quite a bit of the parade," said Mandy Williams, of Dragonfly Balloons, who gave out free balloon animals at the parade.
Jim Butler, mayor of Prospect, rode in a truck carrying the logo of the Prospect/Portersville Rotary Club.
Multiple fire departments showed off their equipment at the parade, including the volunteer fire departments of Prospect Borough/Franklin Township, Portersville, Unionville, Slippery Rock, West Sunbury, Lick Hill, Butler Township and Connoquenessing.
Among both children and adults, one of the most popular draws was the Shriners Camel Wheels patrol. Representing the Syria Shriners from Pittsburgh, the Camel Wheelers performed stunts in their three-wheeled motorized tricycles.
But with a giant American flag hanging over the parade vehicles as they traveled down Main Street, the true meaning of the parade was hard to miss.
"It's a wonderful celebration of our patronage and to honor all our soldiers who are fighting and have fought in the past," said Lucy Nacey, who attended the parade for the first time.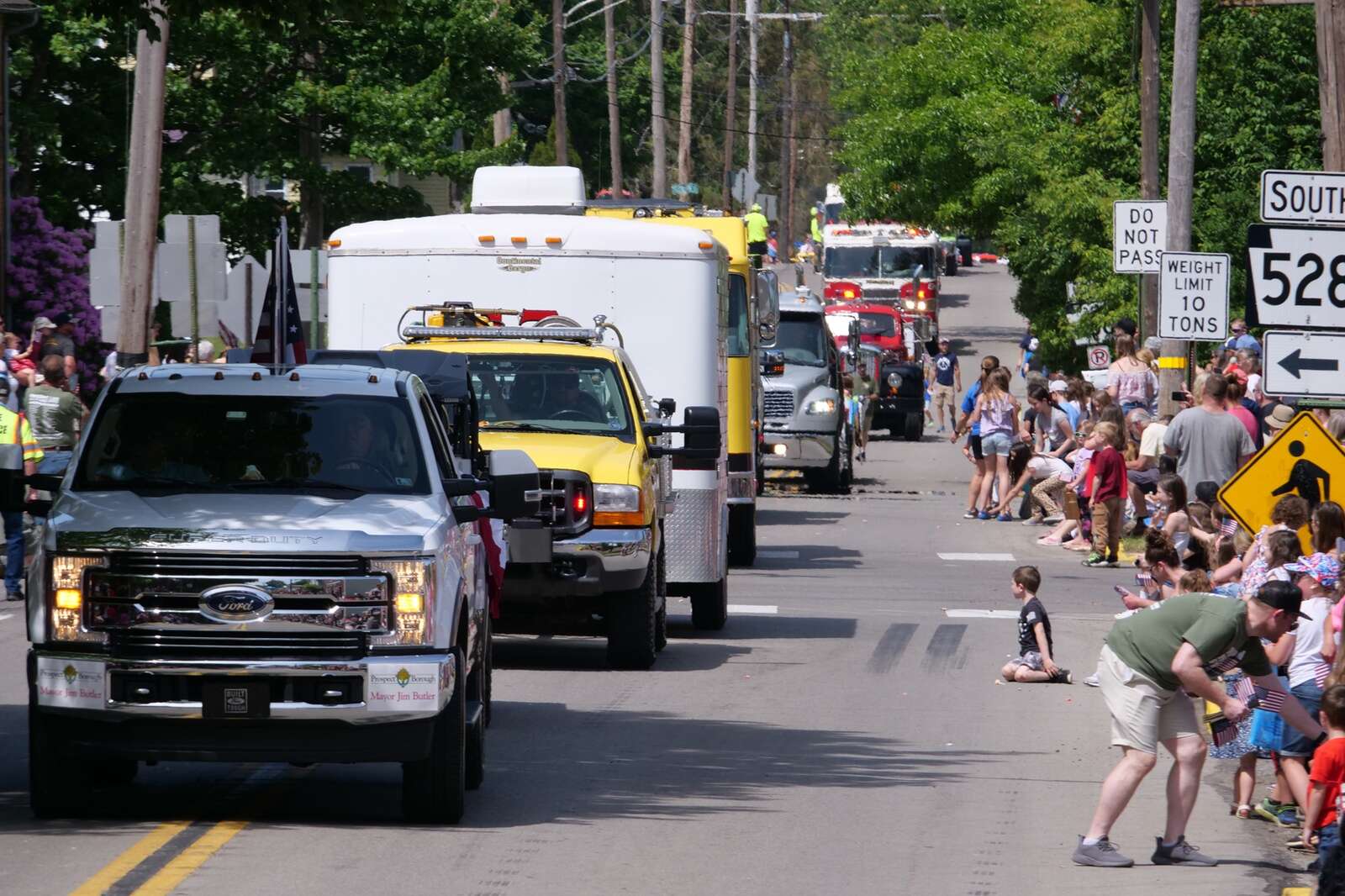 More in Arts & Entertainment