Seneca Valley pulls it together in 5-3 non-section win
Self-Affirmations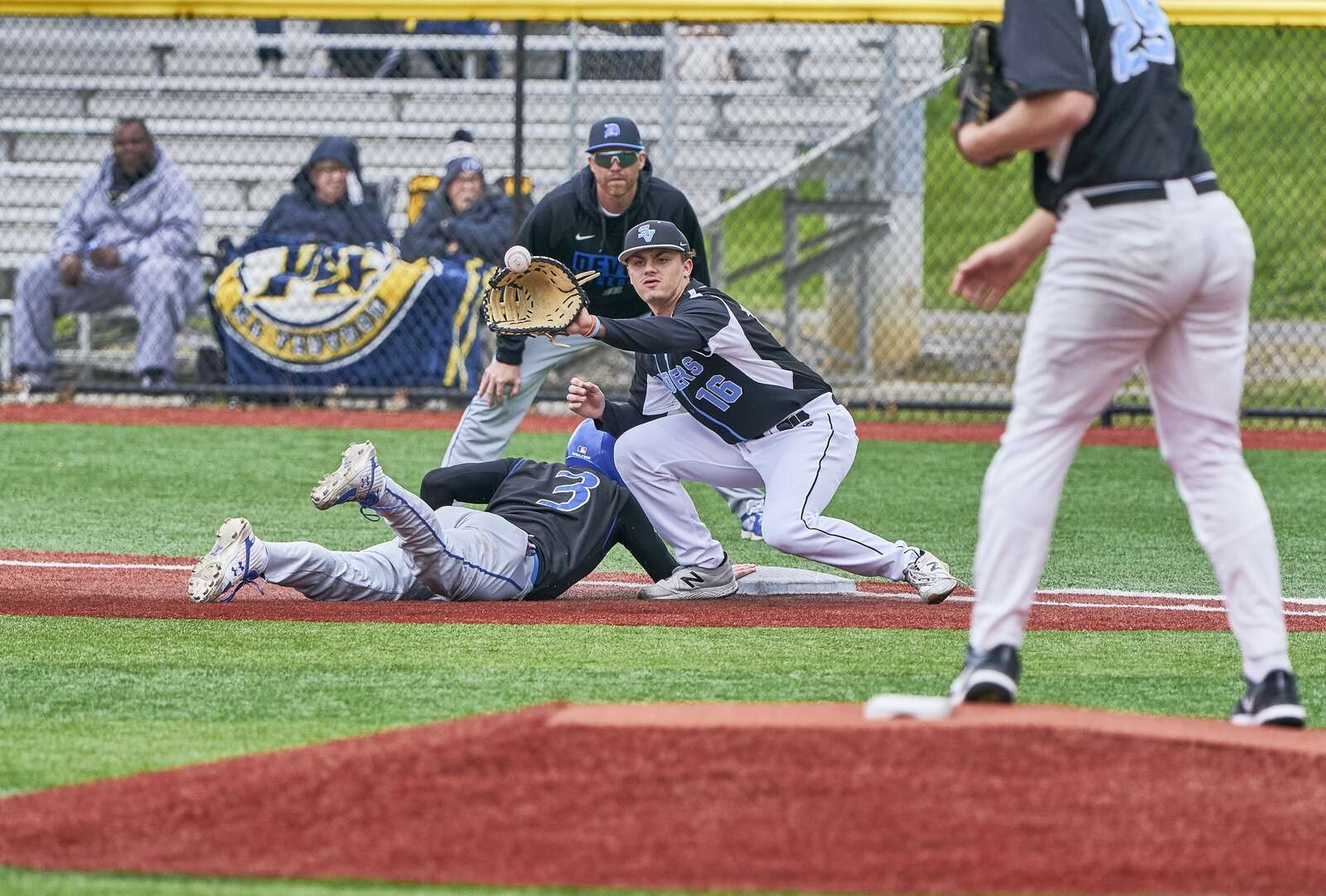 JACKSON TWP — For three innings and some change Wednesday afternoon, Seneca Valley couldn't touch Mt. Lebanon starter and Miami (FL.) commit David Shields.
A blend of patience and self-assuredness changed that during the host Raiders' fourth time up. A four-pitch walk by Creed Erdos preceded gritty at-bats by Brock White and Nick Parrotto. The latter knotted the game up with a two-run double after the former worked out of a 1-2 count to draw a walk.
Mike Delduca and Hunter Troiano both picked up RBIs on the first pitches of their ensuing turns. The four-run frame put Seneca Valley up for good in a 5-3 baseball win.
"That's a pretty good pitcher they have over there and we were trying to figure him out," Raiders coach Eric Semega said. "They did a lot of good talking and, fortunately for us, he got behind later on ... We capitalized on some balls down the middle."
Parrotto's second trip to the dish was the turning point. In his first try, he smacked a comebacker at Shields, and the contact was enough to
He looked at the first three offerings for balls before Shields filled the count.
"I knew my approach was good," said Parrotto, a junior infielder. "I went back at it, full count, bases loaded. I knew he's way too good at pitching to throw a ball, so I tried my best two-strike approach to hit it to right and got the job done."
He roped the ball down the right field line and, as it rolled to wall, Erdos and White wheeled home to rejuvenate the Raiders (3-0) on the scoreboard.
"We've been working, trying to do situational hitting," Semega said. "Any time that we have an opportunity with less than two outs to really think middle right and turn on the one that's inside — the kids are really starting to trust in it.
"I just think Nick did a really good job with where that ball was pitched — which it was outside. He didn't try to do to much with it but put a good swing on it."
Delduca and Troiano followed suit, hitting a blooper for a single and a triple that rolled to the centerfield wall, respectively.
"The momentum shifted in our way," Semega said. "Giving our kids credit, they didn't go up after we had things going to sit and watch a fastball go right down the middle ... He just had that little lull and we took advantage of it."
As for what Parrotto thought of his teammates' first-pitch swinging, he said, "Confidence is everything when you get into the (batter's) box. If you go in there and you're not confident in yourself like you're the best player on the field, you're not going to get the job done. I try to go in the box every single time thinking, 'I'm way better than this pitcher.'"
Seneca Valley added to its lead in the bottom fifth after the Blue Devils' Weston Airey walked Erdos and White and hit A.J. Capizzi with a pitch. Later in the half-inning, Delduca was hit with an offering, too, walking in Matt Delduca — who was running for Erdos.
"They're just a really good team," Mt. Lebanon coach Pat McCloskey said. "They had good swings all game and fell behind a little bit. They hit the ball hard, like a good team does ... David was pitching really well, and they made some good adjustments and hit the ball hard in the fourth inning.
"We just didn't have enough to come back and get enough runs ourselves."
Matt Smith, an Auburn commit, scored all three of the Blue Devils' runs. He was given a free pass twice and beat out a throw for an infield single in the sixth.
Mt. Lebanon 010 101 0 — 3 5 0
Seneca Valley 000 410 X — 5 4 1
W: Toby Kennedy 1IP (1K, 1BB). L: David Shields 4IP (6K, 2BB).
Mt. Lebanon (0-4): Tanner Donati 2-1B, Tyler Smith 1B 3R, Nolan Smith 2-1B RBI
Seneca Valley (3-0): Creed Erdos 2R, Brock White R, Nick Parrotto 2B 2RBI R, Mike Delduca 1B RBI, R, Hunter Troiano 3B RBI, Evan Tomasic 1B
Thursday: Seneca Valley at Plum
More in High School