$36M expansion proposed for 2 Mars schools
ADAMS TWP — A consulting firm is recommending a more than $36 million expansion to the Mars Area School District's Primary Center and Elementary School facilities by 2026.
Jon Thomas, of Thomas and Williamson, presented findings from an enrollment and capacity study to the Mars Area School Board at a special meeting Wednesday, March 29.
Thomas and Williamson is a construction management firm that has worked with the school on previous projects.
Thomas said the findings warrant a comprehensive expansion for both schools.
He said the growth of surrounding Adams and Middlesex townships has had a direct effect on enrollment in the early-education facilities.
"This growth has put you over your current building capacity," he said.
Mars Area Primary Center is operating at 105% of capacity, Thomas said, and Mars Area Elementary School is operating at 101% of capacity.
"You can run higher than 100% — that should never be your goal," he said.
For the school to grow effectively and maintain ideal class sizes for the next 20 years, Thomas said the schools would need to bring capacity down to between 80% and 90%.
"A lot of people say 87 is the magic number," he said.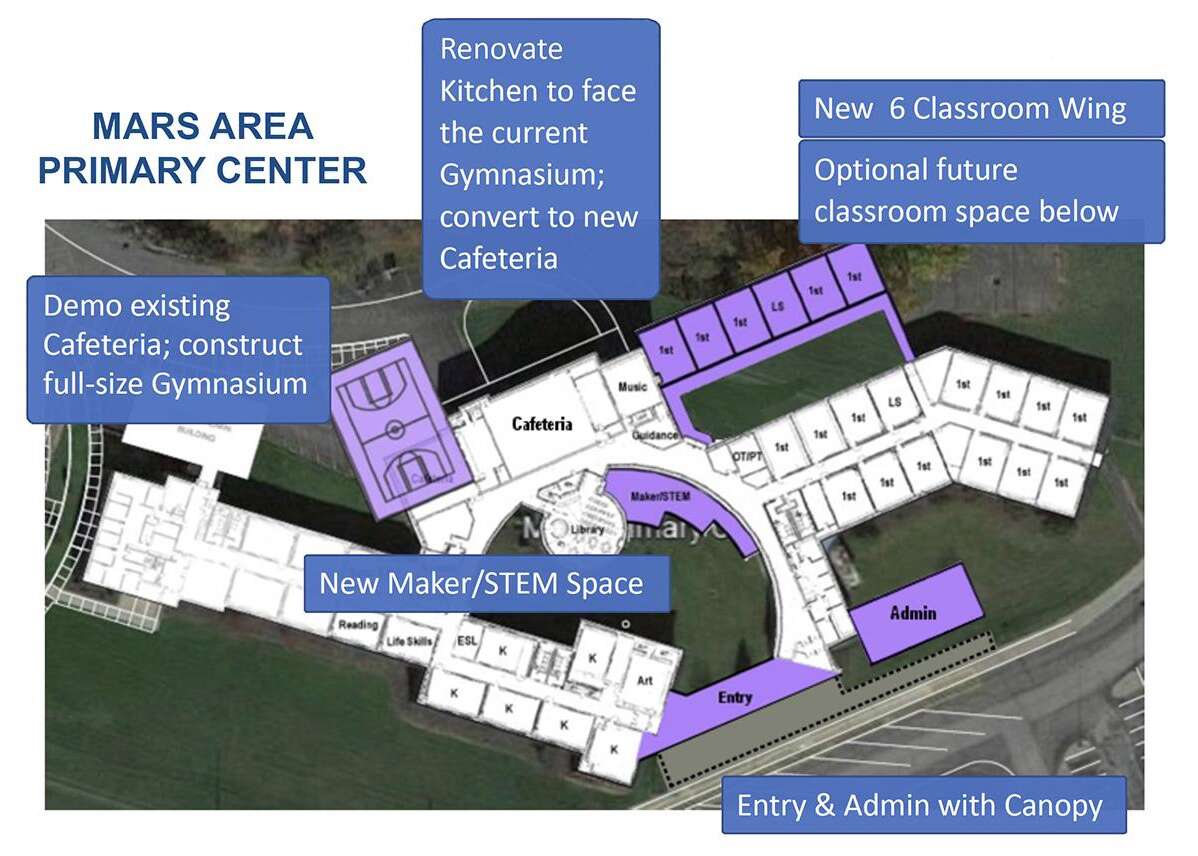 Comprehensive expansion
Thomas presented an estimated $23 million improvement to the Primary Center as a means of accomplishing this.
"So the first step would be to demolish the existing cafeteria and construct a full-size gymnasium in its place," Thomas said.
Right now, he said, the cafeteria is operating over capacity.
From there, he suggested flipping the kitchen and converting the old gym into a new cafeteria.
A STEM center would be added near the center's library, and a "classroom wing" of six new classrooms would be added to the back of the school. Meanwhile, an entrance vestibule and administrative center would be built at the front of the building.
For the elementary school, Thomas proposed an additional $13 million in improvements, including 12 new classrooms and the construction of a new cafeteria and kitchen.
"By moving the cafeteria out, we get to occupy its former footprint with a (STEM) space," Thomas said. "And we think there's a little extra room in there to move some administrative space as well, but we're also proposing an administrative office expansion on the other side — it's about 1,000 square feet."
Timeline
The expansion, Thomas said, would help the schools reach that capacity "magic number" as they grow.
"After the build-out, we're running each at 83%, so we're pretty close to that 85, low-end target," he said, "giving you a little bit of extra space to stay in the low 90s if you have to."
Construction, Thomas said, would not begin until January 2025, and only once the board had been given sufficient time to decide on the expansion. Completion was estimated to be in August 2026.
Superintendent Mark Gross said the study had come just in time.
"That's why we're here; we don't want to get into the situation we're talking about," Gross said.
And he emphasized that the project is in its very early stages.
"This is the very, very beginning of what the issue is, what we foresee as possibilities moving forward, but there's a whole heck of a lot more work to do," Gross said.
For more information on the proposal, visit the school district's website at marsk12.org.
More in Education