Saving the streak
Moniteau girls win 10th straight in bizzare fashion Saturday
CHERRY TWP — Moniteau's girls basketball win streak was more than in jeopardy. It was practically dead.
But the Warriors turned an improbable steal in the waning seconds into a buzzer-beating layup to force overtime before getting past West Shamokin, 48-42, Saturday in the Moniteau gym.
The victory was the 10th straight for Moniteau (16-3) and came in bizarre fashion.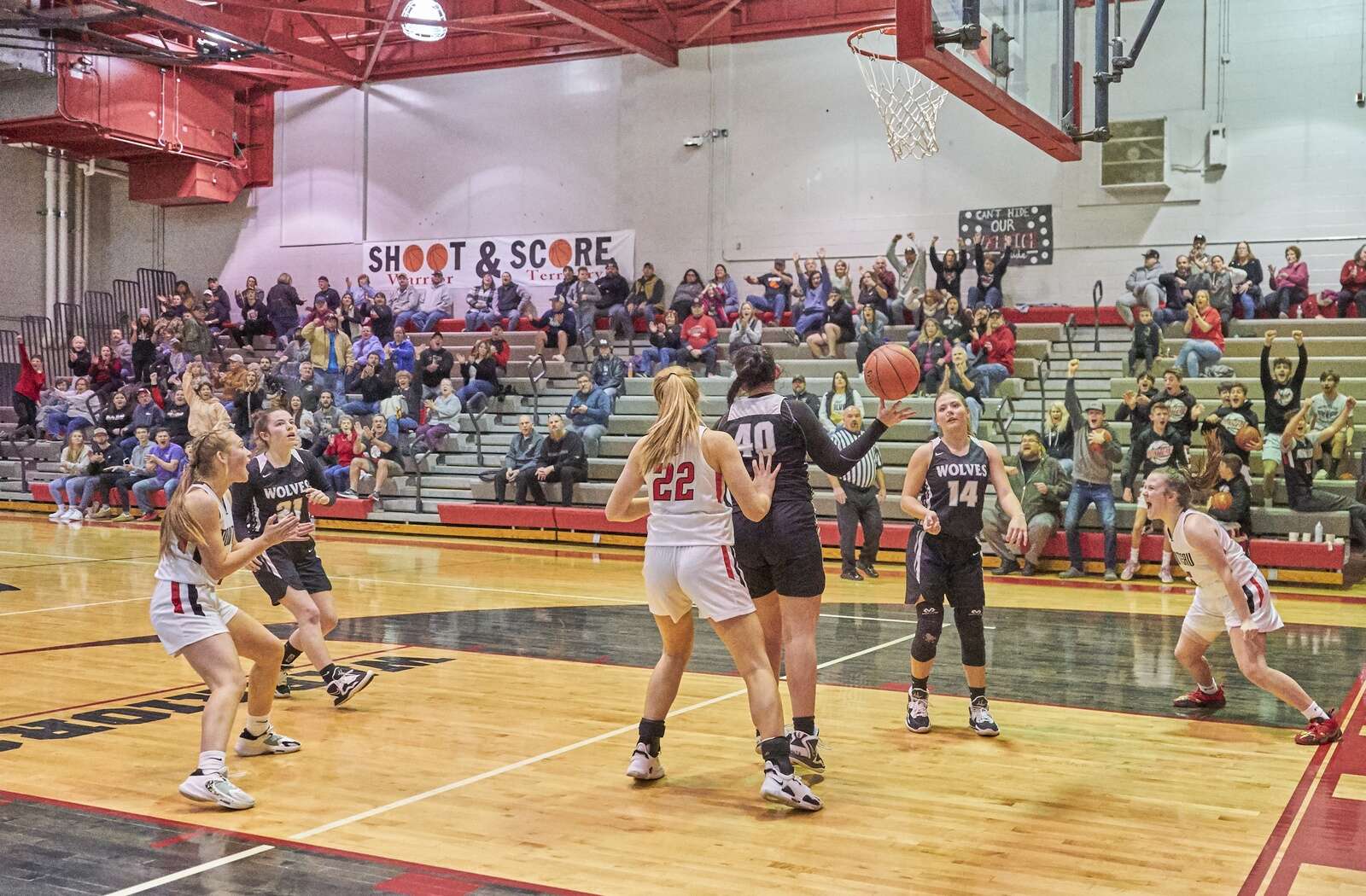 Leading 40-38, West Shamokin gained possession underneath its own basket after the ball went out of bounds off a Moniteau player with 3.8 seconds remaining in regulation. The Warriors' Kendall Sankey leaped high to steal an attempted in-bound lob pass, then flicked the ball to teammate Catherine Kelly, who was standing alone under the basket.
Kelly laid the ball in before the buzzer. The Warriors (16-3) then sank six free throws in overtime to hand the Wolves (7-12) their fifth straight loss.
"That play happened so fast," Sankey said of the end of regulation. "I was just trying to get my hands on the ball. Once I got it, I just threw it to where I thought Catherine was gonna be.
"I don't even know if I saw her."
Kelly said that "in a situation like that, once I saw Kendall had the ball, just go to the basket. It all worked out."
Indeed, it did. And despite starting five juniors all season, Moniteau found a way to win — again.
"Honestly, I expected a season like this," Warriors coach Dee Arblaster said. "These girls got all kinds of varsity playing time as freshmen and sophomores. They're seasoned now. They've been playing basketball together since seventh grade.
"They know where each other is going to be, like on that last play (of regulation)."
Ultimately, this game came down to who could make a free throw. West Shamokin missed a number of them down the stretch in regulation.
While leading by that 40-38 margin, the Wolves missed the front end of a one-and-one with 39.4 seconds left. They did it again with 32.8 seconds remaining. In the bonus after that, they missed a pair of free throws with 22.7 seconds to play before turning the ball over late.
"The missed free throws did us in," West Shamokin coach Mackenzie (O'Donnell) Sabula, a Butler graduate and former Golden Tornado girls basketball player, said. "If we make even a few of those shots, we're not even looking at that situation at the end of the game."
The Warriors weren't exactly filling up the hoop from the foul line, either. Moniteau sank only 14 of 30 free throws on the day and missed eight of its first 11 free throws in overtime before Kelly finally found the net.
The second of two Kelly free throws connected with 22 seconds left in the extra session, giving Moniteau a 46-42 edge. She canned two more with 1.3 seconds left to account for the final margin. Kelly scored six of her team's eight points in overtime. Allie and Davina Pry both added a point at the line.
"It makes you nervous when you see those shots aren't going down," Kelly said of the free throws. "We work on free throws in practice all the time. We just had to settle down."
Kelly was the girl to do so.
"Late in a game like this, we want the ball in her hands, for sure," Arblaster said.
Kelly scored 23 points and had four rebounds for Moniteau. Davina Pry had nine points and six rebounds, Sankey six points and 16 boards against a lanky West Shamokin frontcourt.
"It was all about boxing out and getting in position for me," Sankey said. "I didn't want to get called for going over the back."
"Kendall knows where the ball is going and has a knack for getting in the right spot to board it," Arblaster said.
Lily Jordan led the Wolves with 13 points and three assists. Bailey Conrad had 11 points and 11 rebounds, Melissa Spohn eight rebounds. West Shamokin was plagued by 20 turnovers while Moniteau had 17.
The game featured 14 lead changes and seven ties. The six-point final margin was the widest held by either team all day.
"We're just not finishing right now," Sabula said of her team. "The girls are playing hard and they're learning. We're just not making plays at the end of games to win."
Sophie Fleeger sank two free throws with eight seconds left as Moniteau won the junior varsity game, 33-31.
WEST SHAMOKIN 42
Josie Wolfe 2-6 0-0 4, Lily Jordan 5-14 2-2 13, Maria Young 0-3 1-5 1, Aleya Talmadge 3-8 0-1 8, Bailey Conrad 4-10 3-4 11, Melissa Spohn 2-4 1-5 5, Malena Stewart 0-0 0-0 0. Totals: 16-45 7-15 42.
MONITEAU 48
Abbey Jewart 0-4 2-6 2, Sophia Fleeger 1-3 0-0 2, Catherine Kelly 8-14 6-8 23, Autumn Stewart 1-5 0-2 2, Allie Pry 1-6 1-2 4, Davina Pry 3-3 3-6 9, Kendall Sankey 2-9 2-6 6. Totals: 16-44 14-30 48.
West Shamokin 12 11 8 9 2 — 42
Moniteau 12 14 3 11 8 — 48
3-point goals: West Shamokin 3 (Jordan, Talmedge 2), Moniteau 2 (A.Pry, Kelly)
JV: Moniteau, 33-31 (WS: Malena Stewart 15, M: Sophia Fleeger 19)
Tuesday: Moniteau at Slippery Rock
STORIES YOU MAY ALSO LIKE