Experts: Call 988 when needed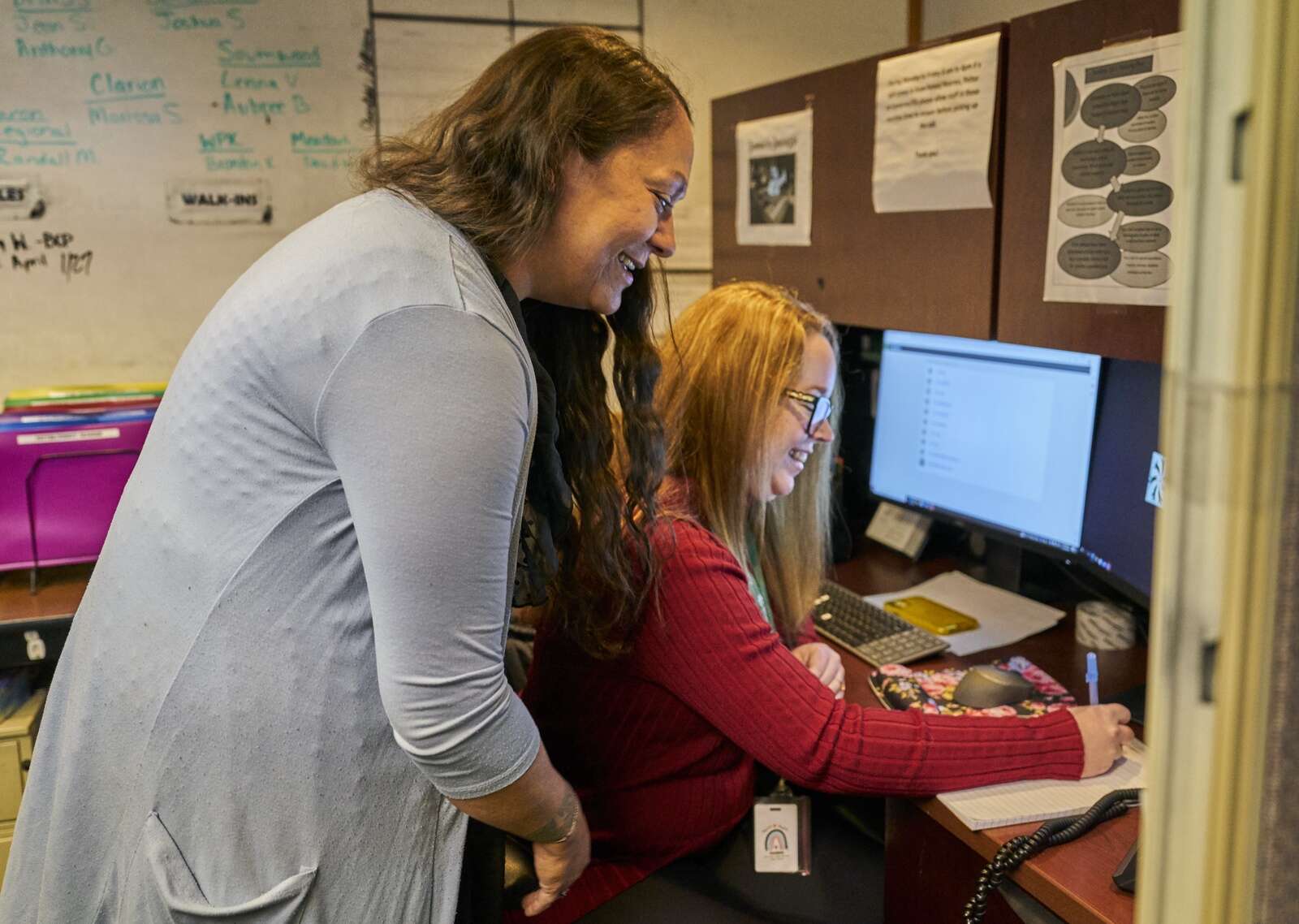 Butler County's Center for Community Resources regularly sees a decrease in crisis calls during difficult times.
"In the winter months, people tend to not really reach out — they isolate a little," Katie Doerr, director of programs, said. "It concerns us — we have people we know who regularly reach out to us, and we haven't heard from them."
CCR has overseen the county's 988 mental health hotline since its national launch in July 2022. For 16 years prior to that, CCR operated its own lifeline service, and the center has provided supportive services, referrals and information to the county since 2002.
Doerr explained that the center may now take calls from all 67 counties in Pennsylvania, as the 988 hotline connects callers with a network of local crisis centers. The centers can help callers find services for mental health, substance abuse, intellectual disabilities and more.
"We don't provide that direct service — we don't offer therapy, for example — but we connect them to someone who can," Doerr said. "The idea of why (the center) was created was to be a single point of contact for people to come in and get connected to help."
In spite of that, Doerr often finds that calls and walk-ins taper off when county residents need that help the most.
And it's not just through the winter.
"When COVID hit it off, and everybody was isolating, our calls dramatically went down," Doerr said. "It was a crisis within a crisis."
While the center still received calls, it wasn't at the elevated level Doerr had anticipated for the crisis. It was only after the pandemic began to wane that calls flooded in.
"Then, people were in that almost-desperate need for human interaction, that connection to services and sometimes that higher level of care," Doerr said. "People had not been reaching out for so long that now, when they call, they need that help immediately."
According to the federal Substance Abuse and Mental Health Services Administration, calls to the crisis hotline saw a national increase of 48% in December 2022 compared to December 2021.
"Nationally, yes. With 988, we have seen an increase in calls," Doerr said. "We chalk that up to it being a three-digit number and curiosity."
However, she maintains that calls in the county remain less frequent throughout the winter months.
"I absolutely think there is a demographic of people that kind of just wait," she said.
The reasons for that wait vary, but they tend toward the same conclusion.
"Maybe they're stuck in seasonal depression, maybe they just don't want to be a bother to somebody or they have a misunderstanding of crisis services in general," Doerr said. "You clump all that together … and they kind of just don't reach out until it's to a point where we have to be there."
Help for students
And while callers do return in the spring, they typically decrease again by summer. This decrease, Doerr explained, often coincides with the end of the school year.
"We do a lot of intervention in the school districts," she said. "In the summer, that goes down."
As students return home, they lose the service they would have received in school.
"I'm a parent, and we're just doing the best we can," Doerr said. "You take away all those people that would see them on a normal basis — I would say that student is still probably in need during the dip in the summertime; we just have less eyes on them."
To combat this, the center is making efforts to educate students on the variety of services available to them year-round.
"That's why we have that "Text to Chat" line and different services where they can reach out," Doerr said. "They have their mental health rights at 14, and we empower them to use them."
Doerr also explained that, even during the busier seasons, calls only tend to come during "business hours." Even though specialists are available 24 hours a day, seven days a week, their busiest time is 10 a.m., Monday through Friday.
"So we're trying to educate — we do that consistently, educate the community — just to get that word out all year long," Doerr said. "We're trying to make those connections, reaching back out and education, just so people know they can call at any point, before it gets bad."
Reaching out
Every call is different for the center, and they respect that every caller is facing a unique situation.
"The first thing we do is actively listen," Doerr said. "We try to gather some information about the crisis."
It's not unusual for callers to hang up or have second-thoughts at the beginning of the call.
"If someone disconnects, we call back immediately," Doerr said. "Sometimes people are just scared, and our success rate with this has been astronomical."
After specialists have established the situation the caller is in, as well as some demographic information, they begin to assess the caller's needs.
"Then we slowly start sliding in some assessment questions," Doerr explained. "We really just have to read the call; it depends on the relationship the caller has with the specialist."
From there, specialists determine how best to assist.
"Sometimes, it's just listening then giving resources," Doerr said.
And the resources are exhaustive. The center connects callers to housing support, drug and alcohol programs, mental health professionals, financial guidance and health care services.
"We can also mobile to a property or school," Doerr said. "Sometimes it's to the police station, sometimes it's the side of the road, and when you're there you often find out something you wouldn't have otherwise."
Outside of imminent risk, all of the assistance is voluntary, Doerr said. The most important thing is that someone is always available to talk or help.
"I want people to know that we're always available — nothing is too small," Doerr said. "Let us help you get that connection before things get too heavy and too much."
---
The Center for Community Resources can be reached in a variety of ways. The national suicide and crisis lifeline is 988. The Butler County center can be reached at 800-292-3866.
To text, send a message to 63288. Walk-ins are welcome at 212-214 S. Main St., Suite 625, Butler.
More in Local News