Lane returns Butler Eagle Scoring Trophy to Freeport
At Long Last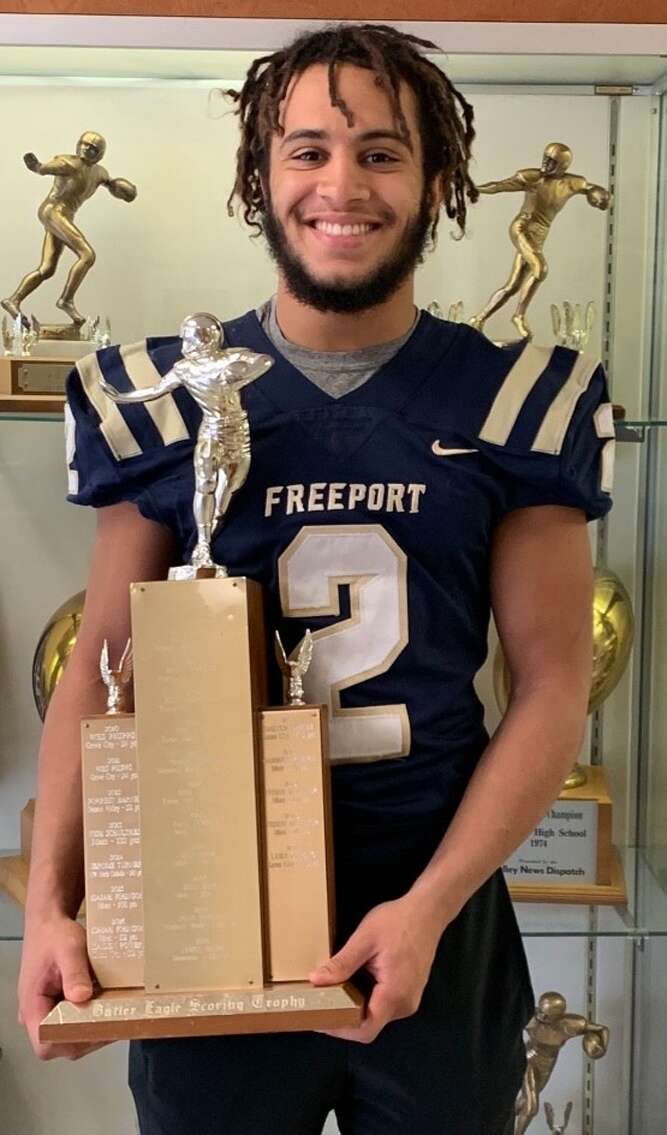 BUFFALO TWP — Standing in his high school's lobby, Freeport's Ben Lane cradled a trophy, tracing its name engravings — etched on year after year — until he found a recipient that also represented the Yellowjackets.
1992
RON DEJIDAS
Freeport - 158 points
The class bell rang and, out of the auditorium, a group of teammates gathered around him.
"Is that for us?" One asked.
For all of his team's accolades as a whole this season, this particular prize was Lane's. As he, too, pointed out, it's the first time in three decades that a 'Jacket won the Butler Eagle Scoring Trophy.
By pinning up 114 regular-season points, Lane edged out Mars junior Evan Wright by less than a touchdown in the standings.
"It's kind of cool to get the trophy," Lane said. "It's an honor to be able to bring that trophy back here and have my name on it forever. You'll be able to look back and see my name and be like, 'I remember watching him play.' It's an honor."
Fewer responsibilities this go-round meant a brighter glow. He shouldered a heavy load as a junior, alternating between quarterback, running back, and receiver, and also playing defensive back and taking on returning duties.
First-year offensive coordinator Dave Leasure had more simplified plans.
"He was most comfortable running the football and it's what he was best at," he said. "My goal was to let him just focus on that and be Ben."
Stationed on the opposite end was Zach Clark, who spelled Lane every now and then and averaged 8.5 yards per tote. First-year starting quarterback Gavin Croney added another dimension, passing for north of 1,000 yards.
"He's very unselfish," Leasure said of Lane. "We couldn't have done the things that we did this year offensively if he wasn't a team guy. Because there were games he only got seven or eight carries ... I let him know early, 'You're not going to get as many touches, but those touches will be more productive when you do get them.'"
One of those gives — which stands out to the assistant coach more than any other — wasn't event meant for him. In a rain-soaked triumph over West Mifflin in the WPIAL playoff quarterfinals, Lane had to go to great lengths to get his team on the scoreboard.
"We were inside the 10 and we called for a sweep and the quarterback gave it to Ben accidentally," Leasure said. "Ben gets stuffed inside and then he gives ground and goes all the way around the right end, runs over three people, and dives into the end zone.
"He wasn't even supposed to get the ball. There's probably only a handful of kids in the entire WPIAL that can make that play ... It should've been a three-yard loss."
Each hand-off he took, it was the same aggressive mentality.
"Run through someone's face, as meanly as possible," Lane said. "Just make it to the end zone."
He admitted that he had to wave the white flag on some plays the campaign before.
"When I was playing quarterback, I would run out of bounds and stuff trying to conserve my body instead of taking the big hits," Lane said. "Running back (this year), it was just, run through someone"
He was out to exert his will. Collide with someone hard enough, he explained, and they think twice before getting in your way the next time.
"Once you run them over, you know that they're going to fear you for the rest of the game," Lane said. "Once you run them over, then you basically set them up to be able to juke them or get around them."
"His style of running, how aggressive he was, he just took it to the next level," Gaillot said. "He just made things happen. It's just his physicality. He really grew into that.
"He played possessed almost."
Lane is hoping that the impressive showing this campaign will yield more attention from programs at the next level. As of now, he's garnered offers from Slippery Rock University, Clarion, Seton Hill, Fairmont State, and Notre Dame College (Ohio).
Coaches from California (Pa.) and Marietta College recently visited him at school. He's also talked to Youngstown State.
A number of those programs would like his services on the defensive side of the ball. Where does Lane want to line up, you ask?
"I feel like I could do both — either position," he said. "At the collegiate level, I'd probably say corner ... If I were able to get my weight up, I'd like to play running back."
Gaillot could see another position suiting him.
"Anytime he has the ball, he can take it, with his speed," he said. "If they run that slot receiver, I don't know how you cover him. Especially with picks and stuff, he could catch a five-yard pass and take it to the house."
While Lane is pleased with the fact that his name is permanently chiseled onto the award, his is already a lasting impression.
"A lot of those kids that are in eighth grade that are coming up, they were our ball boys," Gaillot said. "They watched — first-hand, in-person — him truck people and just bounce off these kids ... They see that."
STORIES YOU MAY ALSO LIKE