Slippery Rock stuns Oil City, 41-28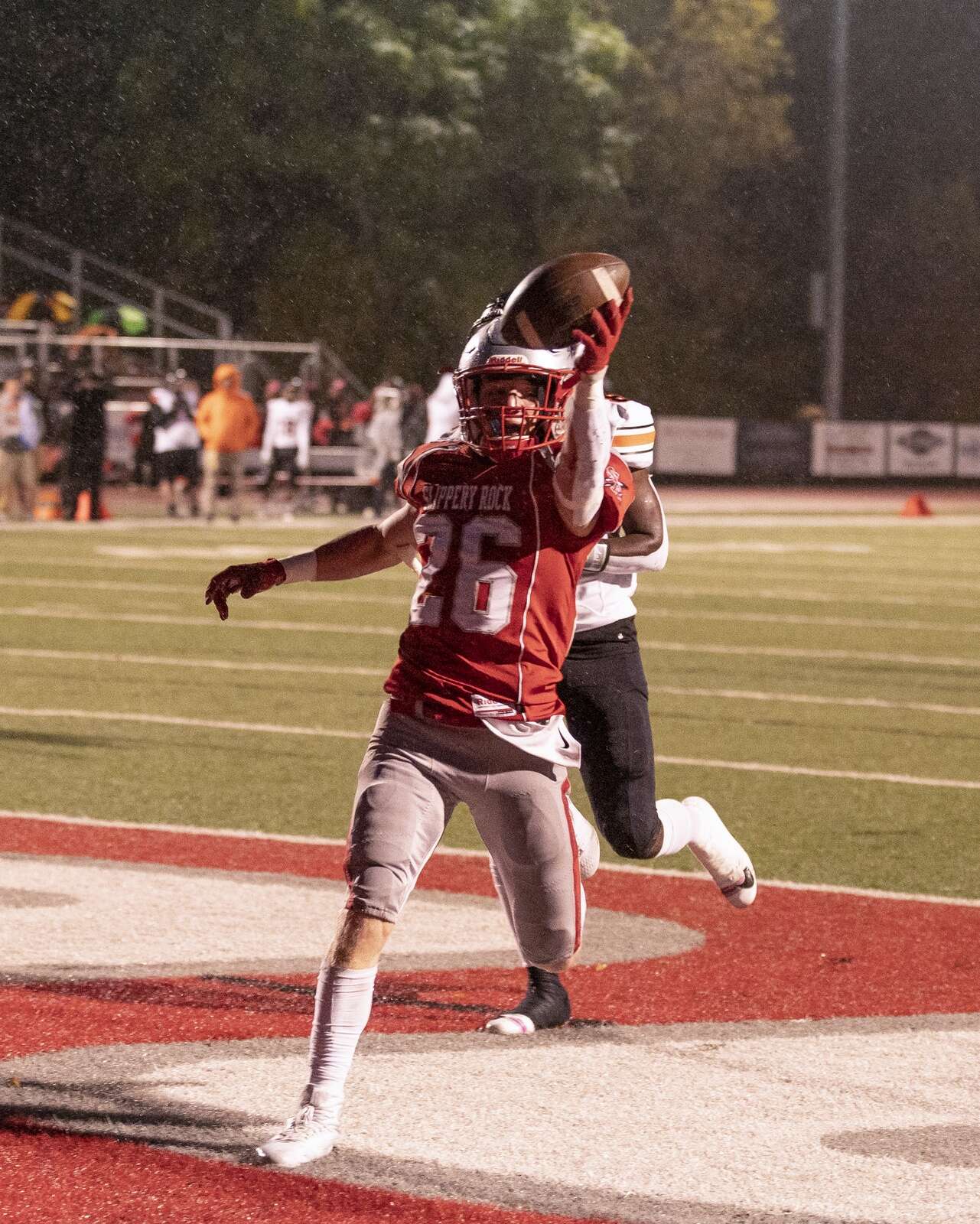 Allen rushes for 191 yards as Rockets advance in playoffs
TITUSVILLE — As the Oil City marching band played "Blinding Lights," the Slippery Rock football team looked on, waiting to get on the field to face the Oilers and their star running back, Ethen Knox.
On the opposite side of the field, the Oilers did the same.
Three hours later, both sides were in the middle of the field shaking hands, but only the Rockets will get the opportunity to step on the field again this season after they pulled out a 41-28 District 10 playoff victory.
The talk leading up to the game was about how Slippery Rock was going to stop Knox, but on the first play of the game, Maddox Allen started conversations about how the Oilers were going to stop him. It took him just 16 seconds to get Slippery Rock on the board.
"The funny thing is, we came into this game thinking we were going to pass a lot, but (the coaches) gave me a chance and I just waited for our line to make the big block and went from there," Allen said.
The Rockets weren't satisfied with a 7-0 lead, however. A surprise onside kick gave them the ball right back. It didn't take long for William Mokel to hook up with Sal Mineo on a short screen pass that Mineo took 25 yards to the house.
The easiest way to stop Knox was simply keeping him off the field, and before he even stepped on the field, the Oilers found themselves in a 14-0 hole.
When he did finally get his first touch, he got nothing. The Slippery Rock crowd on the away side of the field erupted after they shut him down three plays in a row. Their offense came back onto the field after just six quick plays.
A long drive ended with Nick Kingerski nailing his first of two field goals to give Slippery Rock a 17-0 lead.
Knox was going to let the Oilers go down without a fight, though.
"(Our kids) never quit, but I give my hat off to Slippery Rock, we just had some technical difficulties," Oil City head coach Dan York said.
He slipped to the outside on the first play of their second drive and outran the entire Rocket defense for an 80-yard touchdown. It was the life they needed, but Slippery Rock stopped their momentum right there.
"When you put all the guys in the box to contain him, he's going to break a few and we told our guys that," Slippery Rock coach Larry Wendereuszsaid. "But I think drive in and drive out, our defense played well."
Allen took it upon himself to give them their three-score lead right back. This time he took it right up the middle for a 31-yard touchdown scamper. Knox then did what he was good at once again. This time he went for 86 yards.
But Allen found himself saying, "whatever you can do, I can do better." Allen got a hat trick with another first half rushing touchdown on a 43-yard run.
Knox had the final laugh in the first half with a touchdown coming just 29 seconds before half.
But he left the red-hot Rocket offense with too much time, and they were able to get three more points from Kingerski's leg before the break.
They were the last points scored until Knox scored his final touchdown of the night and of the season. There was a quick response from Brett Galcik and the Rockets to put the final points of the night on the board.
Allen sealed the game with an interception with just over a minute left. Now Allen, and the rest of the Slippery Rock seniors' season lives for another week. But he doesn't plan to let it end any time soon.
"It means a lot (to pick up a playoff win with this group), it's my senior year and I don't want it to end," Allen said.
Slippery Rock 17 17 0 7 — 41
Oil City 6 14 0 13 — 28
First Quarter
S — Maddox Allen 64 run (Nick Kingerski kick), 11:44
S — Sal Mineo 25 pass from William Mokel (Nick Kingerski kick), 9:55
S — Nick Kingerski 25 field goal, 1:03
O — Ethen Knox 80 run (Conversion failed), 0:50
Second Quarter
S — Maddox Allen 31 run (Nick Kingerski kick), 8:49
O — Ethen Knox 86 run (Conversion failed), 8:31
S — Maddox Allen 43 run (Nick Kingerski kick), 6:55
O — Ethen Knox 14 run (Knox conversion), 0:31
S — Nick Kingerski 34 field goal, 0:02
Third Quarter
O — Ethen Knox 1 run (Knox conversion), 0:29
Fourth Quarter
S — Brett Galcik 7 run (Nick Kingerski kick), 11:20
Individual Statistics
Rushing: Slippery Rock, Maddox Allen 15-191, Brett Galcik 11-43, William Mokel 6-30, Sal Mineo 2-18. Oil City, Ethen Knox 38-350, Dane Ley 2-22, Kevin Pearsall 1-3, Jon Hargenrader 1-2.
Passing: Slippery Rock, William Mokel 10-23-129. Oil City, Dane Ley 1-7-5-1, Ethen Knox 0-3.
Receiving: Slippery Rock, Brett Galcik 3-55, Sam Schwartz 3-28, Sal Mineo 1-25, Lucas Allison 2-21, Maddox Allen 2-7, John Sabo 1-12. Oil City, Hayden Wilson 1-5.
More in High School