Swick humbled by KC recognition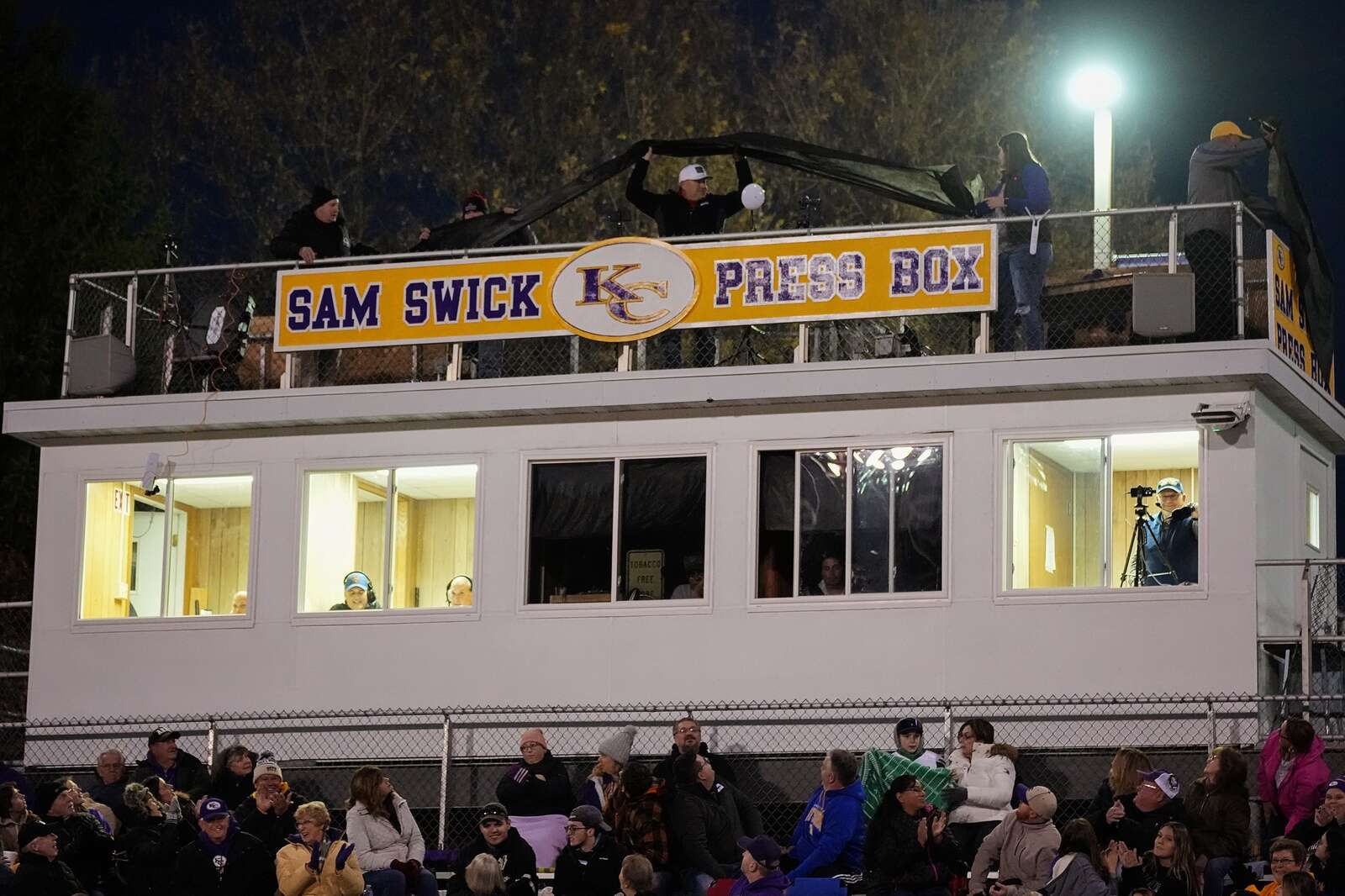 Diehl Stadium pressbox renamed in longtime p.a. announcer's honor
KARNS CITY — Sam Swick is synonymous with Karns City athletics as much as the school's unique nickname of "Gremlins" and its purple and gold colors.
The resident of Sugarcreek Township in Armstrong County is the public address announcer for football, softball, track and field, basketball, soccer and cross country. He's been a fixture at Karns City for over 30 years.
"I was not an athlete in high school," said the 1952 Beaver Falls graduate, "but I've always loved sports and tried to stay involved in any way I could."
His longtime dedication and support spurred the Karns City Area School District to name the press box at Diehl Stadium in his honor. It was made official prior to the Gremlins' home football game against Clearfield Oct. 28.
"It's very humbling," said Swick. "My wife, Shirley, deserves a lot of credit. I'm here at the school three or four nights in some weeks, so I'm gone from home a lot.
"Without her blessing, I wouldn't be able to do it. She tells me, 'Go over there. I know you enjoy it.'"
The school board began planning the recognition last summer.
"Initially, it was supposed to be kept quiet. They wanted to surprise Sam," said KC athletic director Josh Williams. "But we wanted to do it right with his input, so he was told of the plan. That allowed us to promote it more on social media."
Swick previously announced football games at East Brady High School. There was a period during which he worked games at Karns City on Friday nights and at East Brady on Saturday afternoons. When East Brady closed its doors in the 1990s, it was natural for him to continue addressing crowds for Gremlins' events and he's never left.
"It's a testament to his incredible dedication," Williams said. "He loves sports and he loves seeing kids succeed."
Swick's duties go above and beyond the microphone.
"He does a lot of behind-the-scenes stuff," added Williams. "When we hold an event and there's media coming to cover it, he's their first point of contact, distributes rosters and game information to the press. So he's not just the voice of the Gremlins, he's the face as well."
Swick's words are impartial. He'll just as soon compliment a player for the opposing team as he will an impressive effort from a Karns City athlete.
"I always try to call it right down the middle, be as fair as I can be," he said.
That's not to say he lacks a special place in his heart for the Gremlins and their faithful.
"Karns City has some of the greatest people in the world." he said. "I know people in other districts would say the same about their own, but Karns City fans support their teams. They really come out, no matter the sport, and I've always admired that."
Sam and Shirley Swick have been married for 65 years and have four children.
STORIES YOU MAY ALSO LIKE