Manufacturers confab to create robot arena for Freeport students
HARRISON TWP, Allegheny County — There was nothing robotic about the response of a group of Freeport Area High School students on Friday morning when they saw the much-needed gift built for them by three businesses.
Students from three school districts and two vocational-technical schools attended the first-ever Manufacturing Day at Highlands Industrial Park near Natrona Heights.
Three of the manufacturers there — Metplas, JV Manufacturing and EPD Electronics — had a special surprise for the Freeport students in the Metplas production center.
The companies became aware that the Freeport High robotics teams had no test box where they could safely test the battle robots they design and build.
So the companies built a 10-by-10 foot clear box with a clear door — known as a "weapons test arena" — where the students can try out the 15-pound robots they build to compete against other schools' robots.
The arena was covered up when the Freeport students arrived for what they thought was only a presentation on working at Metplas, which provides precision machining of plastics and non-ferrous alloys.
Instead, the shroud was removed from the box as students gasped in amazement.
"They're excited to be able to see our robots in action and to be able to operate them safely," said Mark Dempster, who teaches robotics at the high school.
He said the arena will remain at Metplas, and students can come and test their robots in it.
"They'll interact with Metplas employees and brainstorm what changes they can make to improve them."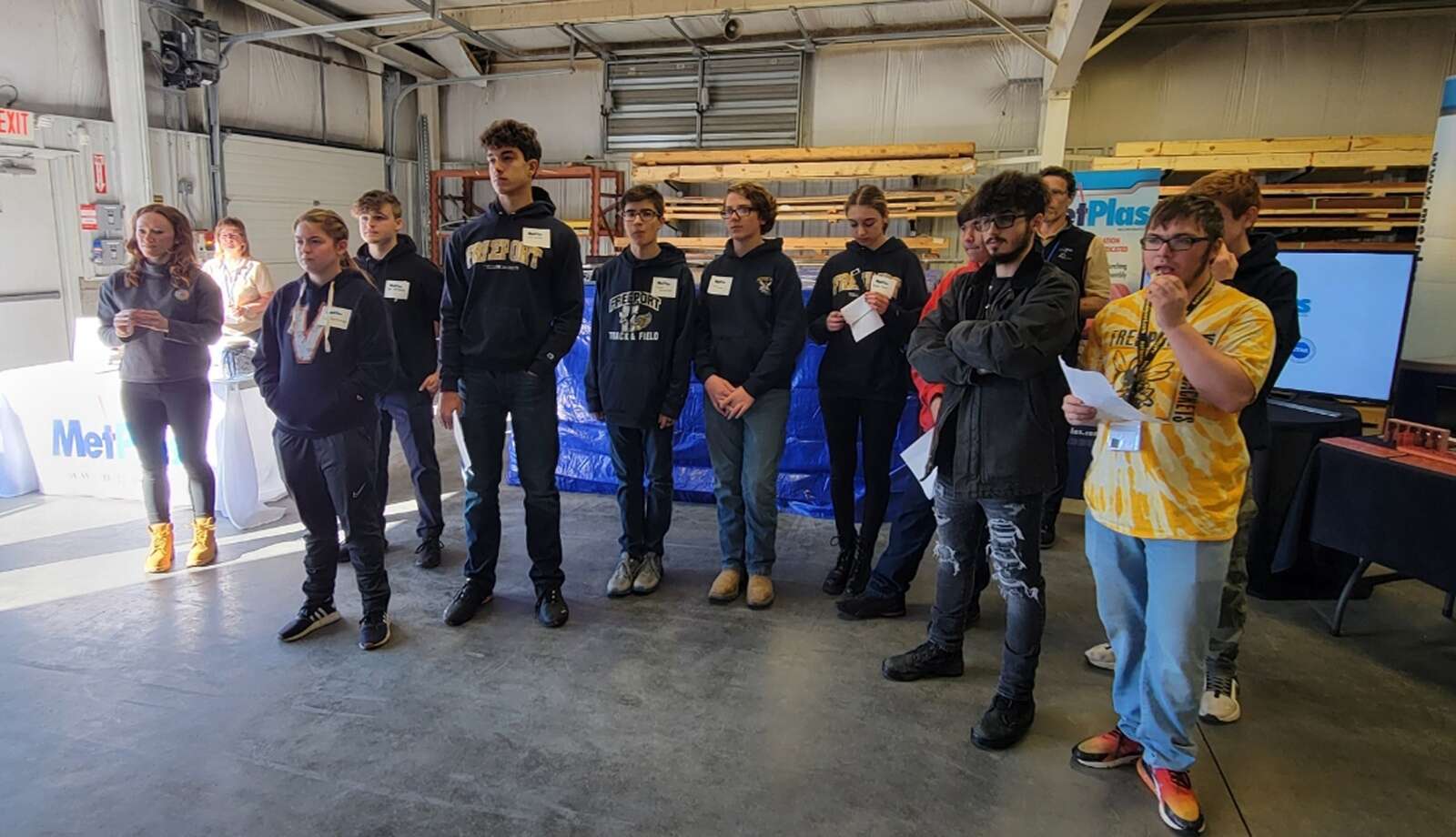 Tyler Welteroth, a Freeport senior, said that in the last few years, the team had to test their robots by placing them in a classroom, closing the door, and operating the robot and observing its function outside through the classroom window.
"Now, we can actually see what's going on," Tyler said. "I feel blessed that (the manufacturers) took the time to build this for us."
Katherine Borromeo, also a Freeport senior, looks forward to consulting with Metplas experts while tweaking her team's robot as they try it out in the new arena.
"I was really impressed," Katherine said of the arena. "It was really thoughtful of them to put something together like this for us."
Katherine is a proud member of Freeport High's first all-female robot team.
She explained the team's competition robot, Greased Lightning, has a three-pronged spinner meant to make heavy contact with its rival robot.
"It should send the other robot kinda flying," Katherine said.
Unlike the boys' team, Katherine and her teammates do not have a robot from last year to use to practice building a new one.
"We're going to have to really go through the engineering process of trial and error," Katherine said.
Her teammate, sophomore Natalee Valenti, said she is excited to try out Greased Lightning it the new arena to determine if the three-pronged approach is the right one.
"I think it's so cool and awesome they would do something like this for us," Natalee said. "A big thank-you to Metplas, for sure."
Mike Carlin, vice president of sales at Metplas, gave a presentation to students from all the high schools and both vo-tech schools describing a career in sales at a manufacturer.
"Hopefully it lights that spark of where they can fit into manufacturing," Carlin said.
All students toured Metplas' manufacturing floor and visited JV Manufacturing and EPD Electronics as well to learn about those companies.
STORIES YOU MAY ALSO LIKE