Going against the grain?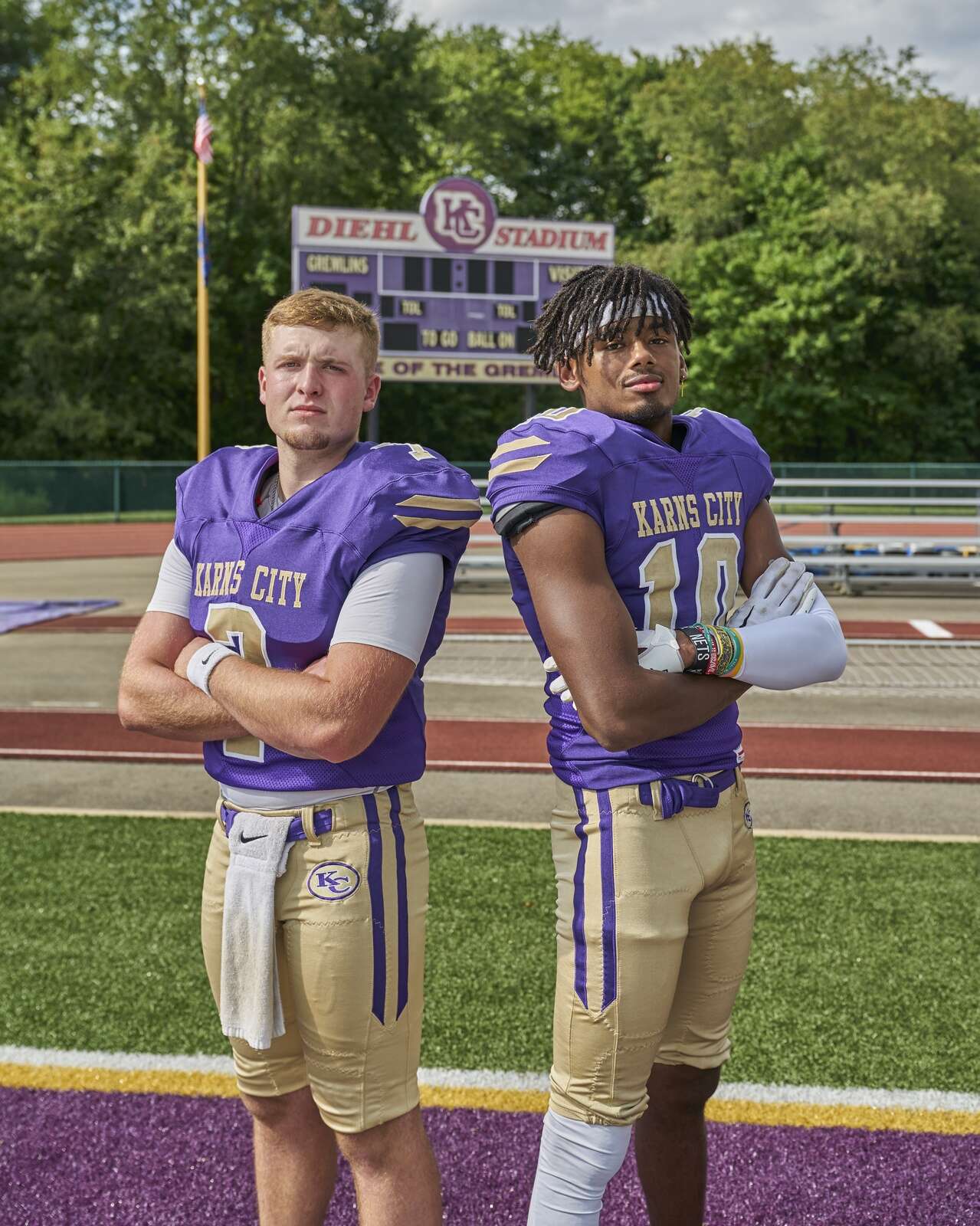 Third-year starters Booher, Rupp give Karns City unique passing threat
KARNS CITY — Lean toward experience. Play to your strengths.
While that is common logic football coaches employ from year to year, it's a little bit different this season for Karns City and the powerful ball-control ground game the Gremlins employ each season.
Third-year starting quarterback Eric Booher can throw the ball. Third-year starter and wide receiver Micah Rupp can catch it. Both can be game-breakers with their respective talents.
"We'd be foolish not to take advantage of what they can do," KC coach Joe Sherwin said.
Booher threw for 954 yards and 10 touchdowns last season — despite throwing the ball only 95 times. Six of those touchdown tosses landed in the hands of Rupp, who had 21 catches for 453 yards, an average of 21.6 yards per catch.
"Just like a strong running game can set up the passing game, the passing game can set up the run," Booher said. "I can see that happening for us this year. I want to throw for 1,000 yards. That's a goal.
"But I know we're gonna run the ball. And our passing is going to help us run the ball."
Sherwin agreed.
"Opposing teams know what Micah can do and they have to respect that," the coach said. "They have to pay attention to him. That can only loosen up a defense in other ways. We also have Cooper Coyle and Nate Gating as effective returning receivers.
"They have to make a choice. This year, we have to read that and take what the defense gives us."
Because of the Gremlins' vaunted running attack, defenses generally pinch in toward the line of scrimmage. That leaves the 6-foot-2 Rupp in single coverage on the outside, more often than not.
"No doubt, our running game helps me," Rupp said. "I get one-on-one coverage every time the safety pinches in. When that happens, I know I'm going to get open."
"Micah's gonna beat the guy every time," Booher said. "That's a no-brainer."
So is using play-action in Karns City's offense.
"That should work for us," Sherwin said. "We know Micah can catch the deep ball and we know Eric an get it there. It's good to have an experienced quarterback this year because we have an inexperienced line. Eric knows the offense and will be a big help in that regard."
That offense tradtionally is one that eats minutes off the clock each possession, grinding out first downs en route to the end zone.
Booher admits the quick strike will be more tempting this year than ever.
"When we come up to the line and I see Micah out there with one guy on him, it's going to be hard not to just go there right away," the quarterback said. "He's a nice option to have."
"We know each other well," Rupp said of he and his quarterback. "Since we were freshmen, we've been coming out to the field each summer, running patterns and throwing the ball. The chemistry is there, for sure."
So is the confidence.
"One-on-one, going up for the 50-50 balls, I know I'm going to come down with it," Rupp said. "One goal of mine for sure this year is more touchdowns. I want to make more of an impact."
Booher and Rupp will make an impact on the defensive side of the ball as well. Rupp returns as a starting corner and Booher will see action at linebacker for the first time.
Sherwin said his quarterback's always had the ability to help out defensively. That need wasn't there until this season.
"We wanted to make sure we kept him healthy," Sherwin said of keeping Booher a one-way player. "Now we need his contributions on the defensive side. Eric won't be in there all the time, but he'll be in the rotation for sure."
Rupp isn't shy about expressing his goals defensively.
"I want to get more picks, create more turnovers," he said. "I want to be productive on both sides of the ball."
STORIES YOU MAY ALSO LIKE