A similar feeling
Mars can't prevent Indiana from sweeping season series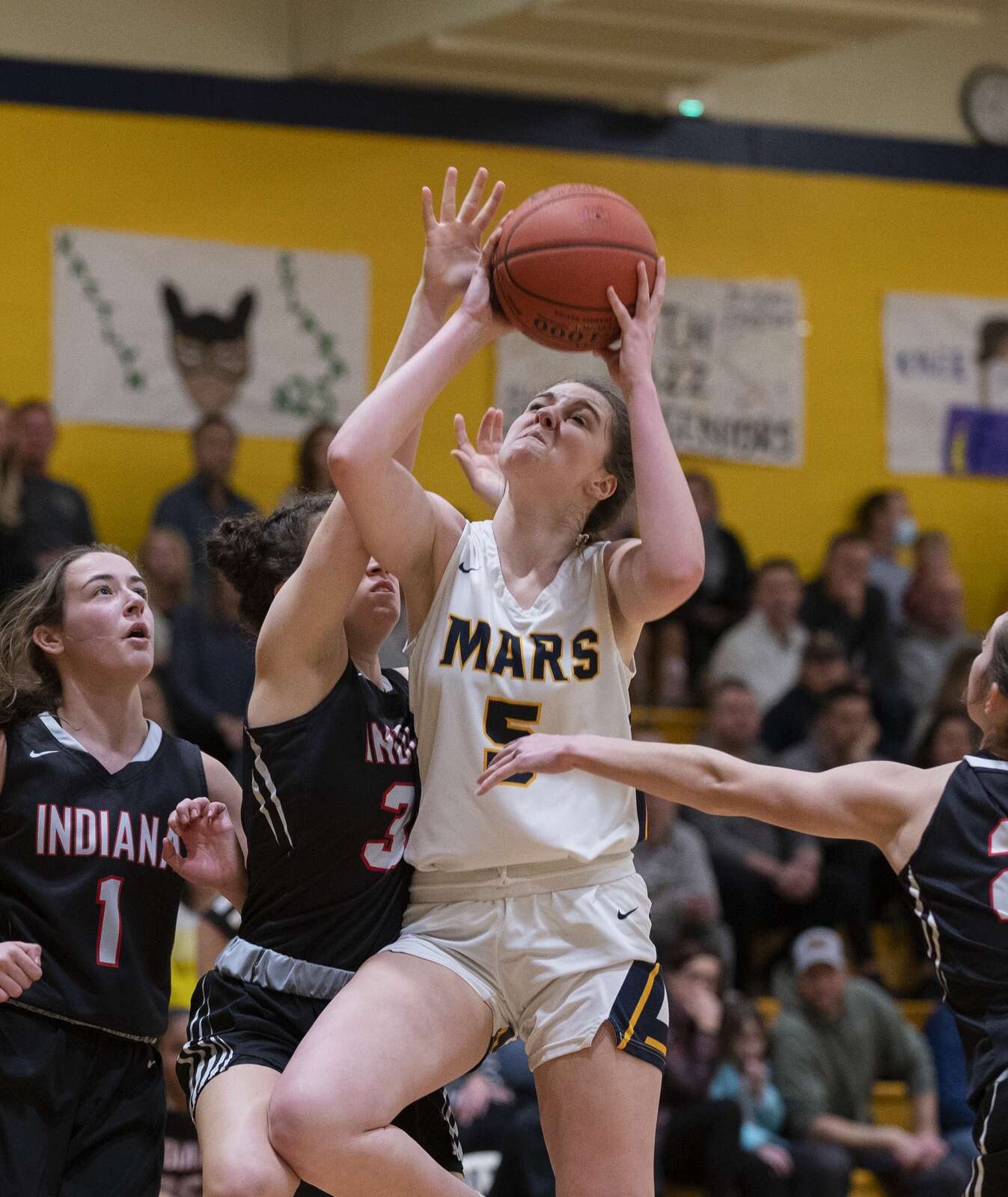 ADAMS TWP — Having not lost at home yet this season, Mars welcomed Indiana Thursday night for a meeting of Section 2-5A's top two contenders, fixed on climbing into the grouping's perch.
Instead, the Planets (14-4, 7-2) experienced a bad case of deja vu and were dispatched, 48-26, in girls basketball action. They bowed to the Indians earlier in the month, too, by only posting 29 points, their lowest output to that point.
"Identical," Mars coach Dana Petruska said of the resemblance between the two contests. "Every time we play against a team that is more aggressive than us, we have a tendency to just back down and back away from that physicality."
The visitors (12-3, 7-1) hurried out to a good start offensively, both inside and out. Isabella Antonacci and Eve Fiala collaborated for 11 points down low in the opening frame. Behind the arc, Hope Cook drained a pair of three-pointers.
"That's what (my players) get preached to, is that, in order to have an outside game, you have to get it inside," Petruska said. "And inside, you need to score, so we can now have an outside (game) and vice versa."
In most of its outings this year, Mars has had at least one player stand out in the box score. But the group struggled against the section's second-best defense, which came in allowing an average of 39.6 points per game, and could only sink one of its first 14 shots.
Ava Black was the only Mars player to score in the game's first 12 minutes, as her team dug itself into a 13-point hole.
Alexa McDole and Lauren Atwell knocked down back-to-back treys shortly thereafter, bringing the crowd back to life and helping the Planets back within nine with more than two minutes to go in the half. Then, neither team would add to the scoreboard before the horn sounded.
"When we ran the floor, when we got the ball and pushed it up the court, we scored," Petruska said. "Because we were beating them up the floor. It didn't happen often, though, that's the only issue."
Petruska also mentioned that she would have like to see her guards penetrate more than they did.
Indiana took over in the second half, outscoring the hosts 25-12 and extending their win streak to five games.
Coming in, the Planets had won five of their last six. They've now lost two of the previous three and have been held under 30 points twice. In effect, they'll need to win out and have the Indians lose twice in order to finish in first place in the section.
"When we play schools that we know we can beat, we play with so much more confidence," Petruska said. "This team here (Indiana), they're just an intimidating factor."
INDIANA 48
Eve Fiala 8 0-2 16, Hope Cook 3 0-0 9, Isabella Antonacci 2 4-4 9, Elizabeth Lubold 1 2-2 4, Kathryn Kovalchick 1 1-2 3, Sarah Madey 1 0-0 3, Mia Ciocca 0 2-2 2. Totals: 16 9-12 46.
MARS 26
Ava Black 3 0-0 8, Alexa McDole 2 0-0 5, Kaitlyn Pelaia 2 0-0 5, Lauren Atwell 2 0-0 5, Olivia Donnelly 0 3-4 3. Totals: 9 3-6 26.
Indiana 17 6 9 16 — 48
Mars 6 8 6 6 — 26
3-point goals: Indiana 5 (Cook 3, Madey, Antonacci); Mars 4 (Black 2, McDole, Pelaia)
Saturday: Shaler at Mars