Miller Minutes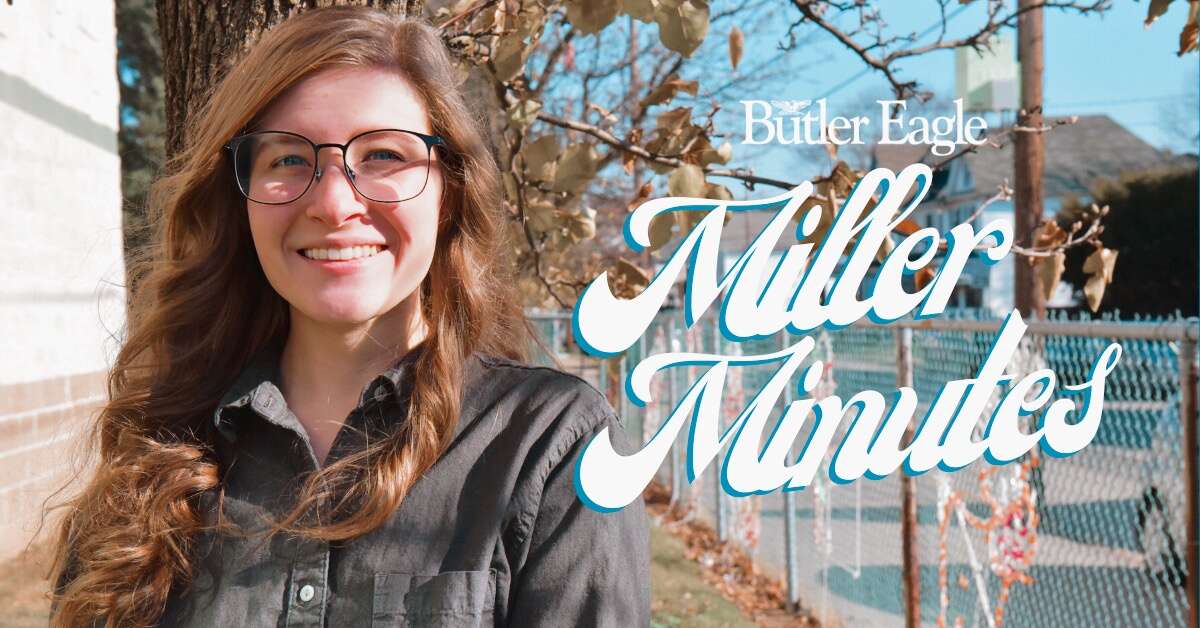 I am an avid reader. Ask anyone who knows me, and they will confirm that I take a book with me wherever I go.
I'm also a fast reader, but I will confess that my book-buying habits sometimes outrun me.
That being said, the Butler Bookfest is taking place this weekend, and I still have not finished reading every book I picked up last year. Is that going to stop me from attending this year? Probably not.
In honor of this event, which to me is the greatest of the year, I've created a list of spooky and fall-themed books you can look for in the stacks. Hope you enjoy!
√ "Jane Eyre" by Charlotte Bronte. A classic spooky love story with some splices of coming-of-age mixed in.
√ "Frankenstein" by Mary Shelley. You know it, you love it. But remember, this is the journey of Doctor Frankenstein, not the monster.
√ Anything written by Agatha Christie. She is the Queen of Mystery, after all, but any Sherlock Holmes story will work the same.
√ "Anne of Green Gables" by L.M. Montgomery. Beautiful descriptions of landscapes in September.
√ "The Shining" by Stephen King. This is not for the faint of heart. No, watching the movie doesn't count.
√ "The Saturday Night Ghost Club" by Craig Davidson. A cross between Disney's "Gravity Falls," with a hint of "Goonies" or "Stranger Things."
√ The "Harry Potter" series!
I could go on and on forever, so I should probably quit while I'm ahead. This weekend's events follow!
The Butler Bookfest is overtaking the Butler Farm Show grounds, 625 Evans City Road, Connoquenessing Township, opening at 10 a.m. Friday, Sept. 22, and running through Tuesday, Sept. 26. Purchase books, movies, music and more during the event. In addition, support Butler authors by attending the 10 a.m. local author showcase!
The monthly Mars Maker Market is slated for 4 to 8 p.m. Friday, Sept. 22, in the heart of the borough. Grab a bite to eat, and maybe something extra to support local artisans.
A new kind of art show is opening at the Butler Art Center, 344 S. Main St., from 6 to 8 p.m. Friday, Sept. 22. The "Art of the Draw" event requires purchase of a $50 ticket. As ticket holders' names are drawn, they will choose a piece of art to take home. Additional raffles and drawings will take place during the event. For more information, visit butlerartcenterandgallery.org.
Butler Two Steppers are holding a dance at 7:30 p.m. Friday, Sept. 22, at the Tanglewood Center at 10 Austin Ave., Lyndora.
Butler Little Theatre's rendition of the classic play "Arsenic and Lace" premieres at 8 p.m. Friday, Sept. 22, at One Howard St. For tickets and more information, visit butlerlittletheatre.com.
Experience a Civil War encampment, hear live music and participate in craft demonstrations from 10 a.m. to 6 p.m. at the McConnells Mill Heritage Festival on Saturday, Sept. 23. For more information, visit events.dcnr.pa.gov.
For the second time, the Evans City Pumpkin Fest is taking over the borough streets on Saturday, Sept. 23, and Sunday, Sept. 24. Come to the car cruise Sunday, and experience live music, children's activities, food trucks and more. Main Street is not closed for this event.
All the fun of the Butler Area Community Day is coming to Alameda Park from 11 a.m. to 4 p.m. Saturday, Sept. 23. A car cruise, food, craft vendors and children's activities are just the start of what's available at the free event.
Hear jams spanning from the 1950s to the 1990s at the Cranberry Men's Chorus concert at 7 p.m. Saturday, Sept. 23, at North Catholic High School, 1617 Route 228, Cranberry Township. Tickets cost $20 for adults and $15 for students age 18 and younger.
A reception in Martha Gault Gallery, 108 Maltby Ave., Slippery Rock, will be held in celebration of the show "Imprinted & Influenced, Print Processes" by Gary Jurysta from 5 to 7 p.m. Tuesday, Sept. 26.

More in Weekend Entertainment