Director helps Butler Catholic students get into nature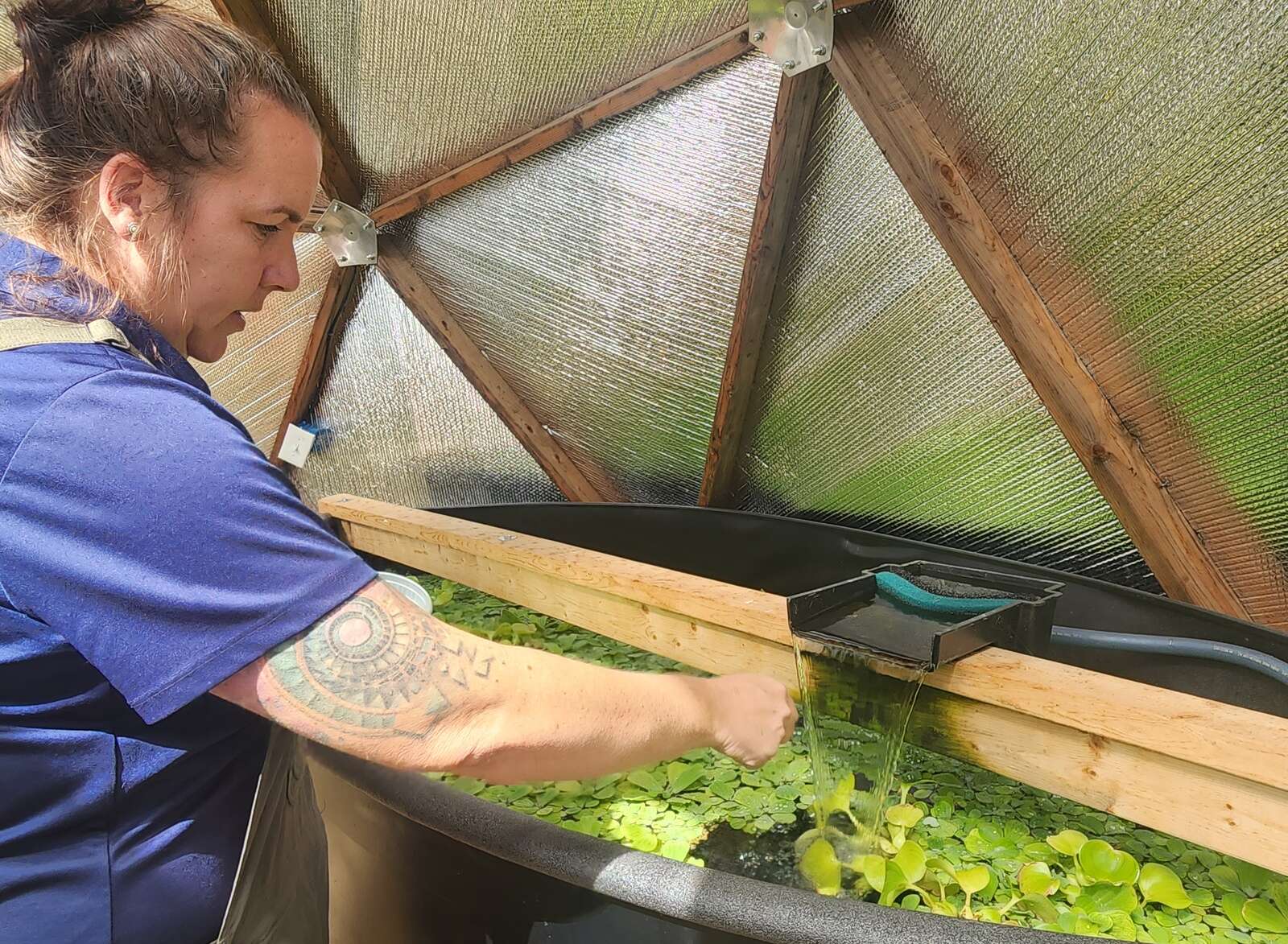 Environmental experiences
Rae Harrison's classroom at Butler Catholic School doesn't have air conditioning, and she normally keeps the lights off in favor of the natural light that comes through the windows.
But nonetheless, students are always excited to attend her classes, chanting "Ms. Rae, Ms. Rae," as they make their way to her classroom, which includes a door leading directly to the school's garden area.
Sometimes the students will come in with a photo of a bug they found in their yard at home, and excitedly ask Harrison what it is, or even tell her.
Harrison has been working full time at Butler Catholic only since the start of this school year, but her outdoor classes — as the school's director of environmental programming — already have gained her the curiosity of her students.
"We know that kids learn in tons of different ways. We know that their imaginations and creativity are all sparked by different things," Harrison said. "So I really believe by doing these enrichment activities and bringing their classroom out into the world, their brains will get better. They will only be better students by having these experiences."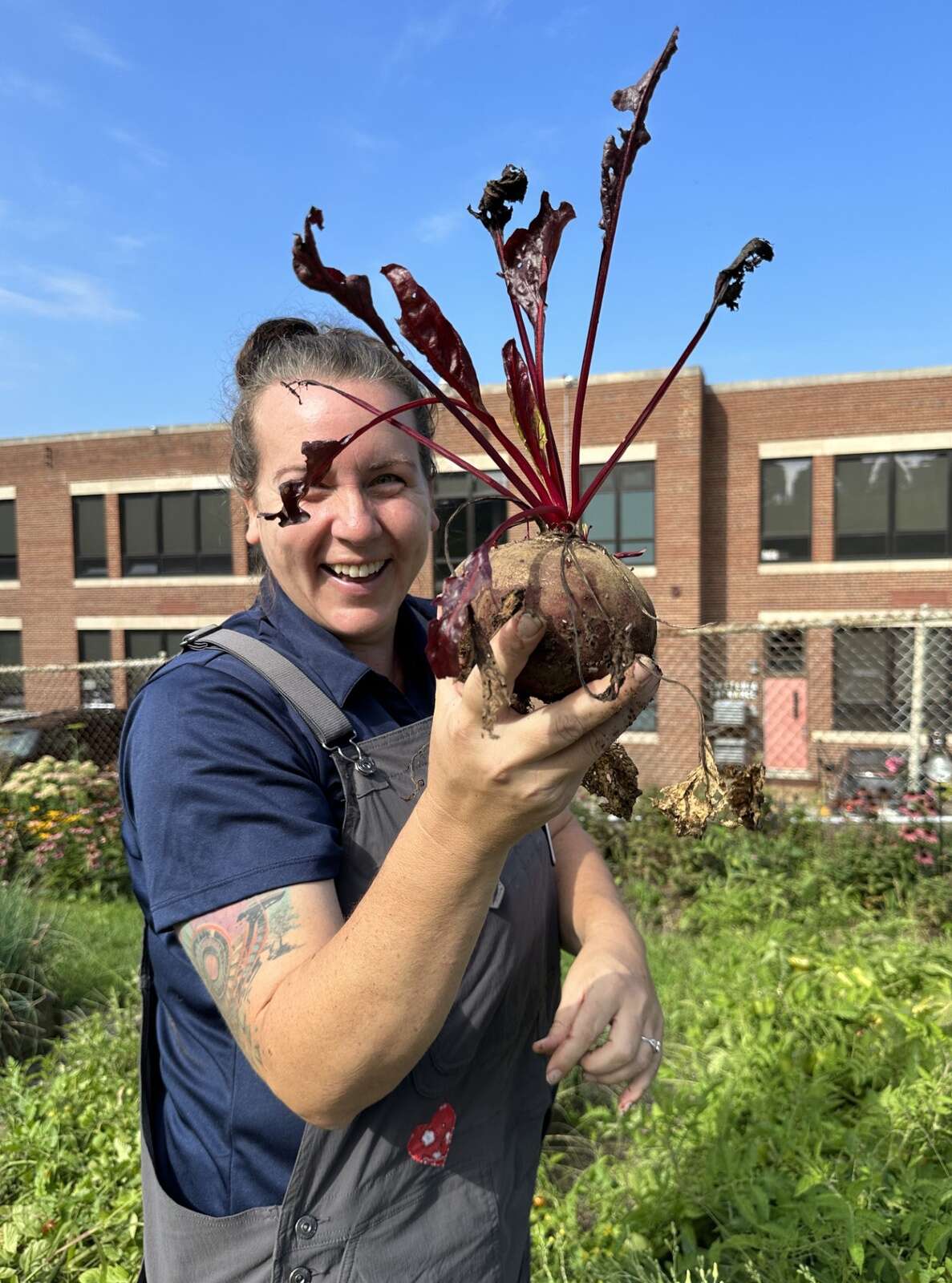 Harrison occupies a new position at Butler Catholic in her role, which she said came about after speaking with the school's new principal, John Hazur, prior to the start of the school year. She first started working with Butler Catholic by advising the school's garden club, which began a few years ago spearheaded by Kathy Dudley, director of development at the school.
Harrison also was working with the National Park Service with its Park for Every Classroom initiative, but her contract with that program was coming to an end.
"I came in to talk to the new principal about everything we were doing in the garden," Harrison said. "They were like, 'Why don't we do cool stuff here together.'"
Hazur said he and Harrison worked out a "pilot program" for her classes at the school. According to Hazur, the students' response to Harrison's work as the garden club adviser made it an easy choice to hire her full time.
"We're trying to get kids into active learning, show them a different way of understanding nature and science," Hazur said. "We have a unique situation. This can get the kids out there to experience different things."
Over the past few years, Dudley and Harrison have installed garden and farm equipment and facilities at Butler Catholic, and the school now boasts a chicken coop to raise chickens, eight garden beds and a geodesic, which is a greenhouse that also holds an aquaponic garden.
All that preexisting infrastructure allowed Harrison to immediately lead students in harvesting crops.
"Yesterday we had tomatoes, peppers — baskets of them — that I was out here with sixth grade and we were able to harvest, and they took them right into the cafeteria," Harrison said. "We can grow lettuce for the salad bar all year."
Harrison said she also plans to regularly send soil to Penn State Extension for testing with the help of her students as an ongoing learning experience. In addition to showing them that gardening can be fun, she also plans to teach them that doing paperwork is part of that process.
"I'm really big on doing the paperwork with the kids, because if I am doing all the work, then I am doing all the learning," Harrison said. "I had them do all the paperwork because I wanted them, if they want to take soil samples at home, to know, 'This is the form I fill out. This is not that hard.'"
Harrison started volunteering at Butler Catholic to earn volunteer hours to become a Master Gardener. Additionally, through her work with the National Park Service, Harrison was able to get students at Butler Catholic passes to national parks, which was important to her and the mission of her role at the school.
"I want to get that pass in every kid's hands as quickly as possible, so they can take advantage of every possible moment that they could go to a national park for free," Harrison said.
Hazur said these qualifications, combined with Harrison's enthusiasm, have excited the students and the school community.
"Rae has a great educational background; she also has a great environmental background," Hazur said. "We're very excited to have her, and I think she is going to do great work."
The fourth grade recently went to Cuyahoga Valley in Ohio for the students' first field trip with the school ever. Harrison said that as the students were getting ready to leave the park, several boys excitedly approached her to show her a bug they found on a bathroom wall, which they were able to identify with a phone app she showed them.
Harrison said she was excited to see that students were already growing more interested in nature, and she hopes to see that interest develop over the school year.
"I'm really big on not telling the kids what they want to do, but actually finding out from the kids what they want to do," Harrison said. "To me that's what it's all about. It's asking the questions and being aware of the world around you and being excited about the world around you."
More in Local News