Slippery Rock hosts 20th annual VillageFest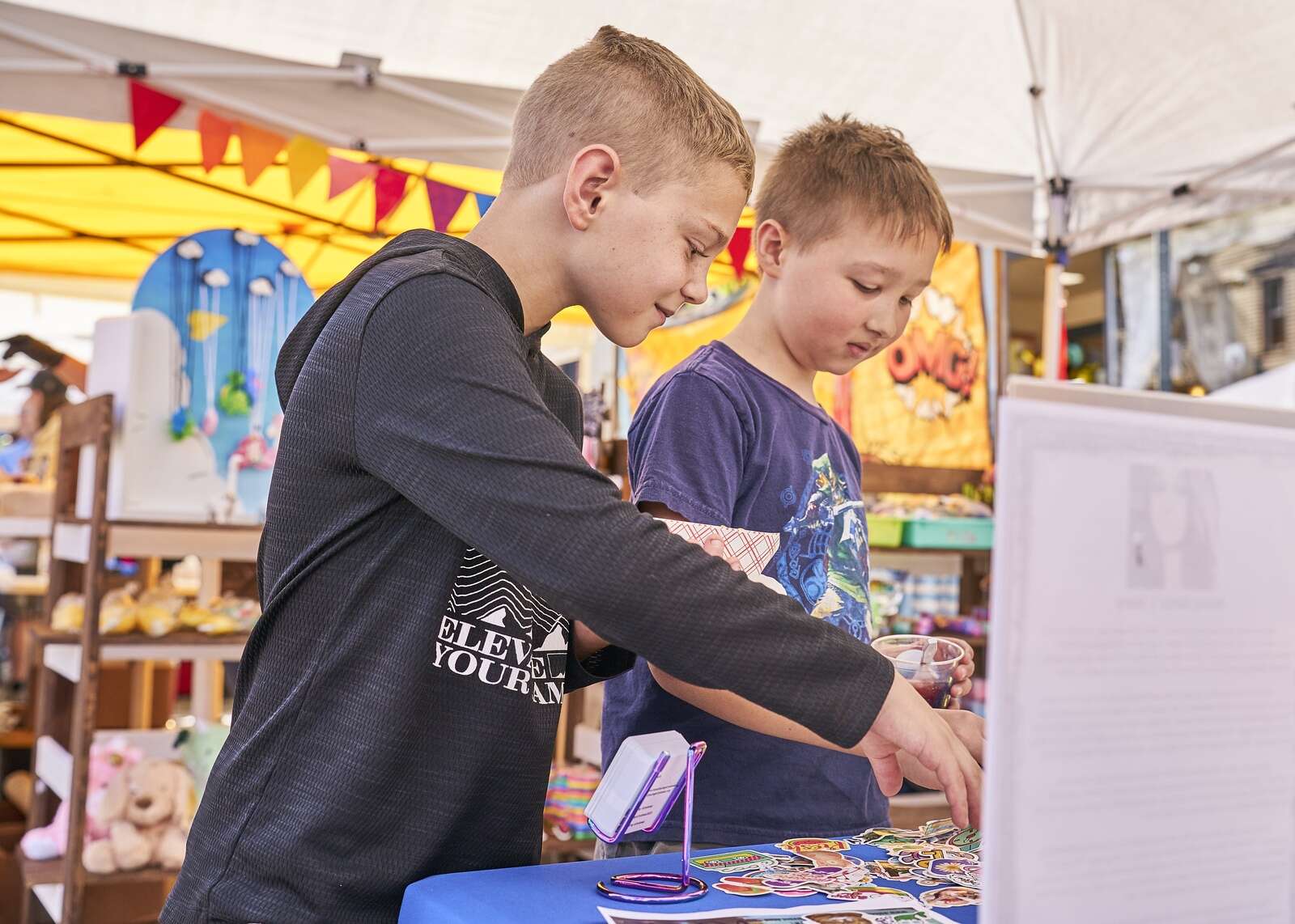 SLIPPERY ROCK — An annual Slippery Rock tradition since 2004 celebrated its 20th anniversary on Saturday afternoon as residents of the borough packed onto Main Street by the hundreds for the annual VillageFest.
A chunk of Main Street, between Ginger Hill Tavern and Camelot Restaurant, was closed to vehicle traffic for hours for the event. Dozens of food and craft vendors were stacked on both sides of the street, selling everything from homemade jewelry and tie-dye shirts to dips and candles.
"It's good to get vendors out," said attendee Thorn Fitzgerald. "It's good to support small businesses."
Fellow attendee Diane Bowser was especially fond of seeing the arts and crafts that were on display.
"So far it's been enjoyable," Bowser said. "Lots of artists and people walking through the streets; and it's a great way to see your neighbors."
Jeneane Sintz came to VillageFest for the first time to set up a booth for her home business, Hooked by Jeneane. True to its name, Sintz sells homemade crochet pieces. She had a very positive first impression of VillageFest.
"It's been great," Sintz said. "I'll probably come back next year."
Meanwhile, Jack Sable is no stranger to VillageFest, having set up at the event to sell hematite jewelry for 15 straight years.
"It's a really, really nice event," Sable said. "Lots of people, the people are supporting the vendors, and it's an absolutely gorgeous day today."
VillageFest also saw three different political parties set up shop on Main Street, including the Butler County branches of the Republican Party, the Democratic Party and the Libertarian Party. Of the latter, Morgen Mogus was one of several who helped distribute flyers and literature to promote the Libertarian cause in Slippery Rock.
"We've gotten some good interest. We got some good interactions today," Mogus said. "Some new people have taken some flyers and some material. They were interested in getting involved."
Main Street wasn't the only place to have fun. Located across the street from the Slippery Rock Volunteer Fire Company was the Kids Zone, which featured an inflatable "tiki tower," face painting, a bungee jump, carnival games such as ax throwing, and even an inflatable "horse derby" ride.
"You sit on one of these bouncy balls and you get to race down to the end there, and whoever gets to the end wins," said event volunteer Camryn Gore.
As a way to celebrate the 20th annual VillageFest, local rock band 16 Eyes returned to perform on the main stage in the middle of Main Street, 19 years after they performed at the very first VillageFest in 2004. They were followed by local country music band Hayday.
VillageFest concluded with a game of musical chairs for three different age groups: ages 5 to 8, ages 9 to 14, and ages 15 and older. The winners of each age group received a prize of $50, although the last two participants standing were offered the chance to split the winnings and skip the last round.
More in Local News