Pennsylvania auditor general outlines office transformation initiative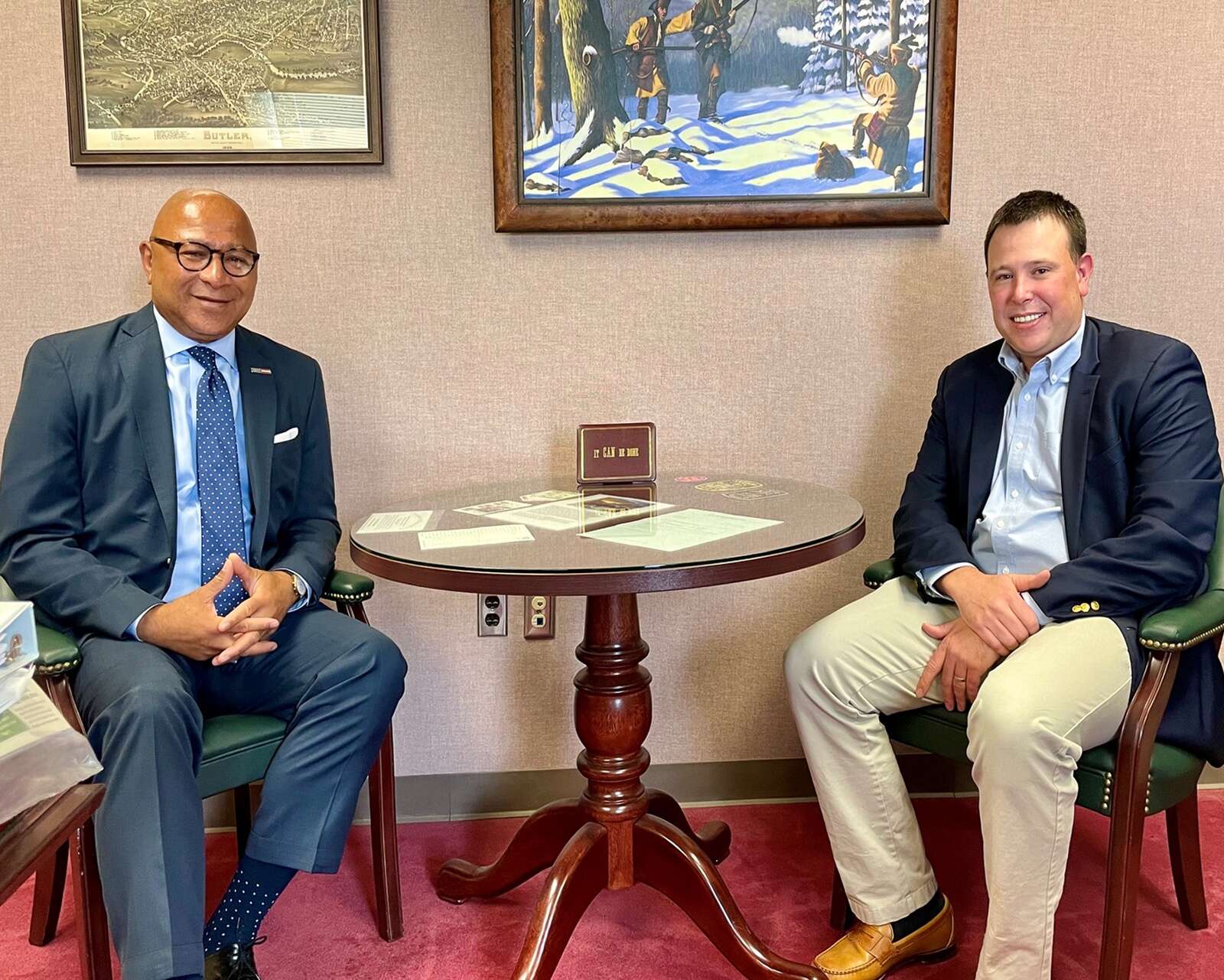 Pennsylvania Auditor General Timothy DeFoor on Wednesday, Sept. 13, discussed how he is changing the way his office does business in a meeting with Butler County Controller Ben Holland.
DeFoor said he has been outlining the changes in his "Transformation Tour" visits to county controllers across the state.
"We're transforming how we do our work in the department," DeFoor said.
He said all state departments have staff shortages, and he is trying to address his through an "Intern to Hire" career pathway involving Pennsylvania State System of Higher Education universities and state funded universities.
Students majoring in accounting, business administration and information technology who have at least 60 credits can apply for internships, he said.
Accepted interns must complete 900 hours of work during the school year or within three months of graduation, receive satisfactory remarks in the final performance review, graduate with a bachelor's degree that includes 12 credits in accounting or information technology, and live in the state.
DeFoor said he had 15 interns this summer and more than 400 students applied for the positions.
Hiring an intern makes for an easier transition to employment than hiring a person who has to be trained after leaving another job, Holland said.
Another initiative is aimed at teaching financial literacy to younger students to prepare them for financial careers and help them with their own finances.
In the "Be Money Smart" program, DeFoor said his office is promoting organizations, such as Junior Achievement and the YMCA, and schools that teach financial literacy.
"Financial literacy is a life skill — something you can't avoid," DeFoor said.
He said his office has conducted many audits of public entities that contain simple math mistakes that end up with local governments losing out on hundreds of thousands of dollars from the state.
"It was basic math errors — checkbook errors," DeFoor said.
Financial literacy should be taught in grades K-12 to help students learn to be better consumers, he said.
In addition, DeFoor said he is changing the way audit reports are written to make them more like "quality management" reports, instead of audits, to identify issues and common sense approaches to correcting them.
He said his office audits large state agencies and small volunteer fire departments and wants to help them resolve issues found in audits.
DeFoor also said he wants to focus audits on risks and vulnerabilities that can be addressed through internal controls, instead of conducting all inclusive audits.
More in Government