Gonzo gay high-school comedy is a winner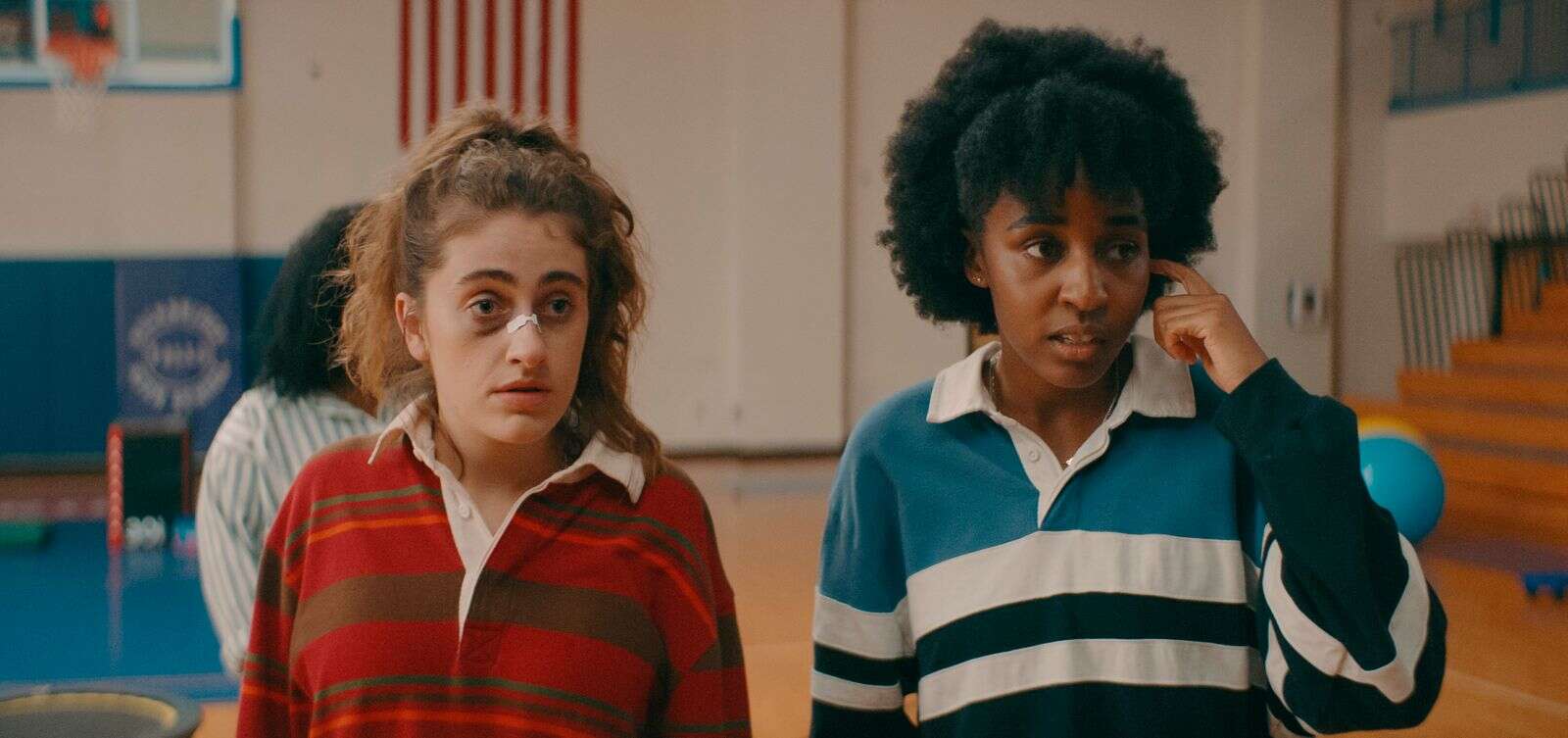 The rites and rituals of the raunchy high-school comedy can be as prescribed as a class syllabus. But what makes Emma Seligman's "Bottoms" such an anarchic thrill is how much it couldn't care less.
Sure, come to "Bottoms" with your expectations of house parties and high jinks. But you'll be leaving with a field full of bloodied football players.
Seligman's film, which opens in theaters Friday, instead follows its own demented logic in a winding and surreal comedy of adolescent absurdity. The brash PJ (Rachel Sennott) and the more hesitant Josie (Ayo Edebiri) are longtime best friends who, in reaching senior year at Rock Ridge High, have either finally attained a much sought-after status ("We're finally hot," insists PJ) or bottomed out at the low end of the high-school totem pole.
"Could the ugly, untalented gays please report to the principal's office?" the principal (Wayne Pére) announces over the PA.
PJ and Josie, accepting that description, meekly make their way down the hall. But PJ plans to put up a fight. While Josie is more resigned to her lonely fate ("I'm not trying to sow my oats," she says), PJ is resolved to stir it up in her final year. They have no high-minded goals or even an especially coherent plan. "Bottoms" likewise aspires to be no paragon of lesbian representation or female empowerment. It would rather be sillier, more gleefully un-PC and way bloodier than your average high-school comedy.
PJ and Josie would most of all like to make more headway with their cheerleader crushes. Josie likes Isabel (Havana Rose Liu) and PJ swoons for Brittany (Kaia Gerber). Neither shows even the slightest interest in PJ or Josie; Isabel is dating the football quarterback Jeff (Nicholas Galitzine). In the history of high school comedies, football jocks have never been seen quite like this; they're outlandish, ridiculous people. They're also babies. When the girls' car ever so slightly taps Jeff on the knee, it's taken as a near-death experience, bringing down the principal's wrath and prompting rumors (stoked by PJ) that the girls are a violent duo who killed someone in "juvie."
This might have been a little running gag for most movies, but Seligman and Sennott's script takes it as a linchpin for the rest of movie. Playing off their bad reputation, PJ launches a self-defense group — a "fight club" — for girls, hoping that Brittany shows up, too. Of course, it would be implausible if such a student group didn't have a school-sanctioned advisor. Enter their divorcing social studies teacher Mr. G (Marshawn Lynch), who's in the midst of derisively giving a lesson on feminism. Yes, one of the few adults in "Bottoms" is the former NFL all-star running back known as "Beast Mode" — and he's hysterical.
This is the second movie by Seligman, whose 2020 "Shiva Baby" (also starring Sennott) was a clever and highly anxious debut about a bisexual Jewish woman attending a shiva with her family. Her follow-up is more antic and off-the-cuff but similarly allergic to falling back on the expected. "Bottoms" can feel slapdash and unmodulated. But it's always its own unhinged thing. There's one student here (Ruby Cruz, charming) planting pipe bombs. There isn't a line reading by Edebiri, currently everywhere, that doesn't have its own unique rhythm. And Sennott, a frizzy-haired ball of mayhem, is a comedy star in the making.
Not all the jokes land but they do fly. "Bottoms," a queer comedy with a chaotic beat, is here to break stuff — and that's a very good thing.
"Bottoms," an MGM release, is rated R by the Motion Picture Association for crude sexual content, pervasive language and some violence. Running time: 92 minutes. Three stars out of four.
More in Reviews