SR's Miller headed to Valpo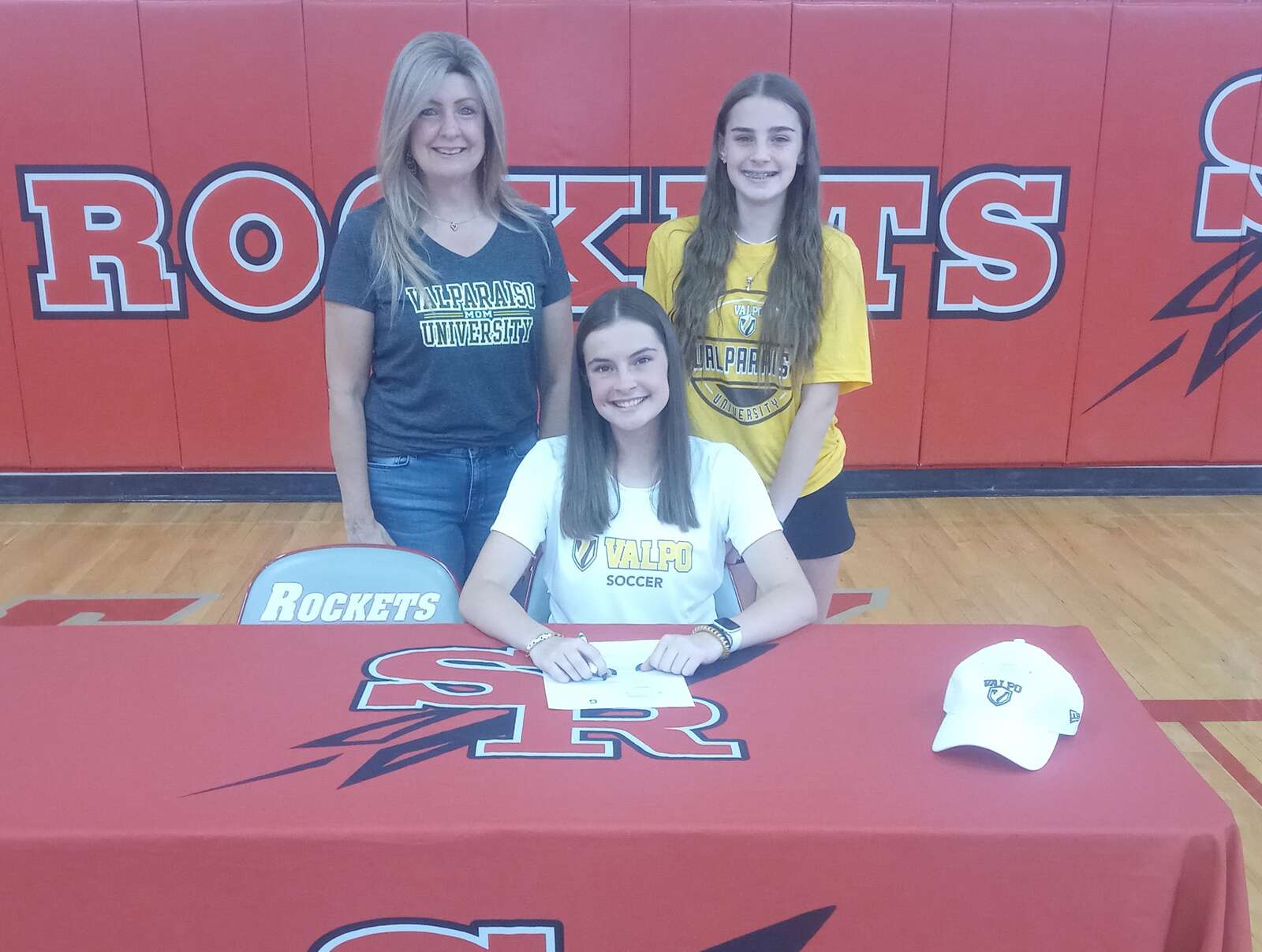 Soccer standout to join consistent contender in Missouri Valley Conference
SLIPPERY ROCK — Talk about finding the best of both worlds.
Slippery Rock High School senior Eve Miller struck gold in that regard.
Miller, a center-midfielder and center-back for the Rockets' girls soccer team, recently signed a letter of intent to continue her academic and soccer career at Valparaiso University in Indiana.
She also considered Ball State, East Carolina and Virginia Tech before opting for Valpo.
"I want to study meteorology and they have one of the top three programs in the nation in that field," Miller said. "I'm very excited to go there. Things could not have worked out better for me."
The soccer team isn't bad there, either.
The Beacons were 7-1-2 in Missouri Valley Conference play last fall (8-7-4 overall) and won the MVC regular season championship. In 2021, Valpo was 6-1-1 in league play, finishing second in the regular season standings.
Miller stands 5-foot-9 and has been a force on defense for Slippery Rock. She also plays club soccer for the Pittsburgh Riverhounds.
"Eve is an extremely talented player," Slippery Rock coach Sarah Vermilya said. "She can play multiple positions. We like her on the defensive side because she can quickly turn play the other way.
"She has the sized and ability to a lot of things."
Miller scored four goals her senior season. She netted 11 goals and six assists as a junior in a more offensive role.
"I prefer to play back and that's where the (Valpo) coaches want me to play," Miller said. "It was an easy choice to go there. It's not just the meteorology program. I love the coaches and the way the players work together and play as a team.
"My goal is to fit right in there with them, help the program to continue moving forward."
Miller played basketball and tennis through middle school before deciding to focus on soccer.
"She was one of our leaders," Vermilya said. "She'll continue to mature as a player because she works so hard at it. I love the fact she's going there for the meteorology program and to pursue what she wants to do with her life.
"Eve is using soccer to help set up her education. That's the right idea."
Miller was a four-year letter winner with the Rockets and a four-time All-Region selection. She was Slippery Rock's Rookie of the Year in 2019 and received the team's HART Dedication Award in 2021. She is a four-year member of the honor roll as well.
Miller said on Valpo's website that the Beacons "play a similar style to my current club team. I know everyone will push me to work my hardest, but also will bring out the best soccer player I can be."
Her soccer goals are team goals.
"Help win the conference championship and get to the NCAA Tournament," Miller said.
John Marovich has been Valpo's women's soccer coach for 15 seasons. He is the program's all-time leader in wins (121) and winning percentage at .516 (121-112-42).
Marovich commented on Miller's signing on the university's website.
"Eve is a versatile defender that has good pace," the coach posted. "She can play as a center-back, she could be an outside back and she connects passes well with others. She can also contribute in the attack and we're excited to have her joining us."
Miller is one of 10 new recruits to Valparaiso women's soccer this off-season.
More in Sports