Northwest School Traffic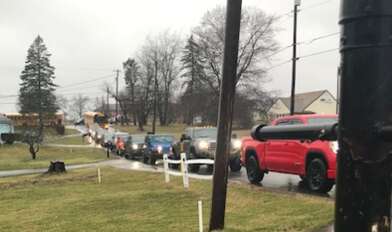 There is an ongoing problem at dismissal time at Northwest Elementary School as traffic backs up along Staley Avenue and out on to Duffy Road. I have reached out to the school and the township many times in years past with no positive results. I also reached out to Butler Area School District Superintendent Brian White.
Traffic stops on Duffy Road waiting to turn onto Staley Avenue, where traffic is backed all the way from the school to get to the school, thereby creating a dangerous situation. Buses exit Staley onto Duffy Road instead of making a safer exit on to Route 68.
In the morning, speeding traffic is also a problem as parents and staff ignore the 15-mph school zone as they head to the school.
Apparently, the parties involved are waiting for a multi-vehicle accident to occur before finally taking action. Speeding is also a huge problem on Duffy Road between Route 68 and New Castle Road (Route 356), where the speed limit is a widely ignored 25 mph, and there is a daily parade of loaded semi trucks ignoring the 13-ton weight limit on Duffy Road.
Jon McKain
Butler Township
More in Letters to the Editor