Popovich joining Lakers
Butler senior lineman extending football career to Mercyhurst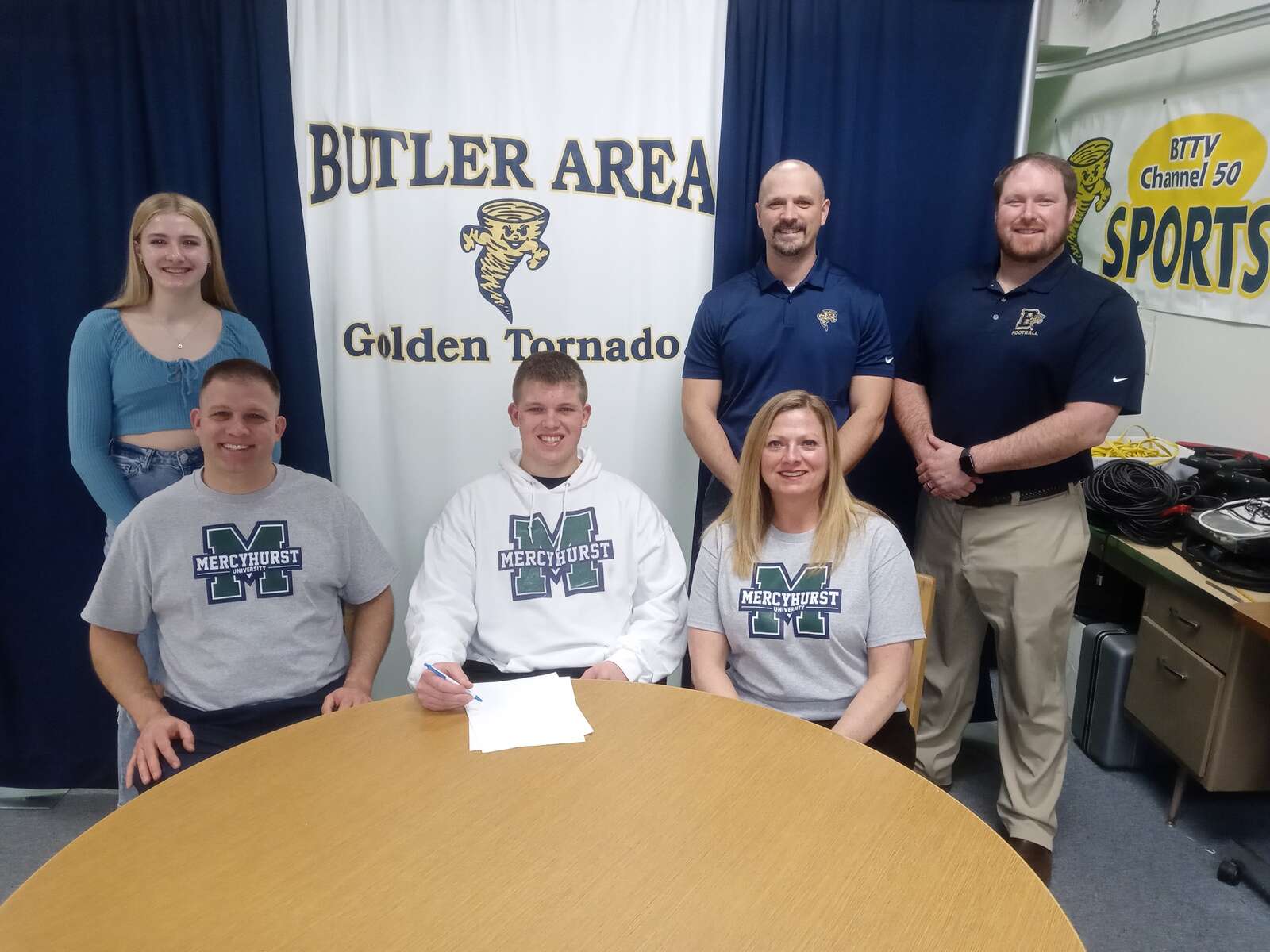 BUTLER TWP — Keep the line moving.
Butler senior offensive tackle Brock Popovich is doing his part, recently signing a letter of intent to extend his academic and football career to Mercyhurst University.
Golden Tornado graduate Jake Kradel is playing center at Pitt and fellow Butler grad Nick Stazer is a starting offensive lineman at Slippery Rock University. The 6-foot-3, 275-pound Popovich simply wants to continue the tradition.
"I want to get to the point where younger linemen coming up want to do what Brock Popovich did," he said. "It's like, when I saw those other guys do it, I wanted to do it, too."
Popovich also considered Robert Morris, Clarion, Edinboro, Seton Hill and West Liberty before opting for Mercyhurst. The Lakers were 2-9 last season, 0-6 in the PSAC West, under first-year head coach Ryan Riemedio. The Lakers dropped their last nine games, four of them by the margin of a single score.
Riemedilo was defensive coordinator under longtime head coach Marty Schaetzle for 10 years and was the head coach in waiting when Schaetzle retired following the 2021 season.
"When I visited there, it seemed like the right fit for me," Popovich said of Mercyhurst. "It fit my education, too."
Popovich plans to major in business and marketing. He is part of a 29-player recruiting class for the Lakers and is one of five offensive linemen coming in.
Known as a power-running offense under Schaetzle, Mercyhurst is transitioning to a spread offense under Riemedio. Popovich is looking forward to being part of that transition.
"The offense they're running now is similar to what we have here," Popovich said. "There will be a lot more pass-blocking involved and I'm accustomed to that."
Popovich was an offensive and defensive tackle at Butler. The Lakers have interest in him in the offensive side of the ball.
"He's going to get bigger, stronger and faster," Tornado defensive coordinator Bill Elliott said of Popovich. "I'm excited for Brock. It's exciting anytime you get a football player to the next level.
"PSAC football is quality football. He'll be going up against a lot of great teams and hopefully he'll be playing for a great team."
Popovich is counting on it.
"I want to play on a PSAC championship team before I'm done there," he said.
Knoch graduate Tyler Buterbaugh is a linebacker on Mercyhurst's roster. Popovich will be the second Butler County player to join the team.
Popovich was named Butler's Offensive Lineman of the Week in virtually every game last season.
"He earned every one of those accolades," Butler coach Eric Christy said. "Brock developed into such a consistent player. Mercyhurst is getting a good one, that's for sure. We seem to have a knack for churning out good linemen here."
The Lakers' tight end coach, Tom Herman, was head coach at Gannon when Popovich's father, Chris, played football for the Golden Knights from 1990-93.
Popovich said the Laker coaches want him to get to 285 pounds by the end of his freshman season and eventually reach 300 pounds.
"That's all going to be muscle weight," he said. "A player can play in up to three games and still be red-shirted. The coaches told me they may put me in for a few snaps in those games to see how well I can handle it.
"If I do well, I'll play. If not, I'll be red-shirted and will get stronger. It's a fair opportunity and that's all I can ask."
More in High School