Tornado wear down Tigers
Littlejohn nets 32 in 66-55 Butler basketball victory
BUTLER TWP — The student section's theme was pajamas, but Butler did not sleep on North Allegheny.
The Golden Tornado (14-5, 5-3) picked up a critical 66-55 Section 1-6A boys basketball victory on their home floor Friday night by forcing the Tigers (8-10, 3-5) to extend a zone defense that Butler was having trouble penetrating early in the game.
A pair of Ryan Porch treys were Butler's only points in the game's first five and a half minutes as North Allegheny opened up a 10--6 lead. Donovan Carney cut the margin to one with a trey at the 2:15 mark of the first period.
"Ryan's two 3's early were big because that took some of the pressure off our shooters," Butler coach Matt Clement said. "Had we gone all that time without anything, we'd have probably been feeling that pressure a lot more.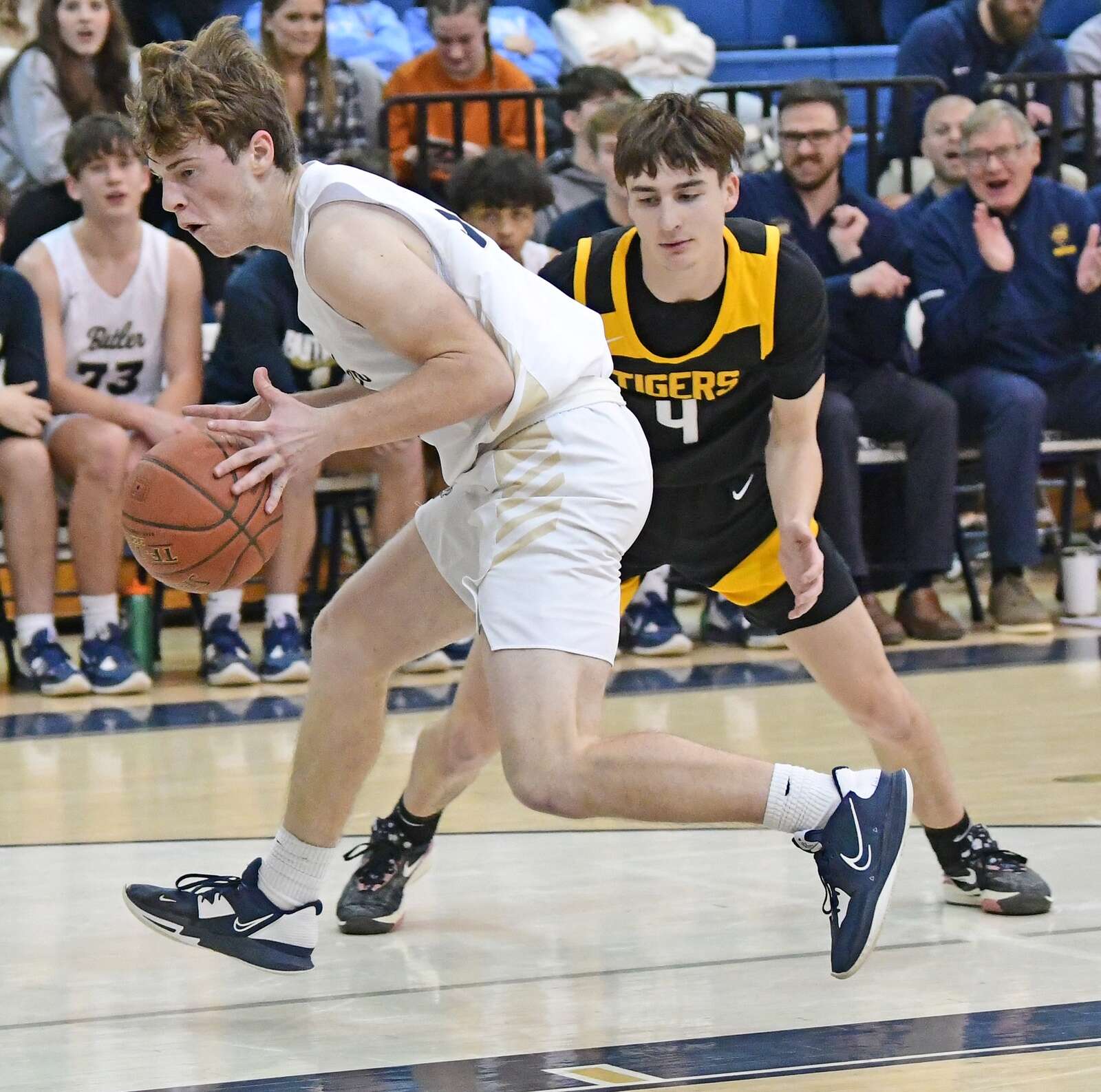 "We started hitting some shots, forced them (NA's zone defense) out a little bit and we got going."
Trailing 18-15 early in the second period,.Butler went on a 12-2 run to grab a seven-point lead. The Tornado never trailed again. Braylon Littlejohn hit a pair of treys, stole the ball and drove for a layup, then canned another layup during the surge.
The Tornado went on to outscore NA 36-21 in the middle two quarters to take a 49-37 lead into the fourth. The lead peaked at 15 (53-38) on an Ayden Davis trey with 7:07 left in the game.
"This is Braylon's team, but he doesn't want to do it alone," Clement said. "That's why he had six assists tonight. He's a complete player who gets everybody involved."
Littlejohn wound up with 32 points, six assists, five steals and four rebounds.
"Its taken some timne for everybody to re-adjust with Madden (Clement) out," Littlejohn said. "We have guys making up for his offense — especially Ryan Porch, who hit some big shots — and Madden did a lot of the dirty work inside that we all have to make up for now.
"Once or offense got going, I thought we moved the ball really well."
Porch had 14 points for the Tornado, including four treys. Butler sank 11 3-pointers as a team, shot 52% from the field and missed only two free throws. Butler had only three turnovers to North Allegheny's 12.
"You turn the ball over only three times, you're going to win a lot of basketball games," Clement said.
Carney scored eight points and contributed nine assists for Butler.
"Those assist numbers were going to be coming from him, if not now, then later," Clement said. "Donovan can distribute the ball and he makes good decisions. We're going to be talking about his assist numbers like we did Ethan Morton's."
Carney described himself as a "pass-first point guard."
"On this team, it's easy to get a lot of assists," he said. "Credit my teammates for making the shots. Once NA had to extend that zone, it opened up driving lanes and more scoring options for us."
Joey Dopirak led North Allegheny with 22 points. Ty Iwanonkiw scored 13 points, tallied seven rebounds and six assists. Tigers coach Dave DeGregorio could not be reached for contact.
The win gives Butler a firm hold on third place in the section standings. The Tornado host Central Catholic on Tuesday night.
"I'm looking forward to that one. We all are," Carney said. "That's a big one for us."
NORTH ALLEGHENY 55
Ben Lukitsch 0-1 0-0 0, Joe Marquis 0-3 2-2 2, Ty Iwanonkiw 5-10 1-2 13, Jack MacMurdo 3-3 2-2 89, Carter Melzer 1-1 0-0 2, Jackson Howard 1-2 1-2 4, Joey Dopirak 11-15 0-0 22, Varun Kaveti 2-3 0-0 4. Totals: 23-38 6-8 55.
BUTLER 66
Braylon Littlejohn 10-14 9-10 32, Donovan Carney 3-11 0-0 8, Ryan McLister 1-3 0-0 2, Ayden Davis 2-3 0-0 5, Ryan Porch 5-7 0-0 14, Coleton Welter 0-0 0-0 0, Lance Slater 1-1 0-1 2, Colin Casteel 1-6 0-0 3. Totals: 23-45 9-11 66.
North Allegheny 16 9 12 18 — 55
Butler 13 16 20 17 — 66
3-point goals: North Allegheny 3 (Iwanonkiw 2, Howard), Butler 11 (Littlejohn 3, Carney 2, Davis, Porch 4, Casteel)
JV: North Allegheny 57, Butler 56 (NA: Nick Humphries 14, B: Tayt Lucas 15, Mavrik Clement 11, Stainton Forbes 10)
Tuesday: Central Catholic at Butler
STORIES YOU MAY ALSO LIKE