Cream of the Crop
8 county volleyball players named All-State
Talent goes a long way in determining the best of the best in any sport, but having an all-star mentality certainly doesn't hurt.
Freeport volleyball star Cassidy Dell proved elite on both counts. The senior setter averaged 28 assists and 10 kills per match, but was able to truly display her mettle at the very end of the season.
After tearing the meniscus in her left knee in a state semifinal win against Philipsburg-Osceola, Dell was determined to play through the pain in the state championship match.
Her gutsy effort produced 10 kills and set up a number of others from teammates as the Yellowjackets swept York Catholic.
Dell was one of eight Butler County players to earn All-State recognition.
"It means so much to be honored like this," said Dell, who had surgery on the knee Dec. 15. "I knew I was going to play in that last game and was just focused on how I could help the team."
Other players who received all-state status were Seneca Valley's Ollivia Congdon in Class 4A, North Catholic's Sydnei Jones, Ally Feczko and Katie McNelly and Mars' Lauren Atwell in 3A and Freeport's Sydney Selker and Josie Russo in Class 2A.
Jones and Feczko were recently featured as Butler Eagle Girls Volleyball co-Players of the Year.
Freeport coach Tom Phillips appreciates Dell's performance while injured.
"She's the heart and soul of the team and I give her so much credit," he said. "The doctor told her that the damage was done and she couldn't do anything to make it worse, but I could tell she was in a lot of pain."
With her knee swelled up, Dell practiced in a limited capacity with a brace on the day before the state final.
"It was very uncomfortable," she said. "I set a few balls and didn't jump at all. I did not want to draw attention to it, so I ended up playing in the game without the brace.
"It was my last game for Freeport and I had to give it my all. Being named all-state is a great accomplishment and to do it with two of my teammates means a lot."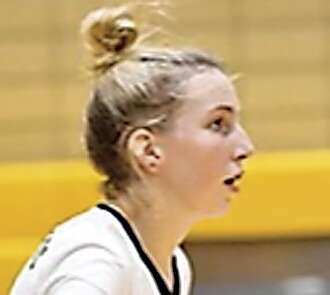 Juniors Selker and Russo were both major contributors at the net, helping Freeport to WPIAL and PIAA titles this fall. Russo, a middle hitter, averaged a team-leading five blocks per match. Her final one of the season clinched the victory over York Catholic at Cumberland Valley High School in Mechanicsburg Nov. 19.
"She's got a big arm swing and was a key presence in the middle for us," Phillips said. "She and I sat down before the season and I told her I didn't want her to wait until her senior year to have a breakout season."
Russo thrived with that challenge on her shoulders.
"I definitely welcomed that pressure," said Russo. "I wasn't as good with hitting and the blocks my sophomore season, but everything I did was geared toward improving. We played some really good teams in the playoffs and the hard work paid off."
Phillips pointed out that for an outside hitter, Selker (5-foot-7) is not tall, "but she can really jump. Other than Cassidy, she's the most athletic kid on the team.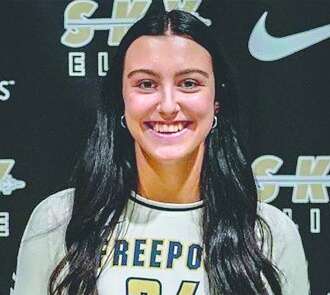 "She can play on the left side or the right and was our most consistent server at 95 percent."
Said Selker: "Making all-state is an amazing accomplishment and it's something I always hoped to do. I'm very proud of it and for what we accomplished as a team."
Seneca Valley coach Brett Poirier said Congdon is well-deserving of the honors she received.
"She got every award there is ... All-Section, All-Big 56 Conference, All-WPIAL, All-State," he said. "She played hurt and never complained. She wasn't coming out and I'd have to drag her off the court."
The junior middle hitter had 66 blocks, more than double that of any other player on the team, and dropped 140 kills on opponents.
"I didn't become a starter until halfway through my sophomore season, had to first prove myself in practice," Congdon said. "I used to just tip the ball a lot (on kill attempts), but I became more aggressive at the net this year. My club team, Pitt Elite, prepared me for a lot of different situations on the court and I felt like I was ready to take the next step this season."
Atwell began playing volleyball in middle school. At that point, it was not yet a passion for her. Through her time with the Planets and stints with the Renaissance and Pitt Elite club teams, volleyball won her over.
As a senior middle hitter this fall, she totaled 153 kills, 54 blocks and 39 aces. She will continue her career at Gannon University, which reached the Elite Eight in NCAA Division II earlier this month.
"Everybody needs to be locked in and that creates a strong family aspect to the sport. Every player is counting on the others who are on the court. I was hooked."
"Lauren is not just tall (6-2)," Mars coach Tami Caraway said. "She reads things so well and is able to shut down the other team's top attackers."
As a senior middle hitter, McNelly was an integral part of North Catholic's run to the WPIAL Class 3A title. The Trojanettes came within inches of winning a state championship before falling to Pope John Paul II.
She did not take lightly the opportunity to play on a team with elite players and for a program with high standards.
"It was amazing," she said. "We're all best friends and treat each other like sisters. We bring each other up and give tips to help every player improve. That made it very special for all of us.
"I'm grateful for my coaches, teammates and all of my experiences there."
McNelly contributed 133 kills and 58 blocks for the Trojanettes.
"I think she's one of the more under-rated players in the WPIAL," North coach Amanda Fetter said. "She got touches on a lot of balls to slow them down. A player like that often goes without the credit she deserves."
More in High School