Community kicks off Christmas in Saxonburg
SAXONBURG — The Kugel and Watts families had their folding chairs set up by the curb of Main Street at around 5:30 p.m. Friday.
While the annual Saxonburg Holiday Parade wouldn't begin for another hour-and-a-half, the families are veterans of the event and knew that the streets and sidewalks would be crammed with viewers by the time the siren started.
"We come every year; it gets crowded," said Bonnie Kugel, of Saxonburg.
"(The Watts) picked us up at 2 o'clock to start shopping here," said Ron Kugel, of Saxonburg.
The Kugels were right to secure their front row seat on Main Street, because hundreds of people flocked to Saxonburg to not only watch the parade Friday, but peruse the shops and businesses that stay open later than usual to help kick off the holiday season each year.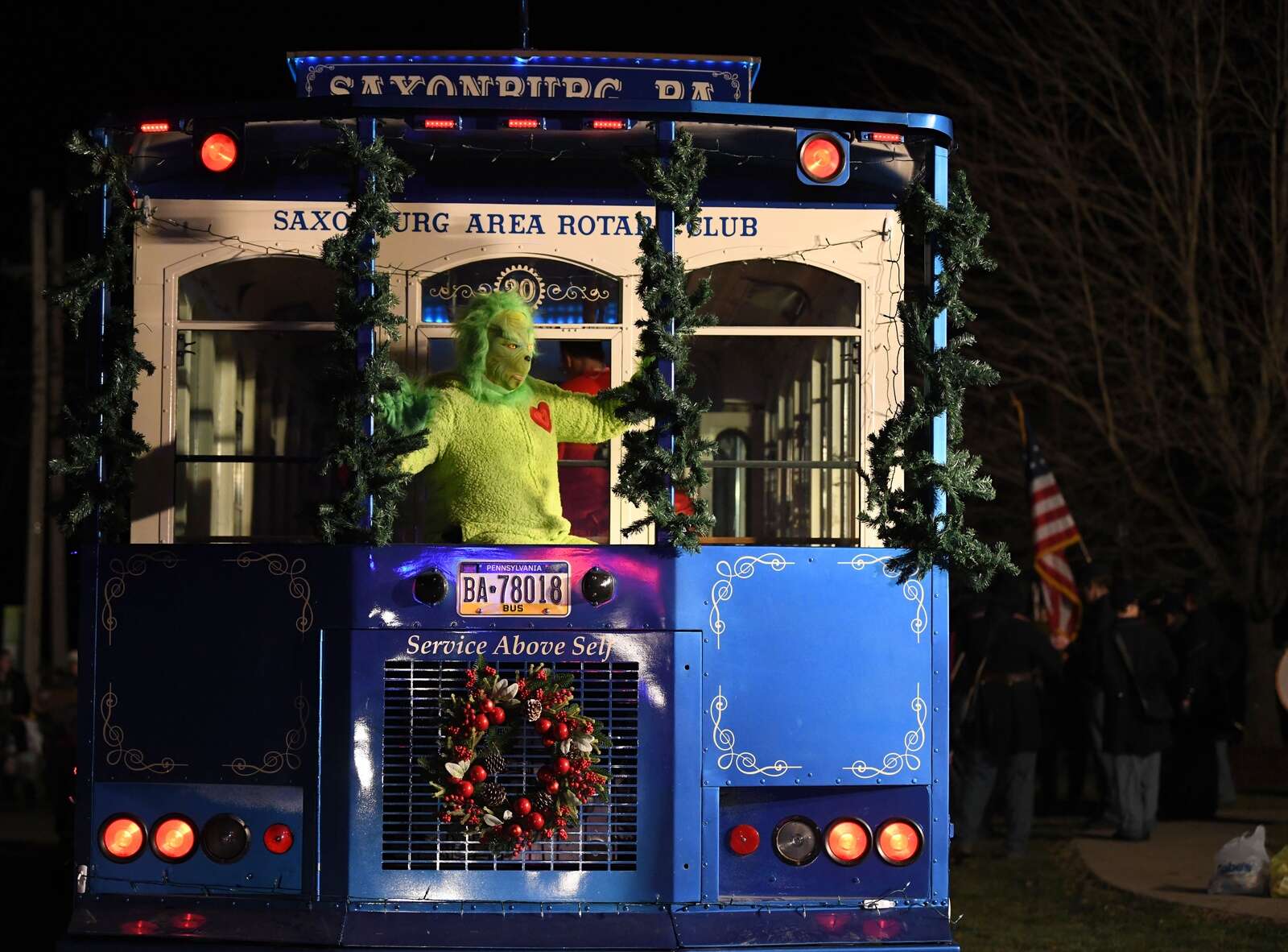 Carrie Kadyk, vice president of Saxonburg Area Business Association, said the annual parade brings thousands of people to the borough to not only watch the parade, but kick off their holiday shopping at the local stores.
"This is the longest standing tradition as far as parades," Kadyk said. "We really get a good turnout; even when it's snowing and cold out, people bundle up. We pack the sidewalks three people deep."
The parade kicked off on Main Street at 7 p.m., but by then the Saxonburg community was already out in full force. The holiday market opened at 5 p.m. at the South Butler Community Library, featuring numerous craft and food vendors from around the region. Many businesses around town also decorated their storefronts to get into the holiday spirit.
The event attracted several first-time visitors, who watched the events unfold alongside the usual parade viewers. Jennifer Messick said she traveled from Delaware to see her son who lives in the area, and decided to watch the parade.
"We've heard it's a good one," said Messick, who also set up on the sidewalk at around 5 p.m. "We're just enjoying our time here."
Some returning parade-goers took on new roles this year, like Paula Vaughan, Shelly Bastin and Joyce Hamilton, who traversed the streets singing Christmas carols for the business association prior to the parade start.
"We're doing it for fun tonight," Vaughan said.
Many creators of the floats went all out with their decor, because the top three floats as voted on by judges would receive cash prizes. Kadyk said the parade is typically her favorite part of the holiday event.
The Knoch High School marching band led the parade, and it was followed by entries from businesses to nonprofit organizations. Floats ranged in theme from a "Charlie Brown Christmas" to a tow truck strewn with lights to a live mobile Nativity.
Kadyk said she is always happy to see the new floats.
"I really enjoy seeing the effort people put into their floats," Kadyk said. "Some of them go out with a theme. Some people walk, some drive a pickup truck, some decorate their pickup truck."
STORIES YOU MAY ALSO LIKE