Blocked punt victimizes Rockets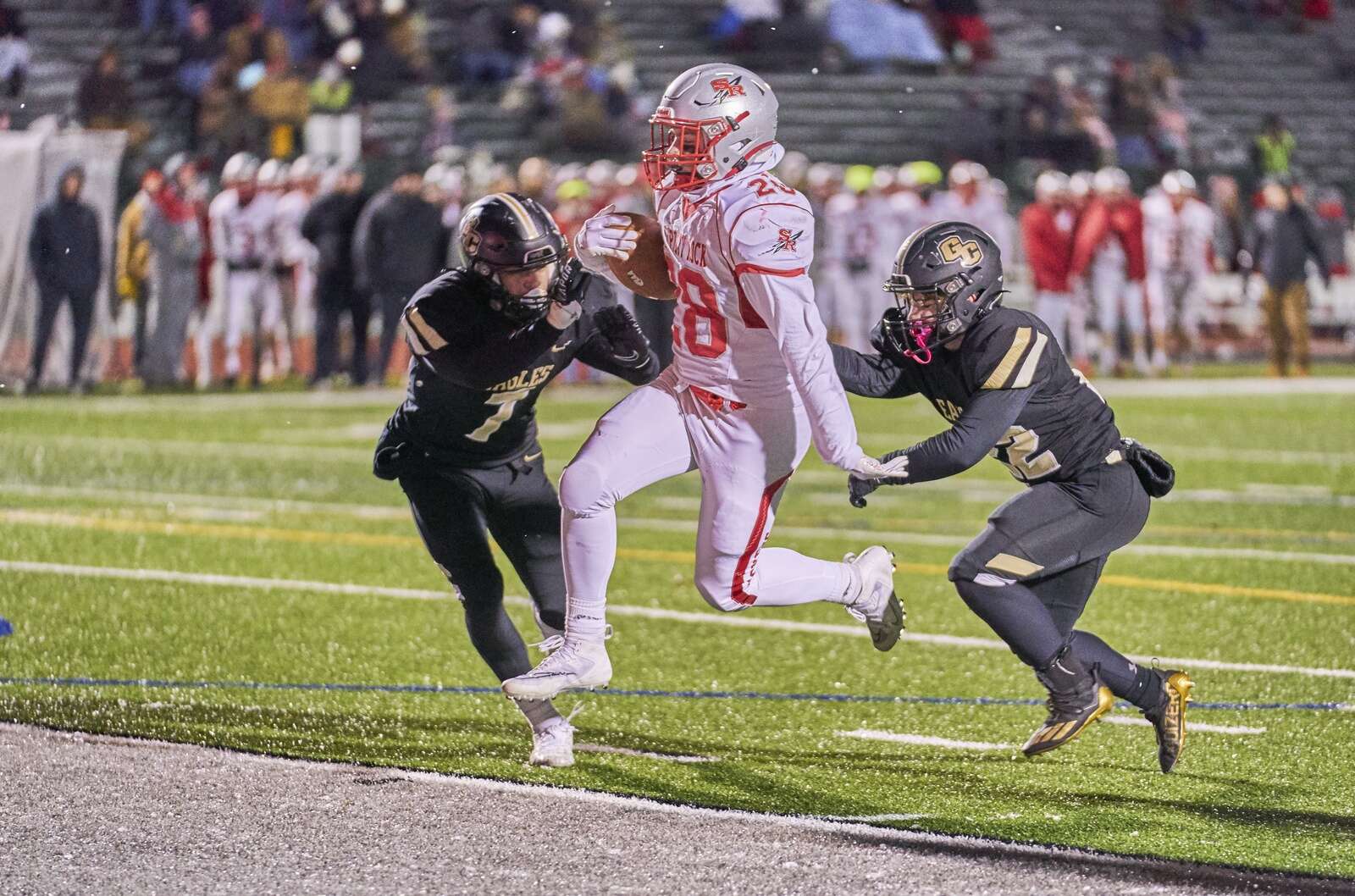 Sr bows to Grove City in D-10 title game
SLIPPERY ROCK — Turning points are not always clear-cut.
This one was.
Leading Grove City 17-14 late in the first half of Friday's District 10 Class 3A football championship game, Slippery Rock sent out its punt team after being stopped near midfield.
Shawn Young got a hand on Nick Kingerski's boot, which traveled just a few yards in the air before hitting the turf and bouncing amid a number of players from both teams. No Slippery Rock player downed the ball, but several Eagles were backing away from the action. That is, until Eagles' junior Gavin Lutz raced in, scooped up the ball and raced 61 yards for a touchdown with just 38 seconds remaining in the half.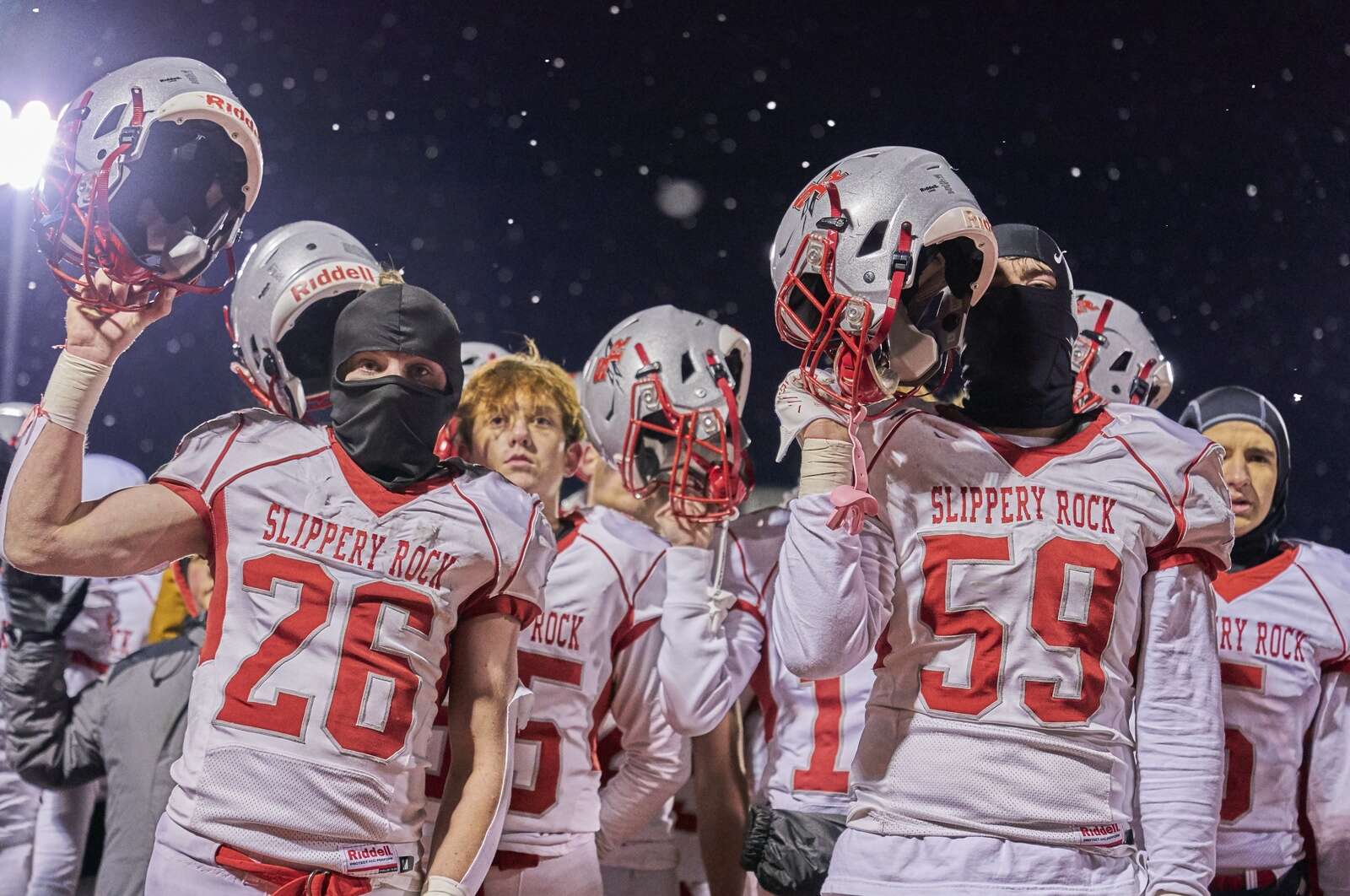 Jacob Stuccio added the extra point and the Eagles took a four-point lead they would never surrender in a 42-23 victory at Slippery Rock University's Mihalik-Thompson Stadium.
"We practice that type of play all the time," said Slippery Rock coach Larry Wendereusz, "but you never know exactly how it's going to play out in a game. It was a great heads-up play by their guy."
"It was huge, number one, for us to get a hand on the punt and, number two, for Gavin to know he could pick the ball up," said Grove City coach Sam Mowrey.
Adding to the strong wave of momentum gained by the Eagles was their 13-play, 81-yard touchdown drive after receiving the second-half kickoff. Quarterback Hunter Hohman scored the third of his four rushing touchdowns in the game from 12 yards out.
Slippery Rock's very impressive start to the game — converting each of its first three drives into points — had evaporated under the heat applied by an Eagles team intent on repeating as district champion.
The Rockets' first three offensive snaps yielded 54 yards and they settled for Kingerski's 21-yard field goal less than three minutes into the game.
After Grove City (9-3) answered with Hohman's first score, Slippery Rock responded with scoring runs on their next two drives — Sal Mineo scored from one yard and Maddox Allen went over 1,000 yards for the season when he burst through Grove City's secondary for a 33-yard touchdown.
William Mokel, Slippery Rock's three-year starting quarterback, was gashing the Eagles' defense through the air and on the ground.
"Things started out well for us, but we were just never able to regain that momentum," said Wendereusz.
The Rockets (7-5) had gained 132 yards of offense in the first quarter alone, but went three-and-out on their first two drives of the second half.
Desperate for a spark, they instead fumbled the ball on their third series and Anthony Nemec returned the prize 49 yards for a score that gave the Eagles a commanding 42-17 lead with 9:12 left in the game.
"We switched up some responsibilities on defense and that made a big difference," said Mowrey. "To win (a district title) for the second straight year, it's so special. Our guys have poured their hearts into this program."
Hohman was 10 of 13 passing for 150 yards and, just as important, did not turn the ball over.
"I don't think they tried anything offensively that we weren't expecting. They just executed better than we did," said Wendereusz. "They were the better team tonight."
Allen, who closed the scoring with an eight-yard touchdown run late, finished the game with 101 yards on 14 carries.
The Eagles also defeated the Rockets for last year's title, 28-20.
"This is a tough one for us to take," said Wendereusz. "We got a (second-place) medal. It's not the medal we were hoping for, I understand that. But only one other class of football players in school history has ever earned two medals. That's pretty impressive."
Slippery Rock 10 7 0 6 — 23
Grove City 7 14 7 14 — 42
First Quarter
SR — Nick Kingerski 21 field goal, 9:05
GC — Hunter Hohman 5 run (Jacob Stuccio kick), 6:41
SR — Sal Mineo 1 run (Kingerski kick), 2:12
Second Quarter
SR — Maddox Allen 33 run (Kingerski kick), 11:52
GC — Hohman 1 run (Stuccio kick), 6:33
GC — Gavin Lutz 61 punt return (Stuccio kick), :38
Third Quarter
GC — Hohman 12 run (Stuccio kick), 6:31
Fourth Quarter
GC — Hohman 31 run (Stuccio kick), 10:40
GC — Anthony Nemec 49 fumble return (Stuccio kick), 9:12
SR — Allen 8 run (kick blocked), 3:45
Individual Statistics
Rushing: Slippery Rock, Maddox Allen 14-101, Sal Mineo 4-31, William Mokel 11-63, John Sabo 1-3. Grove City, Anthony Nemec 20-88, Hunter Hohman 17-51, Gavin Lutz 1-10.
Passing: Slippery Rock, William Mokel 16-23-133-0. Grove City, Hunter Hohman 10-13-150-0.
Receiving: Slippery Rock, Sam Schwartz 4-39, Lucas Allison 5-49, John Sabo 3-19, Sal Mineo 2-15, Maddox Allen 1-3, Brett Galcik 1-8. Grove City, Gavin Lutz 5-88, Nathan Greer 5-62.