Planets struggle with finishing in 2-0 loss to Moon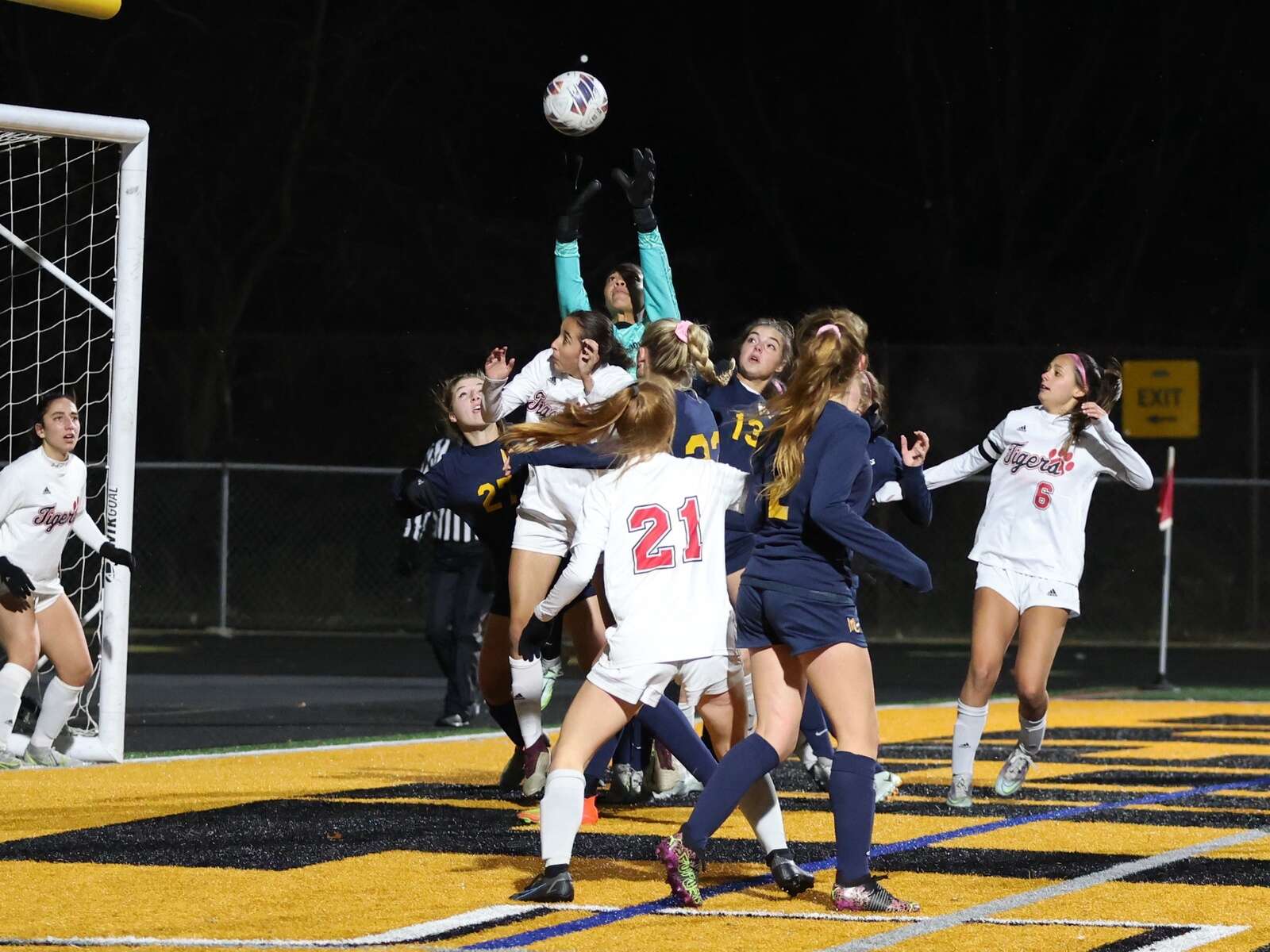 Out of Touch
WEXFORD — In its attempt to reach the girls soccer state championship game for the fourth straight season, the finishing touches eluded the Planets. Literally.
Despite a number of scoring chances, Mars never found the net in a 2-0 loss to Moon in Wednesday's Class 3A semifinal at North Allegheny's Newman Stadium.
The Planets were three-time defending state champions.
"We hit the post, hit the crossbar ... you can't miss opportunities like that in a game like this," said Mars coach Blair Gerlach, specifically of his team's play in the second half. By that point, Mars was looking to score a tying goal after the Tigers broke the ice with a tally from senior midfielder Hailey Longwell in the 34th minute.
The scoring sequence began with a Moon corner kick taken to the right of Mars' net. The Planets began to clear the ball, but Lilly Snyder played it back toward goalkeeper Kate McEnroe from 40 yards out.
Longwell took possession behind Mars' defense and placed her shot in the bottom right corner of the net. McEnroe protested that Longwell was offside, but the goal stood.
"Whether it was offside or onside, I don't know," Gerlach said. "But several players reacted as if it were offside. If it wasn't, it was great timing by her (Longwell)."
"I think Lilly was just looking to keep Mars from clearing, but Hailey was in the right place at the right time," Moon coach Bill Pfeiffer said.
Soon after falling behind, Mars (19-2) placed a lot of heat on Moon goalkeeper Serayah Leech. Planet midfielder Ava Lewis challenged her from 15 yards and Leech had to leap to make the save, which resulted in Mars' first corner kick of the game.
Piper Coffield followed with a shot that was also stopped by Leech, who made three saves in a span of two minutes to keep her team's 1-0 lead intact by halftime.
"How we don't score a goal there, I'm not sure," Gerlach said.
Leech finished the game with seven saves.
"She came up big a couple of times and that was the difference in the game," Pfeiffer said. "She is amazing. Athletically, there's no question as to what she can do."
Longwell put serious doubt into a Mars rally when she scored again off a pass from Kendall Dydek in the 68th minute.
The Planets came close to cutting their deficit to one goal in the 77th minute when Jenna Caringola took a shot from 10 yards, but it was rushed thanks to pressure from a Moon defender and resulted in a goal kick for the Tigers (23-0), who have now outscored their opponents 96-2 this season.
"Both teams had chances," said Pfeiffer, whose team defeated Mars, 1-0, for the WPIAL title Nov. 5. "This game could have been 2-0 Mars."
McEnroe finished the game with four saves.
Coffield, a major offensive threat who scored 22 goals this season, left the game several times with a leg injury suffered in the 11th minute. She returned each time, however.
"I wish we would've had Piper at 100 percent tonight," said Gerlach. "But she's a trooper and I'm proud of her for being there for her team."
Mars' seniors were part of the program's 80-2-2 record over the course of four seasons.
"To go almost four years without losing a game, winning three state championships, it's remarkable," said Gerlach. "I'm extremely proud of the seniors. They've shown great leadership and are fantastic role models for the younger girls. That's the reason our program's as strong as it is."