Agatha Christie's 'A Murder is Announced!' on Knoch High stage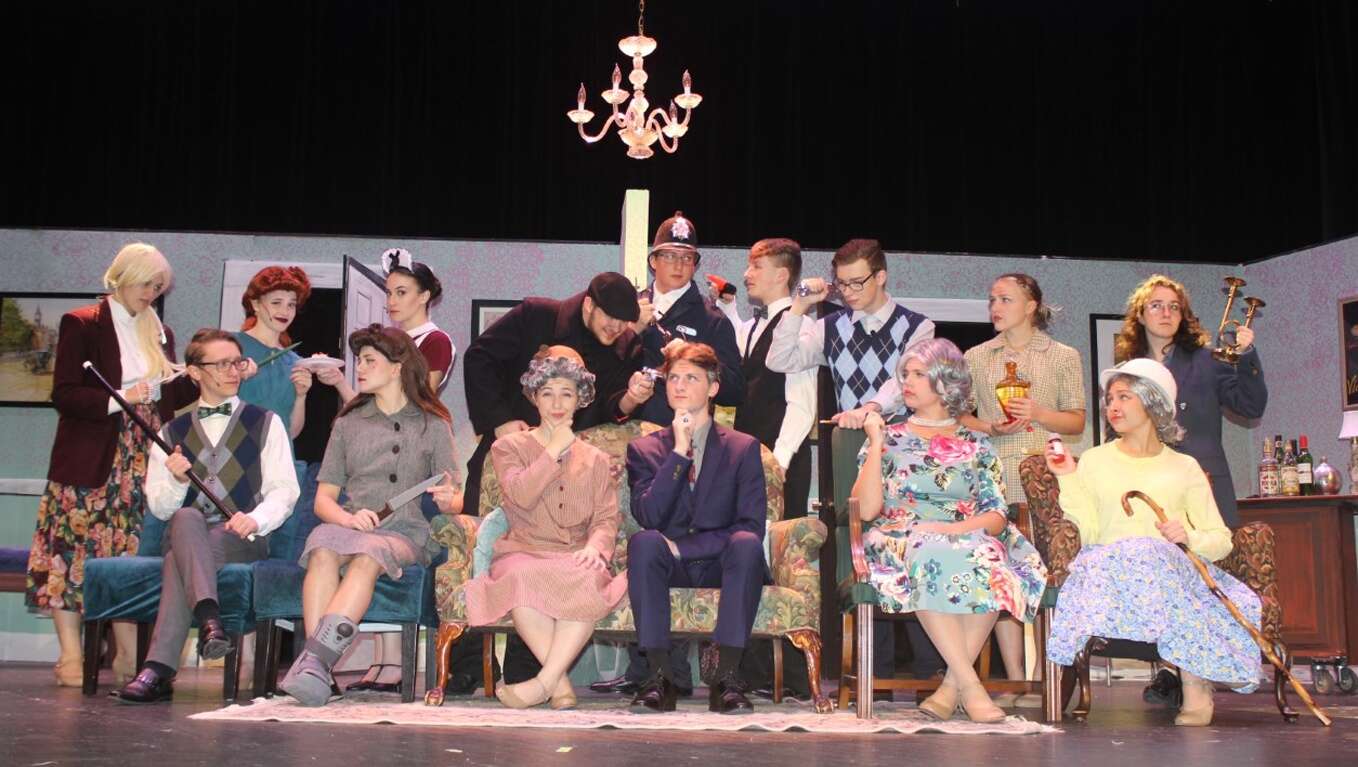 JEFFERSON TWP — Knoch High School will present Agatha Christie's "A Murder is Announced!" at 7:30 p.m. Friday, Nov. 18, and Saturday, Nov. 19, in the high school auditorium, 345 Knoch Road.
Tickets are $5 for general admission seating and are available at www.Showtix4u.com and at the door.
The show is directed and produced by Jen Bronder.
The stage manager is Danielle Golab, while Jeannette Adams is the technical director and set designer. Jenn Walker is the costume designer, Carrie Yacono is the lighting designer and Scott Emmel is the sound designer. The student directors are Kelsey Millerand and Nellie Eichler.
Vienna Pollard, Reese Scott and Michael Stull are the lightboard operators.
In the show, an announcement is placed in a local paper stating the time and place when a murder will occur in Miss Blacklock's Victorian house. The victim is not one of the house's several occupants, but an unexpected and unknown visitor. What follows is a classic Christie puzzle of mixed motives, concealed identities, a second death and a determined Inspector Craddock grimly following the case's twists and turns. Craddock gets some help from Miss Marple, who is on hand to provide the solution — at some risk to herself — in a dramatic final confrontation.
CAST
Miss Marple — Mackenzie Protos; Miss Letitia Blacklock — Ava Breese; Inspector Craddock — Sheldon Deal; Dora Bunner — Emme Mrozek; Julia Simmons — Morgan Clark; Patrick Simmons — Harrisyn Schlipp; Phillipa Haymes — Sophia Whitmer; Mitzi — Ashley Walters; Edmund Swettenham — Nick Collins; Mrs. Clara Sweettenham — Samantha Robb; Sergeant Mellors — Ian Squyres; Rudi Scherz — Christian Olar; Lilith Fernsby — Mia Collier; Bonnie Loughty — Natalie Anderson; Carol Burton — Annissa Bogan; Charles Sallow — Jacob Messenger; Miss Marple/Bunny understudy — Natalie Anderson; Miss Blacklock/Phillipa understudy — Mia Collier; Julia/Mitzi/Clara Swettenham understudy — Anissa Bogan; Inspector Craddock/Patrick understudy — Christian Olar; and Edmund/Sgt. Mellors understudy — Jacob Messenger.
CREW
Cooper Belak, Christian Olar, Logan Brestensky, Venna Pollard, Abigail Cebollero, Mackenzie Protos, Amelia Crosby, Greyson Rhodes, Sam Crosby, Reese Scott, Nellie Eichler, Sydney Snyder, Sidney Gilliland, Michael Stull, Danielle Golab, Lindsey Wise, Tristen Janoski, Katie Hodges Williams, Hunter Lucas, Ashley Walters and Kelsey Miller.
STORIES YOU MAY ALSO LIKE