Flags mark stories of service and sacrifice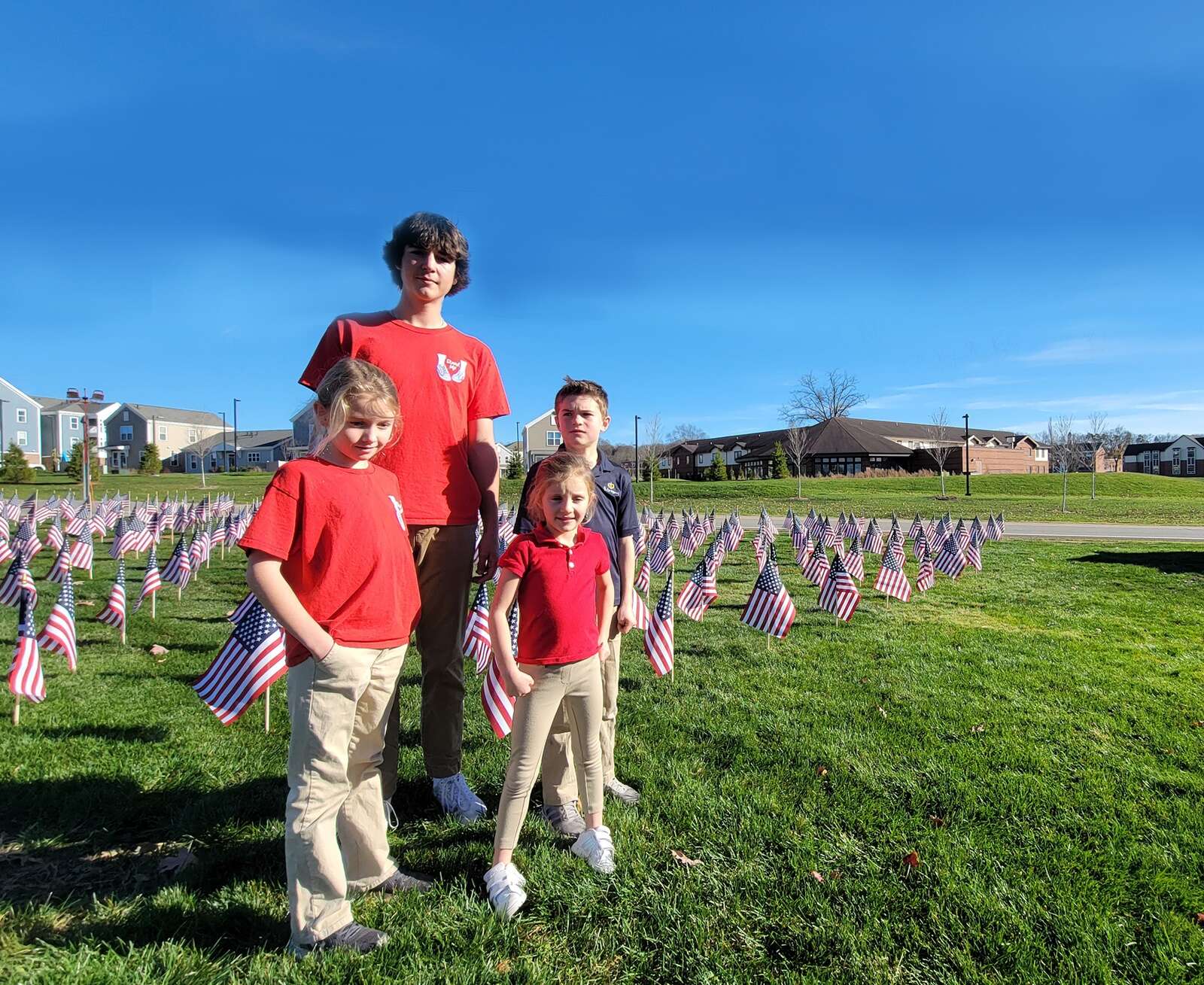 ZELIENOPLE — The 300 American flags drivers see as they travel along Route 68 near St. Gregory Catholic School this Veterans Day represent stories of service and sacrifice.
"I just wanted to do something to give back to the veterans," said Melissa Leck, president of St. Gregory Parent-Teacher Organization. "With COVID ... we lost so many of them, and they didn't get their full ... rights, military rights."
"I had no idea we would get 300 flags," she said of the school fundraiser that generated community and student support. "I mean, that was amazing."
Among the families planting flags to honor loved ones are the family of John Kovacic and that of Andrew J. "A.J." Smith.
John Kovacic
John Kovacic, whose children attend St. Gregory, has deployed four times for military service in Kuwait and Qatar, where he often specializes as a firefighter.
Their father's deployments have lasted up to seven months, and that's a sacrifice for everyone, said his wife, Katie Kovacic.
"In my opinion, people don't realize the sacrifices — not just that the soldier makes — (but) the sacrifices that my children have to make," Kovacic said. "It's very difficult for them, especially at such a young age, to grasp and understand when they're dropping their dad off at an airport, he's not coming back for awhile."
Kovacic said the children, a 10-year-old boy and a 7-year-old girl, were forced to grow up too fast.
"It was like a light switch flipped whenever my husband came back," she said. "They went from struggling in every aspect of life to excelling beyond comprehension."
John Kovacic has just returned home from a deployment. He is eligible for redeployment in three-and-a-half years.
Katie Kovacic said people often take for granted the service soldiers do — because they don't see the time and work they give.
"I obviously thank every single person in the military, from the Air Force to the Army to the Marines ... all of them," she said. "And I thank their families, because ... I know the struggles and the ups and downs and everything that you go through."
"I just appreciate them making our country what it is, being there and helping us and ... being that person, because being a military service member is not for everybody," Katie Kovacic said. "Not everybody can step up to the plate ... and do something that most people could not do."
Andrew J. 'A.J.' Smith
Andrew J. "A.J." Smith, who served in the Iraq War for four years and died by suicide in 2016 due to struggles with post-traumatic stress disorder, stepped up to serve his country.
His flag was presented in tribute by his mother, Deb Smith, of Evans City. She also supported one in honor of her husband, James, who is a Vietnam veteran.
"I think my son was a giver," Smith said. "He gave for his country, but he was also a firefighter. After he got out of the service, he became a professional firefighter, so giving was in his nature — he was the type of person to run in instead of run out himself."
"So I think to become a soldier, you have to have that in you, somebody who's dedicated to helping others," she said.
Deb Smith fills her garage every Veterans Day with food as part of a larger food drive. She then brings the food to a community center where over 60 homeless veterans receive support.
Smith also founded a suicide awareness and support group called AJ's Stop 22, which works to better help veterans struggling with trauma and loved ones left behind if they die. So far AJ's Stop 22 has raised more than $108,000.
She said her father had served in World War II and suffered from the trauma he experienced after coming home. Many Vietnam War veterans especially have faced massive hardship with PTSD in recent years and often die by suicide, Smith said.
Her son, who served from 2006 to 2010, asked for help from the Veterans Administration system shortly before he died, Smith said. That was in January 2016, but an appointment for mental health support was not available until March, she said.
He died in February of that year. He was 28 years old.
"We as a society need to do better," Smith said. "We need to take care of our veterans. They fought for us. Now it's our time to fight for them — better health care ... Because they did sacrifice for us."
STORIES YOU MAY ALSO LIKE