Artist honors SRU student with portrait
Mackenzie Shay died in October training accident
A recent portrait of Spc. Mackenzie Shay, a Pennsylvania National Guard soldier and Slippery Rock University student from New Castle, will help the world remember her in uniform.
Jonny Castro, a Philadelphia-based artist, recently created a portrait of Shay, who died in a fatal training accident on Oct. 22 in a vehicle crash from a training exercise at Fort Indiantown Gap base.
"I just wanted to make sure it was done right, done with dignity and make sure it looked good for her family," Castro said.
Castro has created more than 1,200 portraits of fallen soldiers or first responders for over 16 years. He finds it especially meaningful to honor people whose time in the service had been cut short, giving families a way to remember their military service.
Once Castro completes each portrait, he ships it to the family of that person free of charge.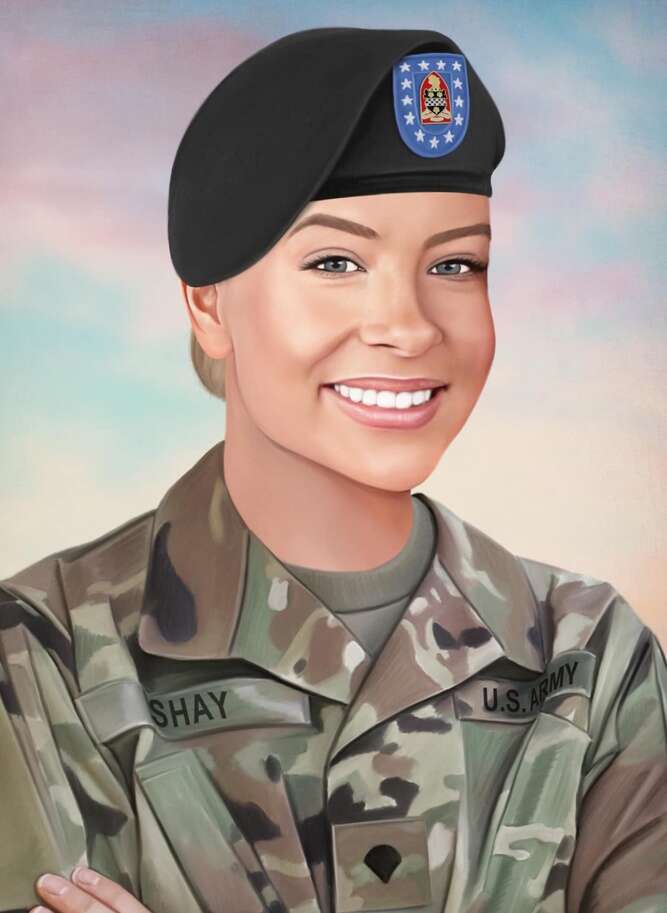 "It's just particularly rewarding ... if an officer or service member doesn't have a particular photo in uniform ... to create that, to give the family something that they can frame, that they can put on the wall," Castro said.
He said details from Shay's portrait, such as her beret and current rank, give everyone who knew her something to hold onto.
Shay, 20, joined the U.S. Army National Guard while she was still in high school. She served with the 28th Infantry Division's Company G, 128th Bridge Support Battalion near Annville, Pa., in Lebanon County and was a 92F, Army Petroleum Supply Specialist.
Shay graduated from Mohawk High School in 2020. She was a junior safety management major at SRU.
The crash happened during a routine supply mission between ranges in the fort's more remote training area, according to fort officials.
Three others were injured, but they have since been released from Hershey Medical Center.
Castro is an Iraq War veteran, who had served in the U.S. Army for eight years.
A police officer, he's also devoted his skills as an artist to forensic composite work, which helps identify crime suspects and missing persons. He's worked for law enforcement for more than 16 years.
He said not many people outside of Pennsylvania, his home state, might know about Shay, but this recent work offers a way for them to learn her story.
Other examples of Castro's work can be viewed on Facebook at www.facebook.com/jonnycastroart or on Instagram at instagram.com/jonnycastroart.
STORIES YOU MAY ALSO LIKE