Purvis health center connects people to care
Jim Cunningham, director of development for the Jean B. Purvis Community Health Center, greeted a man in early 2020 who arrived at his clinic in dire condition.
"All his teeth were black," Cunningham said. He said, 'I need to see a dentist. I'm in so much pain. I can't afford to go to anybody.'"
A veteran, the man said he couldn't even eat mashed potatoes. His whole mouth was infected.
"So we got him in," Cunningham said. "I think that day the dentist actually happened to be here."
The dental team extracted the infected teeth and made arrangements to order dentures to replace them.
Cunningham, a Vietnam veteran, noted the VA does not offer dental care. He said his shared background in military service helps him connect with other veterans. He welcomes patients if the center's receptionist is away from her desk, as was the case with the dental care patient.
Cunningham raised more than $1 million in the capital campaign to establish the Jean B. Purvis Community Health Center in 2006, reaching out to donors throughout Butler County. The clinic now offers primary medical care, basic dental care, behavioral health services and health and wellness education to anyone between the ages of 19 to 64.
People struggling to pay for care can find the clinic at 103 Bonnie Dr. in Butler.
"In this day and age, with the Affordable Care Act, most people have some kind of insurance, medical assistance, but it's not always good insurance," Cunningham said. "So we say now, 'If you're underinsured, we can help you.' People have insurance that's worthless — high deductibles, high copays."
Federal guidelines must be met for a patient to receive treatment at the center. Monthly income for a one-person household cannot exceed $3,398. For a four-person household, the limit is $6,938.
When this happens, Cunningham's team still finds some way to work something out.
Rooms throughout the clinic store wheelchairs, syringes and other equipment bequeathed by deceased donors or the families charged to manage their estates. The dental chair awaited its next patient in a nook near the waiting room.
A drawer in the board room held a hoard of plastic fake food to act as visual aids for presentations about diet: macaroni and cheese, tomato juice, chicken noodle soup.
"People don't eat right," Cunningham said. "People go to restaurants and buy food."
Cunningham explained the clinic can offer services at no cost, but that "no cost" and "free" have different meanings. "Free" means no one has to pay for anything, but "no cost" means someone still pays for that care.
"So that's a challenge," he said.
The clinic, which began seeing patients in January of 2008, must raise nearly $600,000 to operate each year.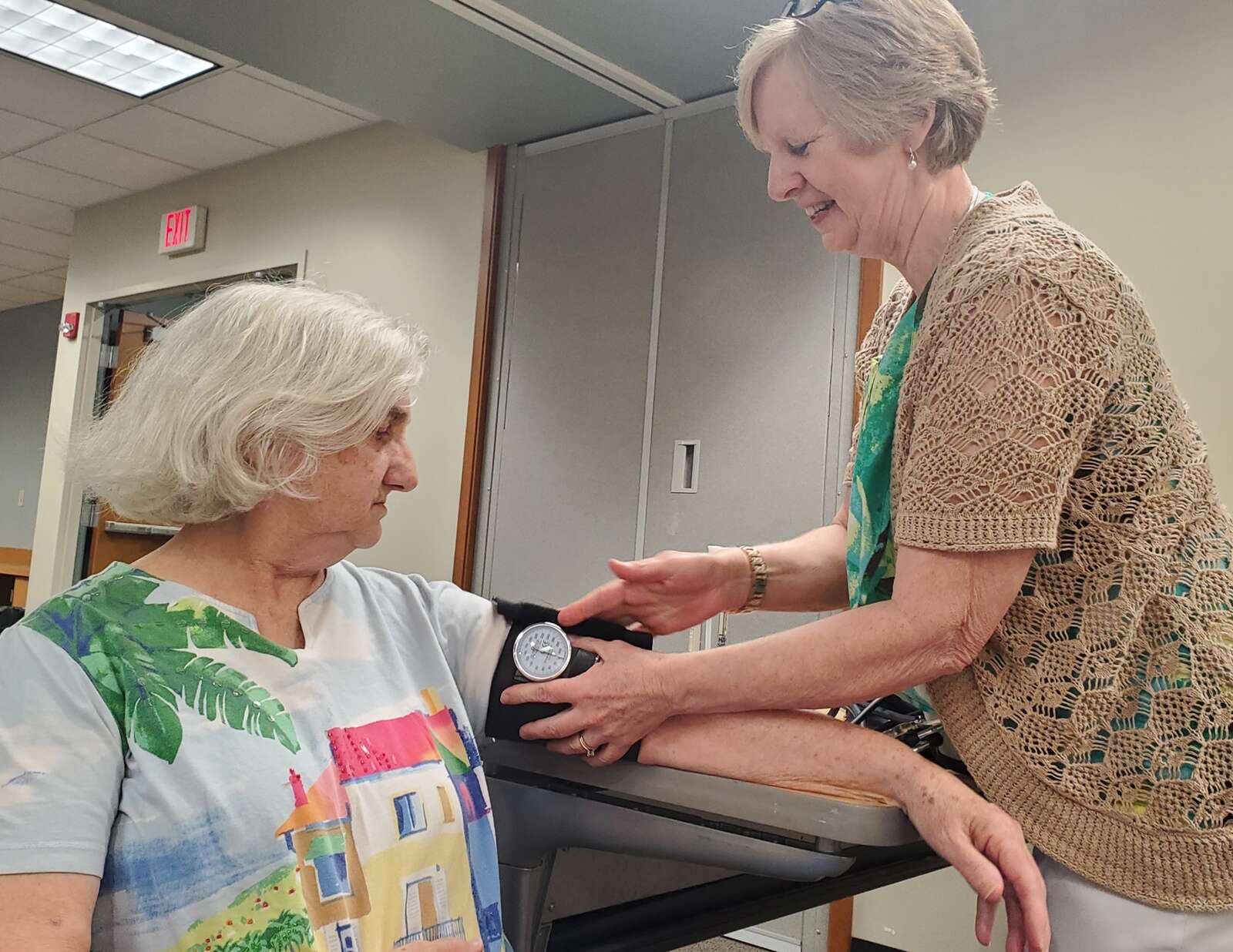 Cunningham's personable way of engaging others extends to both the patients he serves and to donors.
"Fundraising is part art, and part science," Cunningham said. "I've worked for a lot of nonprofits in the area and enjoy that kind of thing. This is a relatively small town. There are a lot of agencies competing for the dollar, all with good causes. … So our first job, my first job as fundraiser is to make people aware, by doing things like we're doing here."
Cunningham said there are many other worthy nonprofits in the region that also can benefit from donors' generosity. The outreach his clinic does highlights the importance of health care access.
His team includes a medical director, a nurse practitioner, a physicians' assistant, a dentist and a pharmacist. In addition to the clinic's full-time staff, many care providers serve as volunteers.
"I come from Canada, where health care is a little bit different," said Ianna Bold, a nurse who volunteers at the clinic. "But I mean, working here, I see how the gap has been filled in such a fantastic way."
People don't work here because of the money, Cunningham said. They're there because connecting people to care matters to them.
"I'll make contacts with donors, write letters, develop the letters that go out in the appeals," Cunningham said. "Do the 'thank-you's' to people constantly researching, assisting with the grants. … A lot of my job is planning events. We have a big event coming up in November called Signature Sensations."
The annual event, which includes a six-course meal and wine pairings, basket raffles, a live auction and specialty vendors, raised about $96,000 of the center's budget last year.
"I'm the one who beats the bushes for money, approaches people," Cunningham said.
The clinic takes its name after late community pillar Jean B. Purvis, whose son Bill Purvis was one of Cunningham's best friends growing up. Jean B. Purvis worked to create the health center after taking inspiration in 2014 from another clinic, Hilton Head Island in South Carolina, that was all-volunteer.
Purvis passed away at age 98 in 2020.
"Jean Purvis was like my second mother," Cunningham said. "Jean was a mover and a shaker."
At first Cunningham believed the descent of COVID-19 might signal the clinic's doom. Yet donors kept coming through for his team, possibly because the importance of public health was more a topic of discussion than ever.
"I was afraid the whole thing was going to go into the tank with funding, because people were struggling financially, people were losing jobs," he said. "And we ended up having some of our best income years."
Cunningham recounted a liaison for a donor who said he wished to remain anonymous.
"But he wants to support your program, because he attended one of your events, and he was impressed with what you do," the liaison told Cunningham.
This donor offered to fund the clinic's entire dental operation at $67,000 for that year.
"I almost fell out of my chair," Cunningham said. "I was speechless. So that happens. But you can't count on that happening every year."