Mullen snaps school record in Knoch victory
QB throws for 312 yards, runs for 136 as Knights topple Valley, 35-18, for 1st win
BUTLER TWP — The present felt pretty good for Knoch's football team Friday night.
Tim Burchett got his first win as a head coach as his team defeated Valley, 35-18, at Butler's Art Bernardi Stadium. Codi Mullen shattered the program's single-season passing yardage record. Jake Murphy ended his prep career with 178 receiving yards and long punt and interception returns.
But for the Knights, it's all about what's to come.
"There's a lot of talent in this school. I believe there's a league championship team here," first-year Knoch coach Burchett said.
"The record feels good, but the win is more important," Mullen said. "We're going to get a lot of these next year."
"I wish I was coming back next season," senior Murphy said. "This coaching staff is unbelievable. Coach Burchett ... That dude is going to change the culture of Knoch football. This program is going to win for a long time."
That stretch of winning may have started Friday night.
Knoch never punted the ball. The Knights scored touchdowns on five possessions, turned the ball over three times and turned the ball over on downs deep in Valley territory twice before time expired with Knoch possessing the ball inside the Vikings' 10-yard line.
The 5-foot-8 Mullen completed 15 of 20 passes for 256 yards and three touchdowns in the first half alone. For the night, he completed 21 of 29 aerials for 312 yards, ending his sophomore season with 1,689 yards passing. The previous school record of 1,511 was set by Matt Dunaway in 1988.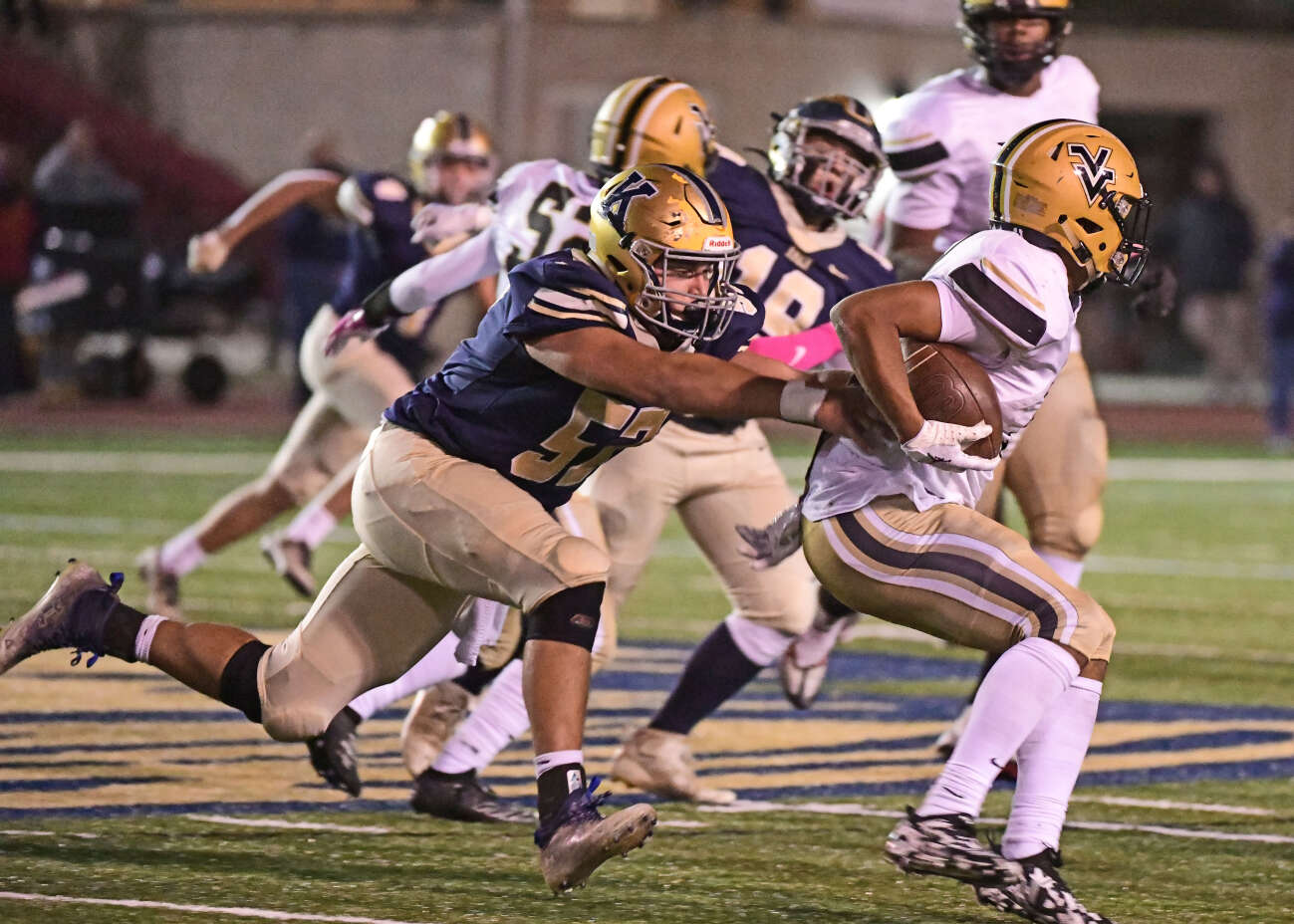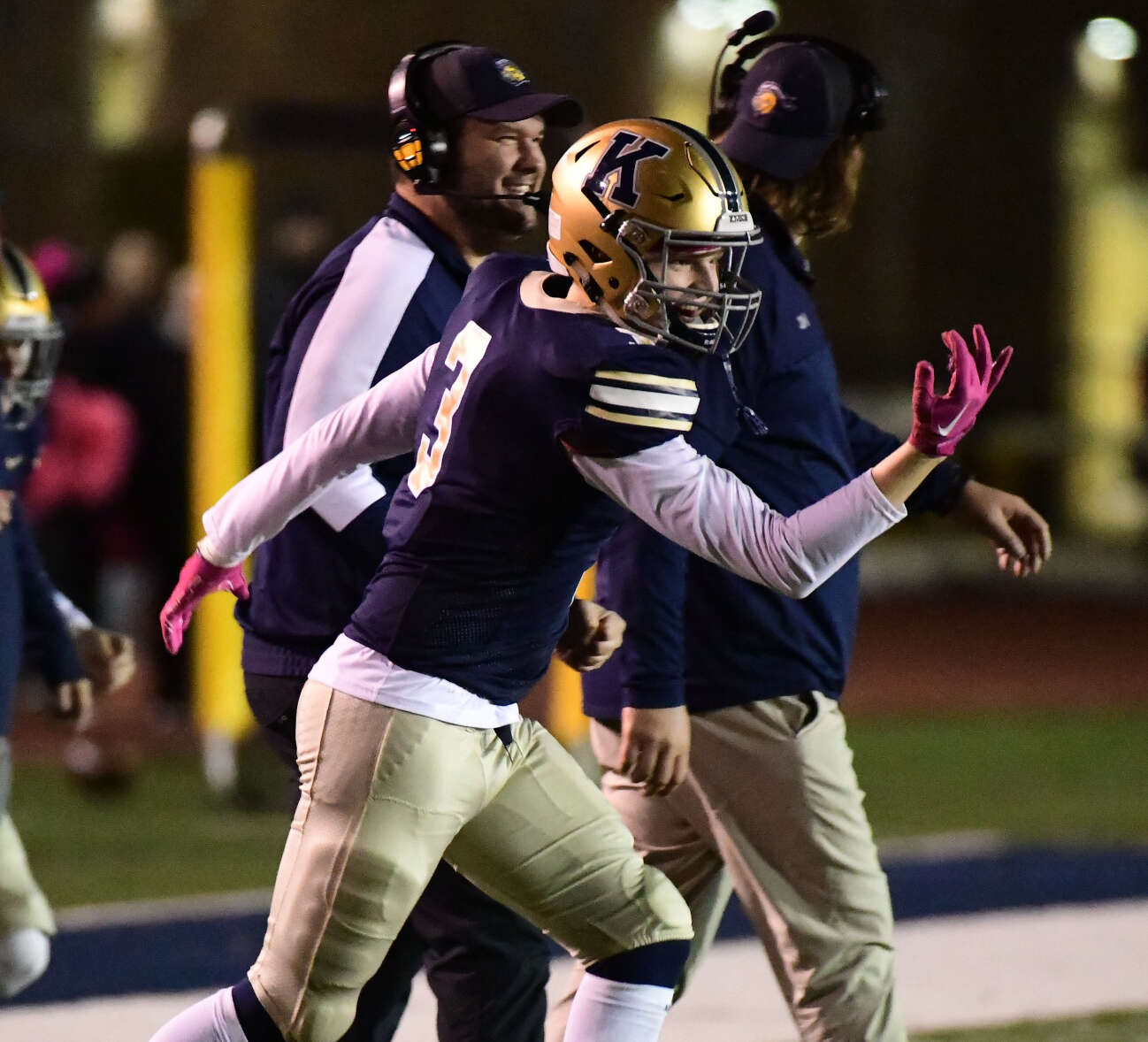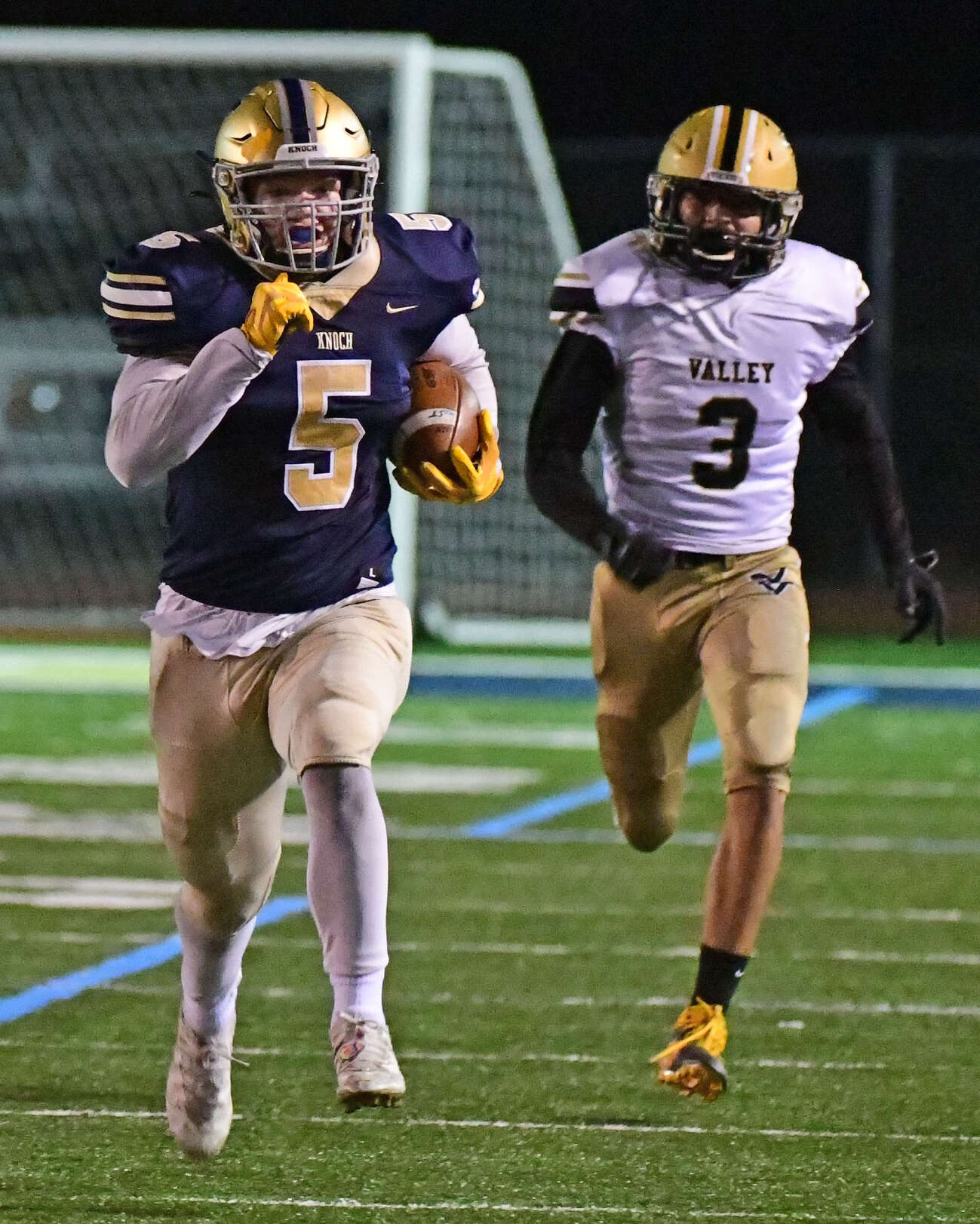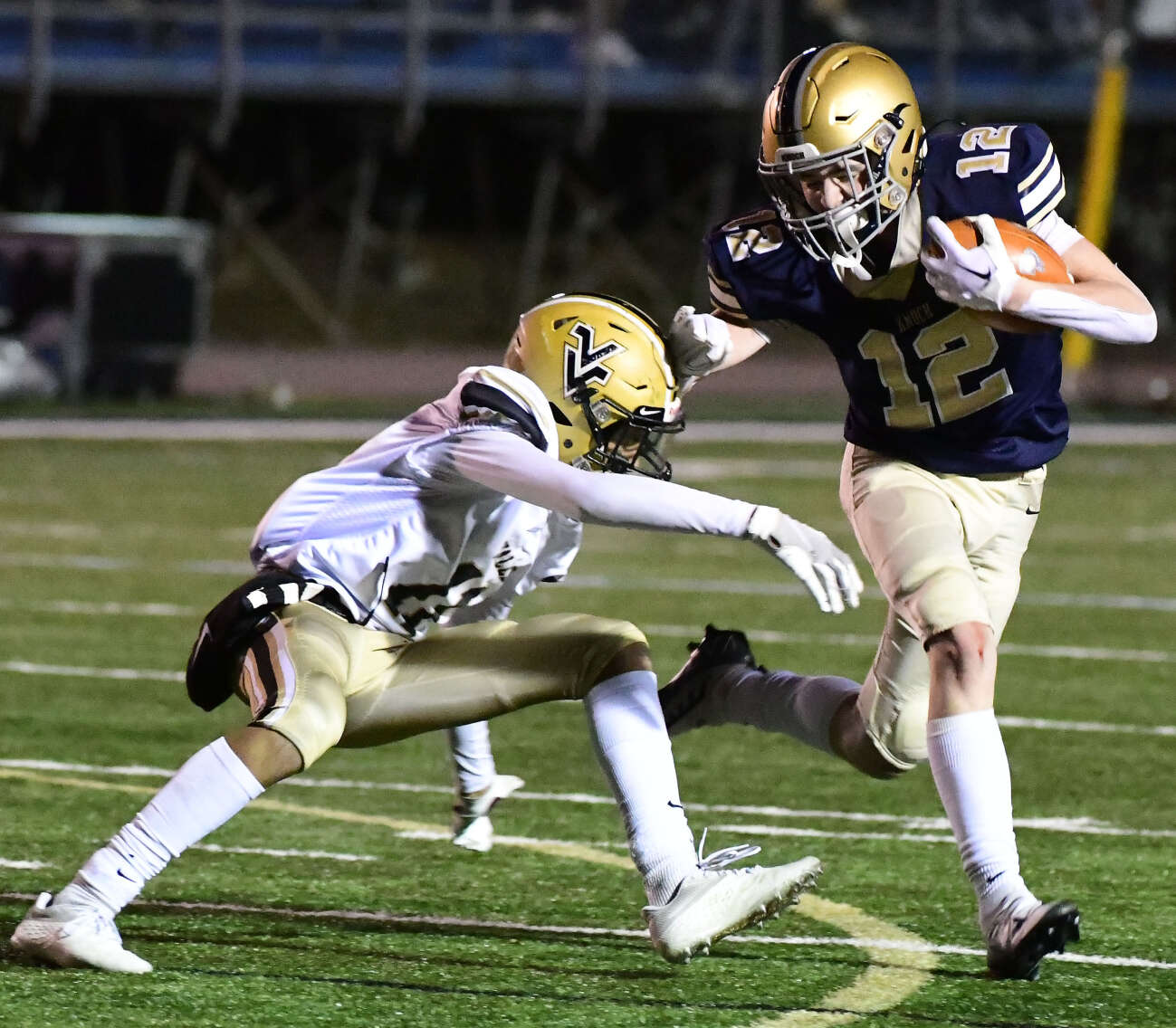 "Incredible kid ... Codi plays with so much heart," Burchett said. "If he was four inches taller, he'd be a Division 1 college prospect. He had a monster game tonight."
Mullen also rushed for 136 yards and a score. Knoch (1-9) racked up 471 yards and 21 first downs offensively in netting their first win of the season.
"I've been waiting for this night since I was 11 years old," Burchett said. "That's how long I've wanted to be a head coach. I'm not married yet ... I will be soon ... so, for now, this is the biggest moment of my life.
"The season didn't go the way we expected or wanted. I believe this is a playoff team. Regardless, we've made some major strides."
Mullen's record-setting pass was a 73-yard strike to Murphy, who out-fought a defender for the ball along the left sideline, then broke free down that sideline for the score. The play gave the Knights a 21-6 lead heading into halftime.
Murphy returned an interception 39 yards in Knoch territory on the final play of the third quarter, short-circuiting a Valley (1-9) attempt to get back in the game. The Vikings trailed 28-12 at the time.
"I thought that pass was going to be intercepted," Mullen said of his touchdown toss to Murphy. "Jake made a great play on the ball, turned on the jets and took it to the house. That was an awesome play.
"This record means a lot to me. I'm a passing quarterback, my brother (former Knoch QB Chase Mullen) was a running quarterback. It feels good to beat him at something."
The 73-yard touchdown play was a proud one for Murphy.
"I'm honored to play a part in Codi getting that record," Murphy said. "To do what he's done as a sophomore is impressive. He's on his way to a great career and Knoch is on its way to a lot of success."
Exzavier Johnason caught a pair of touchdown passes for the Knights. Nick Davis had a sack of Valley quarterback Lamonte Jones in the fourth quarter, forcing a punt that Murphy returned 41 yards to the Valley 14, setting up Knoch's final touchdown.
Xavier Wilson rushed for 110 yards for Valley. Darnell Coaston and Jeremy Hughely had interceptions for the Vikings, both on deflected passes.
"I'm never gonna forget this win or this team," Burchett said. "They stuck with it all year. When I was coaching at Peters Township, I remember a Canon-McMillan coach telling me he wanted a win so badly he'd sell his soul to the devil to get one.
"I wasn't at that point, but I was close."
Valley 0 6 6 6 — 18
Knoch 7 14 7 7 — 35
First Quarter
K — Exzavier Johnson 24 pass from Codi Mullen (Ethan Alwine kick), 6:53
Second Quarter
V —Darnell Coaston 35 pass from Lamonte Jones (kick blocked), 11:42
K — Johnson 7 pass from Mullen (Alwine kick), 6:27
K — Jake Murphy 73 pass from Mullen (Alwine kick), 4:33
Third Quarter
K—Mullen 1 run (Alwine kick), 8:18
V — Dallas Price 1 run (kick blocked), 2:55
Fourth Quarter
K — Alwine 3 run (Alwine kick), 8:17
V — Price 4 run (pass failed), 5:31
Individual Statistics
Rushing: Valley, Lamonte Jones 3-9, Xavier Wilson 16-110, Dallas Price 9-13, TEAM 2-_17), Darnell Coaston 1-6, Zayaan Ferron 1-5. Knoch, Codi Mullen 16-136, Sam Skurka 8-19, Exzavier Johnson 1-7, Jake Murphy 2-(-2), Ethan Alwine 3-(-1).
Passing: Valley, Lamonte Jones 6-18-84-0. Knoch, Codi Mullen 21-29-312-2.
Receiving: Valley, Darnell Coaston 5-69, Zayaan Ferron 1-15. Knoch, Jake Murphy 8-178, Exzavier Johnson 4-41, Jackson Bauman 6-51, James Snyder 1-5, Bennett Shaw 1-27, Sam Skurka 1-0.