Program gives senior artists chance to shine
ZELIENOPLE — Betty Ann Foss' late father told her she couldn't be an artist. She wouldn't make any money, he said.
"He was right about that," said Foss, 82.
So she didn't go to art school, instead working as a teacher and raising two boys. But dreams have a way of working their way into reality sooner or later
The Creative Arts Studio Program kicked off 20 years ago at the Passavant Retirement Community, run by Lutheran SeniorLife. The program gives residents and seniors beyond the campus the chance to craft art of all varieties and media, to learn from skilled mentors and to showcase their work.
Foss, who had painted for years before the program began, received the chance both to further hone her own talent and to share her artist's eye with a community of creators.
"I'm just so happy that I'm still able to work with people at my age," said Foss, who has taught courses through the program for the past five years.
"We meet every Thursday in our rec room, and I usually have some kind of painting, or I'll draw or paint with them. And so they'll do their own thing, and I encourage them, not to copy, but create what they feel, and they do."
Drawing a crowd
Participants saw the chance to showcase their work Oct. 14 at the Passavant Community Resident Art Show, which happens annually every autumn. The event had its largest turnout ever this year, according to Community Life Director Jody Gulish.
It went over very well, Foss said. She said it gives her people both a sense of self-worth and something to do, so that they're not in rocking chairs.
Her own work took inspiration from a zoo excursion with her great-grandchildren, aged three and four. They were so impressed with the tropical birds they saw there, Foss soon set to bringing these to life on a canvas.
The result was a lush jungle scene that bursts with vibrant colors, toucans and parakeets ablaze with life and warmth.
Most of her paintings feature water in some way. She works often with acrylics, although she and her students often like expanding into mixed media.
"It's wonderful to see through the years — the talent is unbelievable," said Mary Ann Frederick, the Lutheran SeniorLife community coordinator who created the program. "And they don't realize how much talent they have. We have folks that have never painted before and just have done lovely work."
Frederick said the program began in a creative arts studio on the Passavant campus, affectionately referred to by residents as "Main Street."
The height of COVID-19 posed a whole host of challenges, she said. Residents would often create art in their rooms, with staff stopping by to retrieve and drop off these works at different places around campus where others could enjoy them.
Foss pointed out that COVID still affects the program, as with the cancellation of a planned Halloween party in order to keep from putting the vulnerable at risk.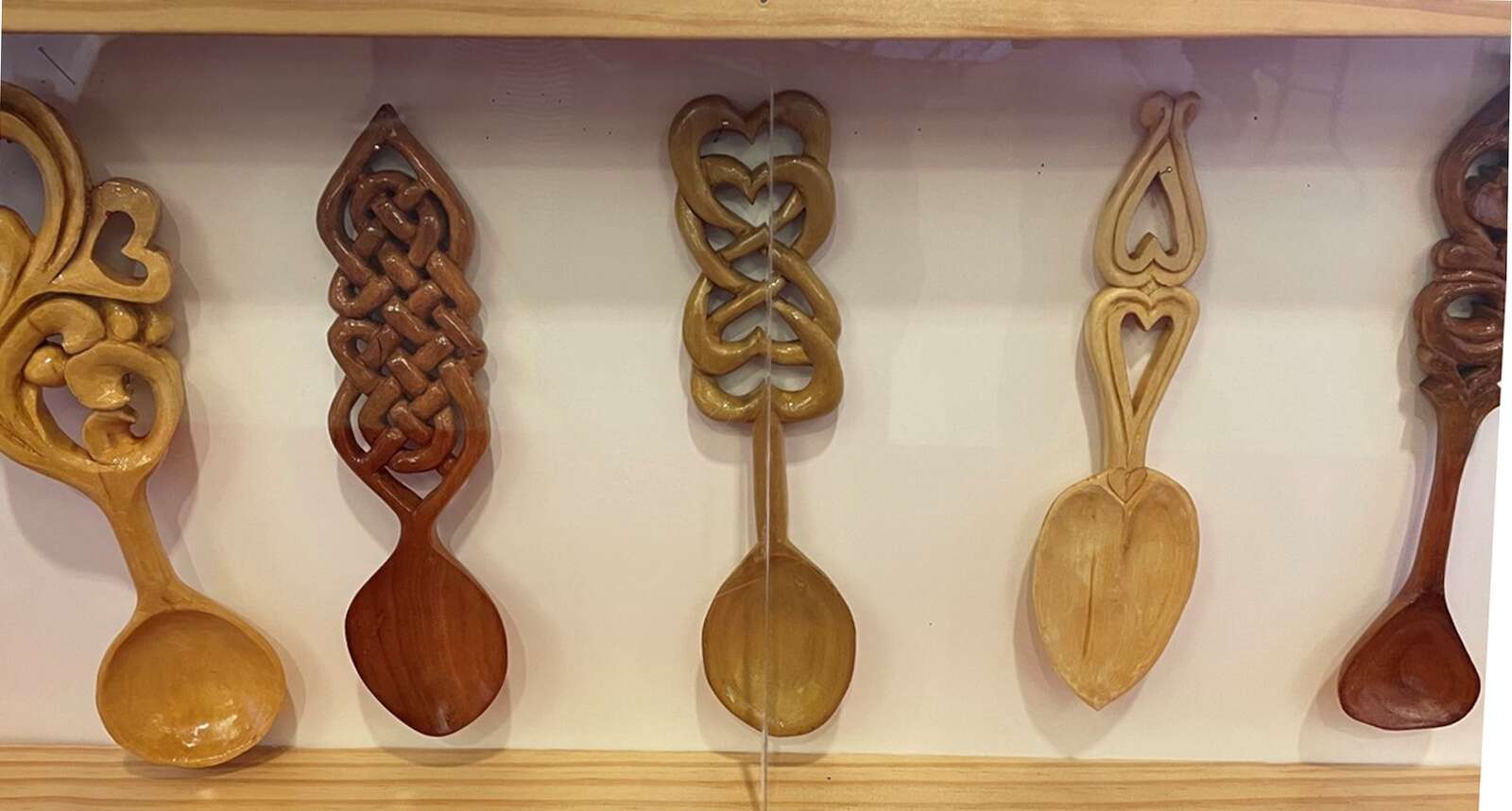 Art of all kinds
Frederick said the program is expanding into other spheres, such as poetry and writing classes.
"The whole show is so nice," said woodcarver Bill Sanders, another contributor to the program. "We've got some oil painters, some quilters — well, we're not all doing the same thing. It's great to be able to see what each other person does."
Sanders has been carving wood since the late '90s, a practice he says he just kind of fell into. At the time he began submitting pieces of his work to a different program called the Gala. He'd make tables or other pieces of furniture, which he'd then showcase and auction off for the Gala's benefit.
His recent works include ornaments, Christmas tree toppers and wooden spoons with intricate Celtic knots hewn as their handles.
"Mostly I care about getting together, our painting class," Foss said. "We laugh. We talk ... We admire each other's work. Some of them have never ever lifted a paintbrush before. And it's been a joy of my heart to see them do what they're doing."
STORIES YOU MAY ALSO LIKE