Knoch relishing role reversal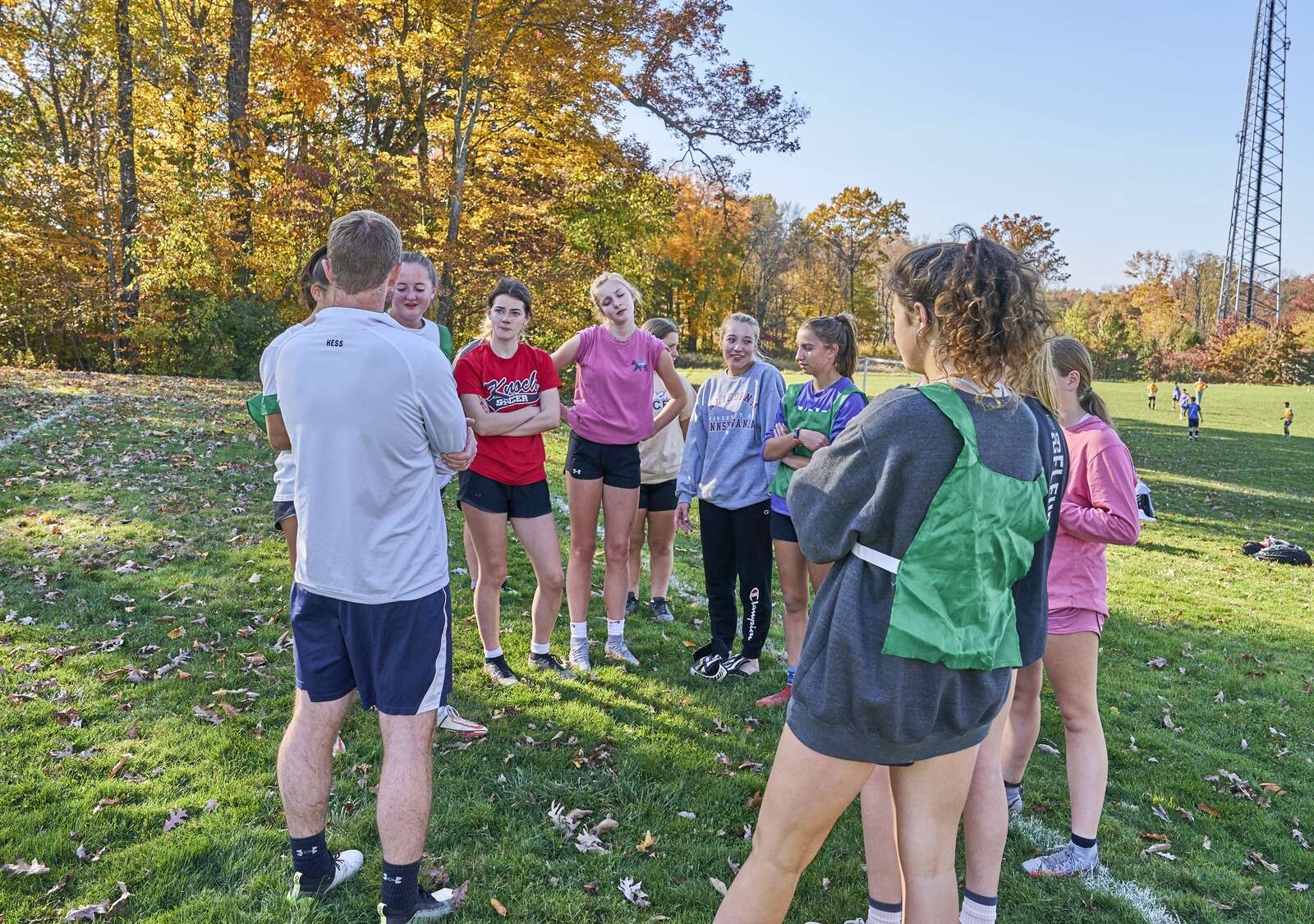 Knights' girls soccer team enters playoffs as section champion
JEFFERSON TWP — Knoch girls soccer captains Megan Vasas and Greta Dadowski remember their freshman seasons well.
The Knights won one game.
"It was hard, but I kept going because I loved soccer and it was fun being out there with my friends," Vasas said.
"Our team is so close. We were like a family then and we're like a family now," Dadowski said.
A winning family.
Vasas, Dadowski and a third captain, Paige Rodgers, are seniors now. Jessica McCalip and Annissa Bogan, also seniors, played on that one-win team as freshmen as well. All of them are relishing the team's success this year. Knoch is 14-3-1 overall, its 10-1-1 Section 2-2A record good enough to claim the league title.
Knoch takes on Hopewell to begin the WPIAL playoffs at 6 p.m. Tuesday at Freeport.
"It's insane what's happening right now. Absolutely crazy," midfielder Dadowski said. "To think of where we were a few years ago ... We worked at this as a family. We all believed. To see this season work out the way it has is very satisfying."
Knoch has compiled more overall wins and section victories this season than the program did in the previous four years combined. The Knights were 12-49-2 overall over the previous four campaigns, 8-43-3 in section play.
"A big part of this is the program moving from Class 3A to 2A this year," fourth-year coach Greg Hess said. "We're playing schools our own size now and that's made a difference.
"But another part is the effort and selflessness of the players themselves. We've moved people around. We only had one defender back from last season and another returnee back there was hurt and out for the year. Bella Oskin, Laurel Hull and Emma Slusser all moved to defense."
Rodgers, normally a midfielder, moved to goalkeeper for six games while regular netminder Hannah Klemm recovered from injury.
"That's how our team is. Everyone does what it takes," Rodgers said. "Our team chemistry is fantastic. There's been no quarreling, no issues. We knew that if we worked at this together, something like this could happen.
"I feel like this is a reward for all the hard work we put in."
Rodgers recently accepted a lacrosse scholarship to the University of Virginia. She played volleyball through her freshman year before switching over to soccer her sophomore season.
"I play one sport a season, soccer, basketball and lacrosse," she said. "I switched to soccer a couple of years ago to help my conditioning for lacrosse. I wanted to do more running. Seeing all of this happen has been so much fun."
Vasas led the Knights in scoring her freshman year with approximately five goals. She didn't score in double digits as a sophomore, either, before missing her junior season to a torn ACL.
Vasas leads the Knights with 18 goals this year. Macrina Robb has 12 goals and nine assists, Brooke Galcik and Oskin four goals each.
"It was hard, not being able to play last year," Vasas said. "I came to the field every day, watched every game from the sideline ... but I couldn't be on the field."
"Megan was our missing piece," Rodgers said. "When she came back this year, our team was complete."
Knoch edged out Freeport and Burrell — 10-2 and 8-2-2 in section, respectively — to claim the section title.
"Watching these girls clinch the section crown the other night was a great thing to see," Hess said. "They deserve this. They play as a team. They stay together. I can't say enough about the way they went after this."
That chase began over the summer.
"I believed from the start we could do this," Vasas said. "During summer, it was like, 'OK, let's get running. Let's start moving.' We won some games early and that gave us confidence.
"Then we just made it happen."