WPIAL releases soccer playoff brackets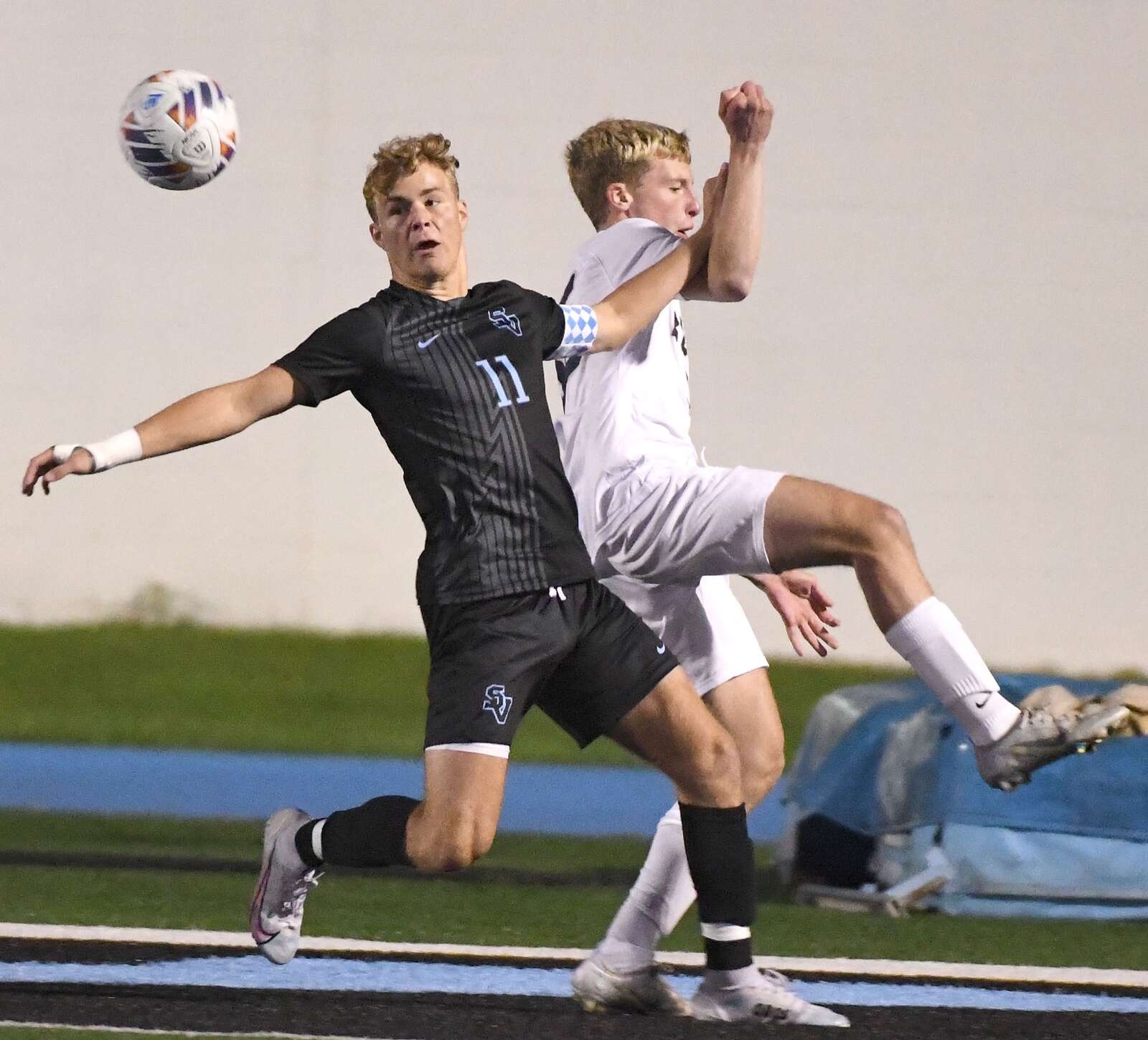 Playoff Time
Success in the regular season has become the norm for Seneca Valley's boys soccer team.
So have lengthy playoff runs and the Raiders will soon embark on what they hope is another postseason to remember.
SV recently wrapped up its fifth consecutive section title and finished the regular season with a record of 16-0-1. It was awarded the district's top seed in Class 4A when the brackets were released Wednesday afternoon and will open the playoffs against Upper St. Clair at 3 p.m. Oct. 29 at NexTier Stadium.
The Raiders are two-time defending WPIAL champions, won the state title in 2020 and were runner-up last year.
"I'm proud of the season we've had so far," said SV coach George Williams. "We're not looking too far ahead. Everything resets now and it's a whole new season."
SV entered this season having to make up for the production of Nathan Prex (school-record 37 goals in 2021), who graduated last spring.
The team has responded with a very balanced effort. Will Bruno leads the way with 15 goals, Gavin Loya has 14 and Cole Kamarec 13.
"They're all forwards and each of them seem to be getting on a roll," said Williams. "But the biggest strength of our team is in the midfield."
That's where Connor Oros, Beaux Lizewski and Max Marcotte have been able to flip the field in favor of the Raiders. The trio has combined for 21 goals and, most impressively, 30 assists.
The defense is led by starters Jeremiah Laslavic, Ben Hankinson, Ben Randall and Danny Leech.
When he has been tested, senior goalkeeper Ryan Krumenacker has been stellar as the Raiders have allowed just 10 goals all season. Two of them came against Butler in a 2-2 tie in late September, the only game the Raiders have not won this season.
"Our focus is one game at a time," said Williams. "The players are pushing each other to be better in practice and in games."
DJ Sharpless took over North Catholic's girls earlier this year certain of two things: the Trojanettes were young, but also very talented.
"I knew we could be good," he said. "One thing that has really helped us is our three seniors — captains Brittany Cullen, Lauren MacDonald and Elle McKenzie — gained a lot of experience the last few years. They learned what it takes to be a leader."
Some of those experiences were bitter pills to swallow. North fell to Avonworth in the WPIAL title game last year and again in the state semifinals.
"It's been driving them," Sharpless said of 2021's disappointment. "The girls are motivated and you can tell they want to succeed."
The Trojanettes (13-1), winners of 12 straight, earned the No. 1 seed in Class 2A and will be in action against Valley at 6:30 p.m. Tuesday at J.C. Stone Field in North Park.
Sharpless said his starting goalkeeper, junior Rylee Kumer: "She started last year, but has improved so much. She's been lights out."
MacDonald has 20 goals to lead the team while freshman Simone Sharpless has scored 17 times and added 12 assists.
Lauren Mealie has been a standout on defense while contributing nine assists and two goals.
All 12 of Butler County's WPIAL soccer teams made the playoffs. Following is the schedule involving those teams. Each team is preceded by its seed and followed by its overall record.
Boys
Class 4A: No. 8 Upper St. Clair (9-6-2) at No. 1 Seneca Valley (16-0-1), 3 p.m., Oct. 29
No. 7 Butler (12-4-2) at No. 2 Peters Township (13-2), 2 p.m., Oct. 29
Class 3A: No. 9 Mars (10-6) at No. 8 Bethel Park (13-5), 2 p.m., Saturday
No. 15 North Catholic (7-6-3) at No. 2 Plum (16-1-1), 2 p.m., Saturday
Class 2A: No. 9 Knoch (10-8) at No. 8 McGuffey (12-5-1), 6:30 p.m., Monday
No. 15 Freeport (7-9) at No. 2 Quaker Valley (15-3), 6:30 p.m., Monday
Girls
Class 4A: No. 5 Upper St. Clair (10-6) at No. 4 Seneca Valley (12-1-2), 6:30 p.m., Oct. 27
No. 6 Butler (10-6-1) at No. 3 Peters Township (12-1-3), 6:30 p.m., Oct. 27
Class 3A: No. 17 Connellsville/No. 16 Penn-Trafford winner at No. 1 Mars (14-0), 6:30 p.m., Monday
Class 2A: No. 16 Valley (7-9) at No. 1 North Catholic (13-1), 6:30 p.m., Tuesday at J.C. Stone Field
No. 13 Hopewell (6-9-1) vs. No. 4 Knoch (14-3-1), 6 p.m., Tuesday, at Freeport Stadium
No. 10 Southmoreland (11-3-1) at No. 7 Freeport (13-2), 8 p.m., Tuesday