Team rallies behind cancer-stricken family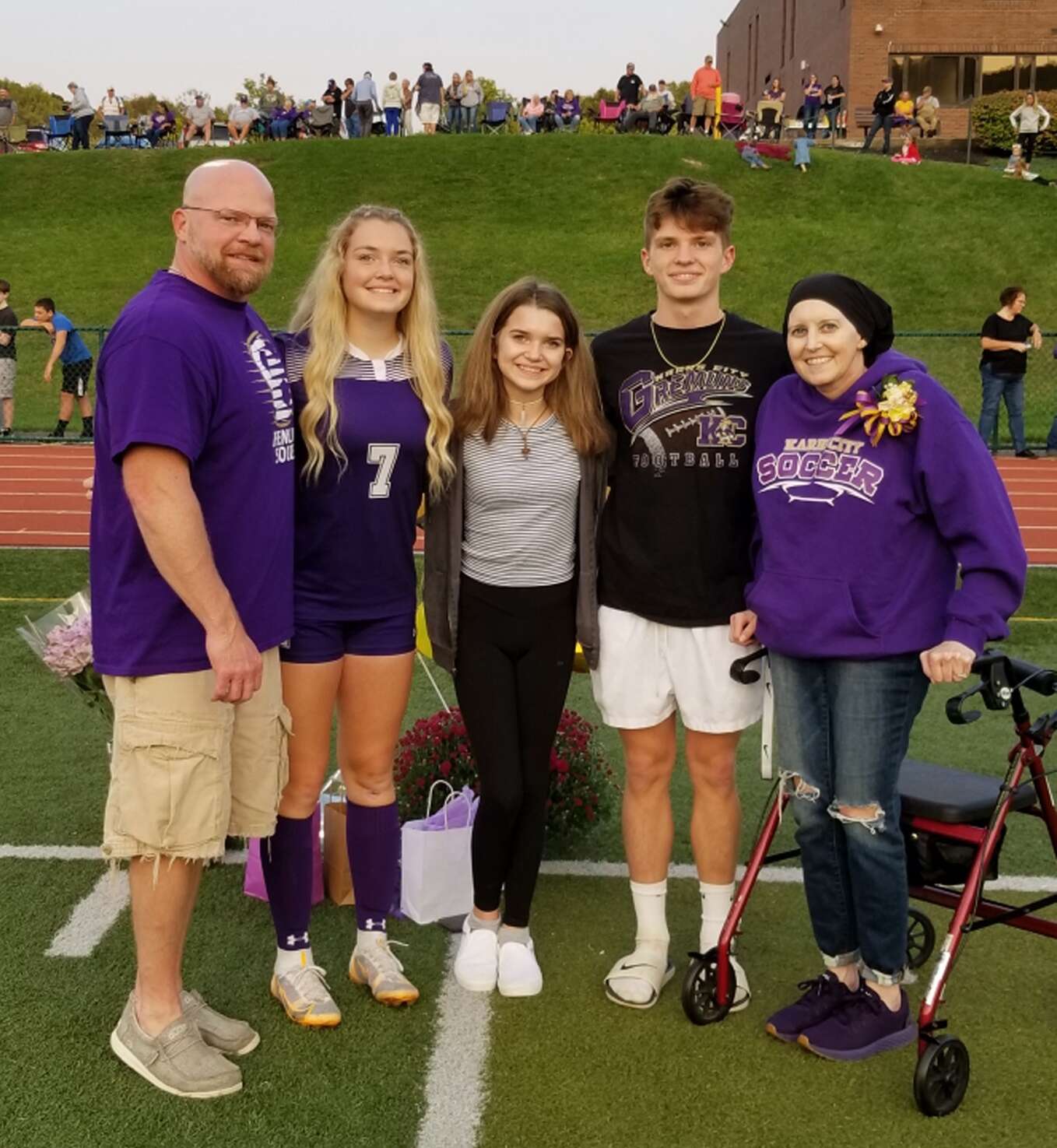 Karns City senior McKenna Martin finds 'stress relief' through soccer
KARNS CITY — While Karns City senior soccer player McKenna Martin keeps pumping in goals, her mother keeps pumping out hope.
"She's a fighter," McKenna said of Stacy Martin, who has been battling breast cancer since she was first diagnosed in 2013. "She focuses on the positive, and she wants us to do the same."
Martin, 41, was diagnosed with Stage 4 metastatic breast cancer in 2019, as spots have shown up in other parts of her body, including her lungs and liver.
After undergoing chemotherapy treatments in the past, she now takes a chemo medication infusion known as Enhertu once every three weeks and a second medication, Zometa, for her bones once every three months.
"At Stage 4, it's eventually going to get me," Martin said of the cancer. "We're at the point that when one form of treatment stops working, we go to something else, just keep staving it off and living life."
McKenna has scored 133 goals in her high school career, including 15 this season. She is among the top five goal-scorers in Karns City Area Junior Senior High School girls soccer history. Her brother, Mason, is a junior on the Gremlins football team. They have a sister, Sydney, in seventh grade.
McKenna serves as a sounding board for her siblings whenever they need it, especially her little sister.
"It's a little more difficult for her, and I just want her to know I'm there anytime she wants to chat," McKenna said. "Stuff she may be afraid to ask (our mother), she can ask me."
Martin attends Karns City home games to watch her children play. She is hesitant to go to road games, as she uses a walker to get around.
"I'm never sure what the facilities will be like at other schools," she said. "Here (at KC's Diehl Stadium), I know I can get to my place to sit and watch. I'm proud of my kids and the way they're handling everything.
"We (husband Dennis and herself) are up front with them on everything. That's how we're getting through this. We hold nothing back. We make sure they know where things stand every step of the way."
Karns City girls soccer coach Tracy Dailey said she considers Stacy Martin one of her best friends. Coach Dailey's daughter, Emma, is best friends with McKenna.
"We've been playing soccer together since fourth grade," Emma said. "McKenna knows I've got her back. Our entire team has her back.
"McKenna and I have had long talks about it. I'm amazed by how she handles everything," Emma said. "Her mom is like a second mom to me, and I've learned from what McKenna is going through."
"No one is guaranteed tomorrow. My mom is my best friend. I appreciate every day, how lucky I am," she added.
The Karns City girls soccer game against DuBois Area on Oct. 20 will be the Gremlins' breast cancer awareness game. The team will be wearing pink shirts honoring and supporting Stacy Martin.
"Our goal was to raise $500 for them, just to help with food and gas a little, because they go to Pittsburgh quite a bit for her treatments," Coach Dailey said. "We've already raised $1,000 and that game hasn't even arrived yet.
"Our community is so close-knit. When Stacy was first diagnosed, the community got together and held a spaghetti dinner and basket raffle. People donated prizes like a kayak, TV. ... Thousands of dollars were raised."
Coach Dailey knows what McKenna and her family are going through. She lost her mother to lung cancer.
"I was 26 at the time," Dailey said. "I learned that you have to value the people in your life. Time is of the essence. I call Stacy at least every other day to see how she's doing, and she's always upbeat.
"McKenna uses soccer as a way to get away from everything. It gives her something different to focus on, even if only for a little while."
McKenna agreed.
"Coming out here for practices and games is my stress relief," she said. "I have great friends here. This sport, this team ... I cherish them. I support my mom through her battle, and my teammates support me."
Martin said she was proactive in diagnosing herself nine years ago, feeling a burning sensation in her breast.
It was something she never experienced before.
"That was the red flag for me," she said. "I felt around and came upon a lump. I called my doctor, got checked, got the mammogram done, and it came back cancer. Just like that.
"There's no history of breast cancer in my family. It can happen to anyone. Just be aware of your body. That's the best advice I can give. Because I felt something might be wrong, I got treatments started early."
And she's been able to keep watching her daughter score goals.
"They are such positive people," Coach Dailey said of the Martin family. "The glass is never half-empty with them. It's always half-full."
STORIES YOU MAY ALSO LIKE