Brides look for unique flavors in wedding cakes
Splitting from tradition
Nikki Harvey didn't want a traditional wedding cake. She had a unique vision.
Harvey wanted her cake to taste like a banana split sundae.
When her wedding day came around, she found her unique cake was a pleasant surprise for wedding guests.
"People are used to the traditional wedding white with raspberry filling or an almond blend," Harvey said. "So to have our guests be that excited to try that and be going back for more … it felt really good that that was something that they remembered as part of our special day."
Harvey and her husband, Cole Harvey, worked with Sweet Treats Bakery in Freeport in order to create a truly one-of-a-kind cake for their wedding in September 2020.
Harvey said she embarked on her cake search with an open mind. She did not have any major ideas about what she wanted, but the Freeport bakery offered taste testing for a large variety of cakes, and the pair decided their favorites were a chocolate cake and a banana-flavored spiced cake.
"That's where we were able to blend the two together and have the best of both worlds," Harvey said. "I liked the idea of combining the two and putting in the strawberry icing to then complement the chocolate cake, keeping the sweeter butter cream, the vanilla butter cream, for the banana.
"So, we had all of the layers. The only thing we were missing from the banana split would've been the pineapple," she said.
Jen Christy, owner and pastry chef of Sweet Treats Bakery, said she enjoys working with clients who have a vision for their dream wedding cake, but she is also available to offer suggestions and tips for couples.
"I always tell them, please come to the tasting with pictures for inspiration," Christy said. "I will design a cake with everything they have in mind. We change it throughout; I like to make my own designs, but I like to have some inspiration first."
And for an extra sort of flair, the Harveys decorated their banana split cake with beautiful flowers from their florist, Maggie's Bundles, based in Butler.
Harvey said the cake was a reflection of her wedding.
"My husband and I were able to take our personalities and build the family that we have together, and I think doing that with our cake was a pretty good reflection of who we are as a couple," she said.
Nine bakeries
Another recent bride, Jenna Koebler, visited nine bakeries before settling on one. She visited more bakeries than she did wedding dress shops, she said.
"It was important to me," Koebler said. "That was one of my top things for the wedding — I wanted the perfect cake, I guess."
She found her wedding cake for the Aug. 13 wedding from Cakes by Debbie Sutara in Natrona Heights.
Koebler and her husband, Mark, created yet another one-of-a-kind cake that was a combination between two preset options from the baker. Koebler explained the process.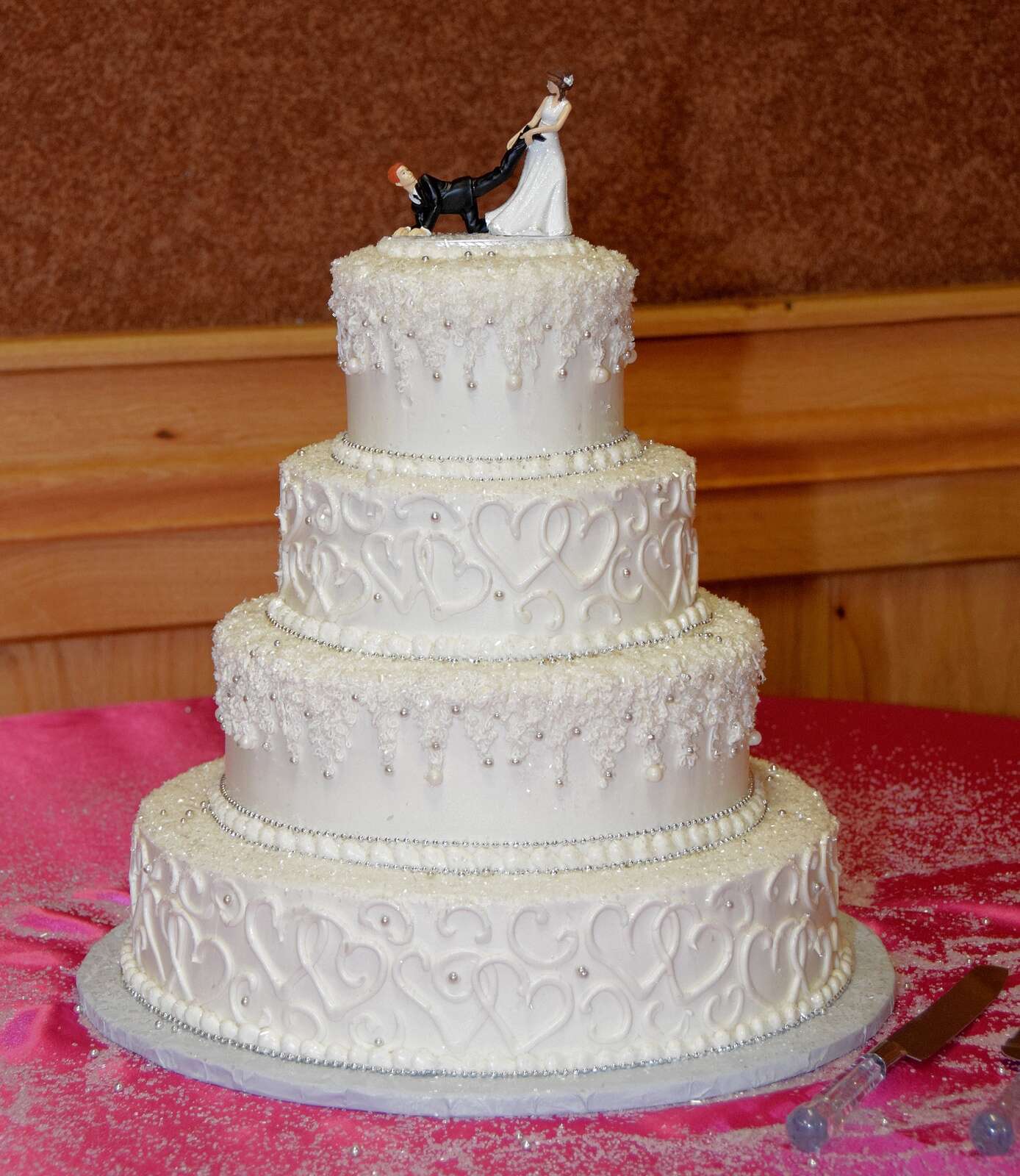 "She said you could either pick something that she's done before, or you could mix and match different cakes, or you could even come up with something completely different," Koebler said. "She had so many options."
The Koeblers also were unsure of specifically what they were looking for, apart from wanting a four-tier cake. In the end, its main unique feature was that each layer had two different fillings, offering a wide variety of flavor.
"She made it be our own," Koebler said. "The cake was white and fluffy, and then I had white icing. All the flavors were a vanilla almond cake, and then I had different fillings in it. She did hearts on two of the layers for the icing, and then she did just a little design on the other layers, and she had lots of beading around it."
Her cake featured different fillings in each of the layers. All of the cake was almond flavored, but flavors included chocolate mousse with fudge, cherry nut pineapple and raspberry, and strawberry and Bavarian cream.
Their wedding guests were as pleased with the wedding cake as Koebler was.
"Everyone seemed to really like the cake. It went really well," Koebler said. "I know a lot of different weddings I've been to, there's a lot of cake left over. Surprisingly, we only had a couple slices left at the end of the night, so we didn't have a lot to take home with us, and that was OK because I was happy that all the guests really just ate it and everyone seemed to like it."
Overall, these two brides went above and beyond in order to find the ideal wedding cake, and their open-mindedness and creativity when collaborating with their bakers made their cakes a notable, memorable and ultimately fun facet of their wedding day.
Furka said she enjoys the reactions she gets from wedding couples when they get a cake that strikes a chord with their personalities.
"I love sharing backstories on how they met, things like that," Furka said. "Like one, they met at an apple orchard so we made an apple cake. My most shared cake photo is a cinnamon roll cake with mini donuts on it, because the couple met at a doughnut shop."
Trends
Brittney Furka, owner and baker at Harvey's Sweet Shoppe, said tiered wedding cakes are becoming less common requests, and some couples are getting small ones for photos.
"A lot of people have been getting small tiered cakes, a sheet cake in the back for the guests," Furka said. "A lot of semi-naked cakes are popular with the filling on the inside."
Furka also said many couples are mostly focused on their cake's appearance, so they can either be highly detailed or relatively simple.
"I love the detail work, the fine details that make a cake and spending hours on it," Furka said. "On average, a detailed cake takes from eight to 10 hours, and that is going to vary, while a semi-naked cake is going to take from four to six hours."