Sticking out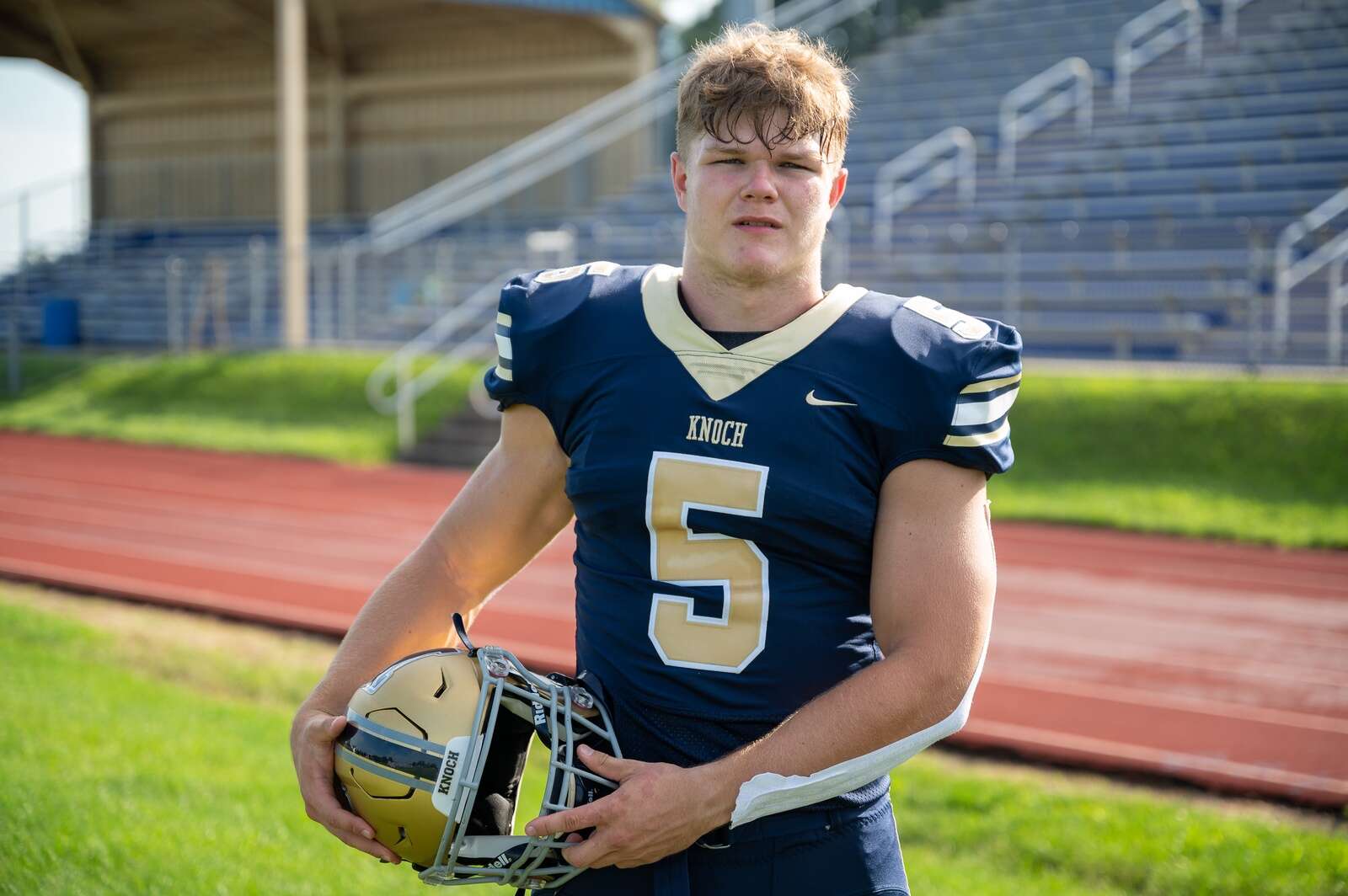 Murphy will be imposing figure for the Knights
JEFFERSON TWP — When word got out that Knoch teacher Tim Burchett was named the Knights' head football coach, it didn't take long for one player to make his presence felt.
Jake Murphy.
"He was the first player to approach and congratulate me," Burchett said of the senior tight end-linebacker. "And he asked me right away if we were gonna throw the ball more.
"The kid wants to make an impact."
Playing in an offense that primarily ran the ball last year, Murphy had eight catches for 198 yards. The numbers don't sound like much, but he averaged just over 24 yards per catch — a whopping yards-per-catch average for a tight end.
Standing 6-foot-1 and weighing 230 pounds, Murphy is strong physically and has the speed to run away from linebackers who are generally assigned to cover him.
"Jake is definitely one of the guys we want to get the ball to," Burchett said. "More than that, he's one of those guys defenses will have to pay constant attention to, also. He can free up a lot of things for us. At times, he'll be an effective decoy."
At other times, he'll be making plays.
"That's what I want to do," Murphy said. "I enjoy Knoch football. It's my senior year and I want to break out. Our new offense is going to suit me. Whether I'm blocking or running pass patterns, I don't care. Just make an impact."
He made quite an impact on the defensive side of the ball last season. From his linebacker position, Murphy was among the team leaders in tackles and quarterback sacks. He has the ability to force turnovers as well.
"I play on the inside, so I have to watch the run and receivers coming over the middle," Murphy said. "I'm a multi-sport athlete and it's all about making plays.
"Being a leader will be a big part of it for me this year, especially since I'm a senior and there's so many changes going on with the new coach and no home games. I remember the senior leaders in my previous years here ... Matt Goodlin, Tyler Buterbaugh, Keagan Fraser ... I learned from them.
"It's time for us to take this program to the next level," Murphy added.
Burchett described Murphy as "the complete package. He's everything you could want in a football player."
The coach includes the intangibles when talking about Murphy.
"The kid absolutely loves this game," Burchett said. "He practices hard every day. He wants to get better. He wants to be a leader. He's vocal and he leads by example. And he's a force on the field.
"Whether we're throwing to him, need him to block, he does everything we ask of him. Defensively, we can use him in a variety of ways because he's such a versatile athlete."
Murphy is getting looks from Clarion and Notre Dame (Ohio) among others schools, as a tight end. Some schools like him at linebacker.
"I definitely want to play college football, but that's down the road," he said. "I've got goals this year to take care of. I had 50 tackles last year. I want 100 this year. I want to be a force offensively.
"I want to be in the middle of everything."