Butler track closes season in style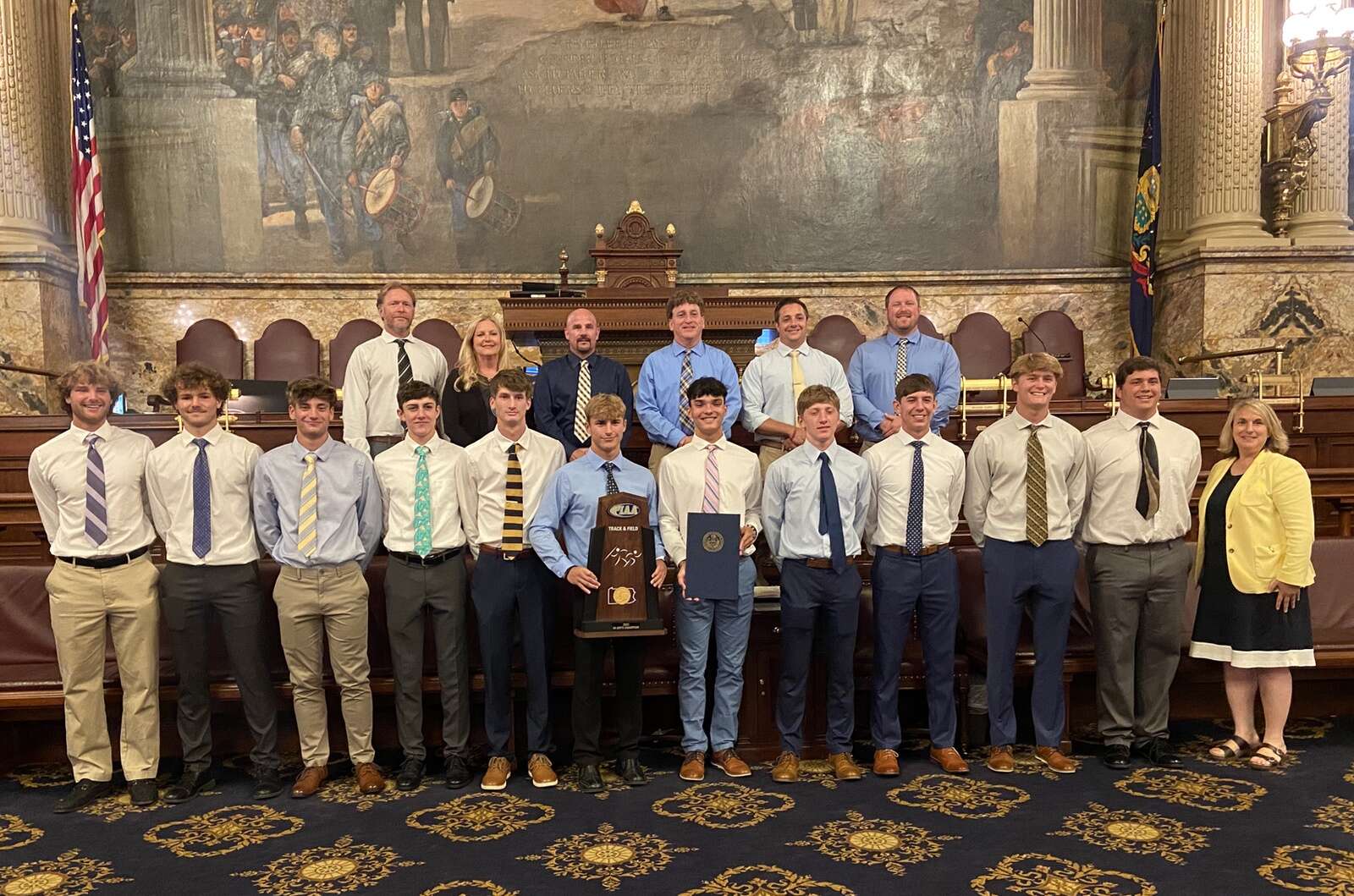 Golden Tornado honored by Pa. House of Representatives, Senate
HARRISBURG — The honor was high. The photographs were plentiful.
Butler High School officially ended its boys track and field season Wednesday by being recognized in front of the Pennsylvania Senate and House of Representatives in Harrisburg. The day was arranged by State Representative Marci Mustello of Butler.
"We grew up together in the same neighborhood," Butler boys track coach Mike Seybert said of Mustello. "She is very supportive of her hometown. The kids and our coaching staff ... the whole day was awesome."
This season, Butler became only the fourth track and field team in the past 60 years to win the state indoor and outdoor championships. Three Golden Tornado relay teams — the sprint medley, 4x400 merters and distance medley — attained All-America status by finishing among the top six in their respective events at the New Balance Nationals last weekend in Philadelphia.
The distance medley quartet of Guinness Brown, CJ Singleton, Ryder Kriley and Drew Griffith won the national championship, breaking the previous state record time by eight seconds.
Butler boys who competed in the PIAA meet made the trip. The team left Butler at 6:30 a.m. Wednesday. It sat in on a House of Representatives session and the athletes and coaches were introduced in front of the House. They were introduced at a Senate gathering as well.
"It was a cool experience, watching the House take roll call. We saw them vote on things," Brown said. "It was interesting seeing how they conduct their business. This was truly a special day."
Seybert said the team's state and national accomplishments were presented to the House and Senate.
"It was the perfect ending to this chapter," Seybert said of the season.
Butler athletic director Bill Mylan made the trip with the team.
"They fed us lunch, gave us a tour of the Capitol building ... everything was first-class," Mylan said. "I have to throw props to Marci Mustello for arranging this whole thing. Everybody was treated so well. It's a day none of us will ever forget, a great day for our community."
"We were taking pictures all over the place," Seybert said.
When compared to a professional sports championship team being invited to the White House, Seybert said: "That's what we felt like."
Singleton said he enjoyed going on "one last bus trip with the team.
"Cool way to wrap it up," he said of the season. "It's a little sad that this season is over, but we made the most of it. I'm excited about getting ready for the next level."
Brown agreed.
"It's not so bad for me because I know I've got four more years to run yet," said Brown, who is headed for Duke. "But it is tough thinking about not running with these boys anymore. We accomplished a lot. I'm going to miss this."