Slippery Rock boys track wins D-10 championship
SLIPPERY ROCK – Tom Tedesco hardly cared who was on his heels, no matter how close they were.
The senior anchor of Slippery Rock's 4x400-meter relay team knew there was a team title at stake during that final lap, and the McDowell runner behind him wanted to take it. The Rockets entered the event up by only 1.5 points on the Trojans.
"It really wasn't a thought of that," Tedesco said. "It was just the thought of winning as a (relay) team in general … We knew that we had a chance (to) win."
He was also aware that, when he grabbed the baton, his opponent was close by.
"I heard the hand-off behind me right away," Tedesco said. "When I got to the first bend, I kind of was trying to pace so I could hear him. After that, my team was yelling that I needed to go. I knew I had to leave."
The quartet – made up of Tedesco, Viktor Zahn, Tyler Arblaster, and Sam Schwartz – shut the door, coming in first in the 4x400 with a time of 3:36.33. It was Slippery Rock's only first-place finish in any boys event the entire day at the District 10 Track and Field Championships, held Saturday at Slippery Rock University's Mihalik-Thompson Stadium.
"There's 17 events," Rockets coach Tom Meling said. "If you can score in them all – and we were able to score in almost all of the events today. I knew these guys had a great chance to win today.
"It's a team trophy. A team effort. I'm just so excited."
In total, Slippery Rock scored 109.5 points, edging out McDowell's 104.
Including the winning relay crew, Slippery Rock had top-three scorers in seven events. Those included the 400 run (Tyler Arblaster), triple jump (Ethan Folmer), and high jump (Folmer and Levi Prementine).
Folmer, a senior, fell just short of moving on to Hershey in the latter two events. He was one of a handful of athletes that needed only a couple more inches – or a tick less – to qualify for next Saturday's state meet.
"You've got to have your best day on the best day," Meling said.
Others that nearly advanced were Prementine in the 110 hurdles and Seaton Wozniak in the shot put and discus. Still, they could take solace in grabbing the team crown.
"We beat all of these schools that are so much bigger than us," Meling said, singling out McDowell, Cathedral Prep, and Warren. "Any time you beat McDowell in track, you just feel really good about it."
On the girls side, Gianna Bedel, now a three-time state qualifier, continued on with a mark of five feet, two inches in the high jump. Julia Coffaro met the requirements for the state meet with a long jump of 17 feet, one inch, besting the standard by two inches.
Following are the Slippery Rock High School athletes who earned a medal by placing in the top eight at Saturday's PIAA District 10 Track and Field Championships. The top finisher in Class 3A and top two in Class 2A automatically qualify for the state championship meet.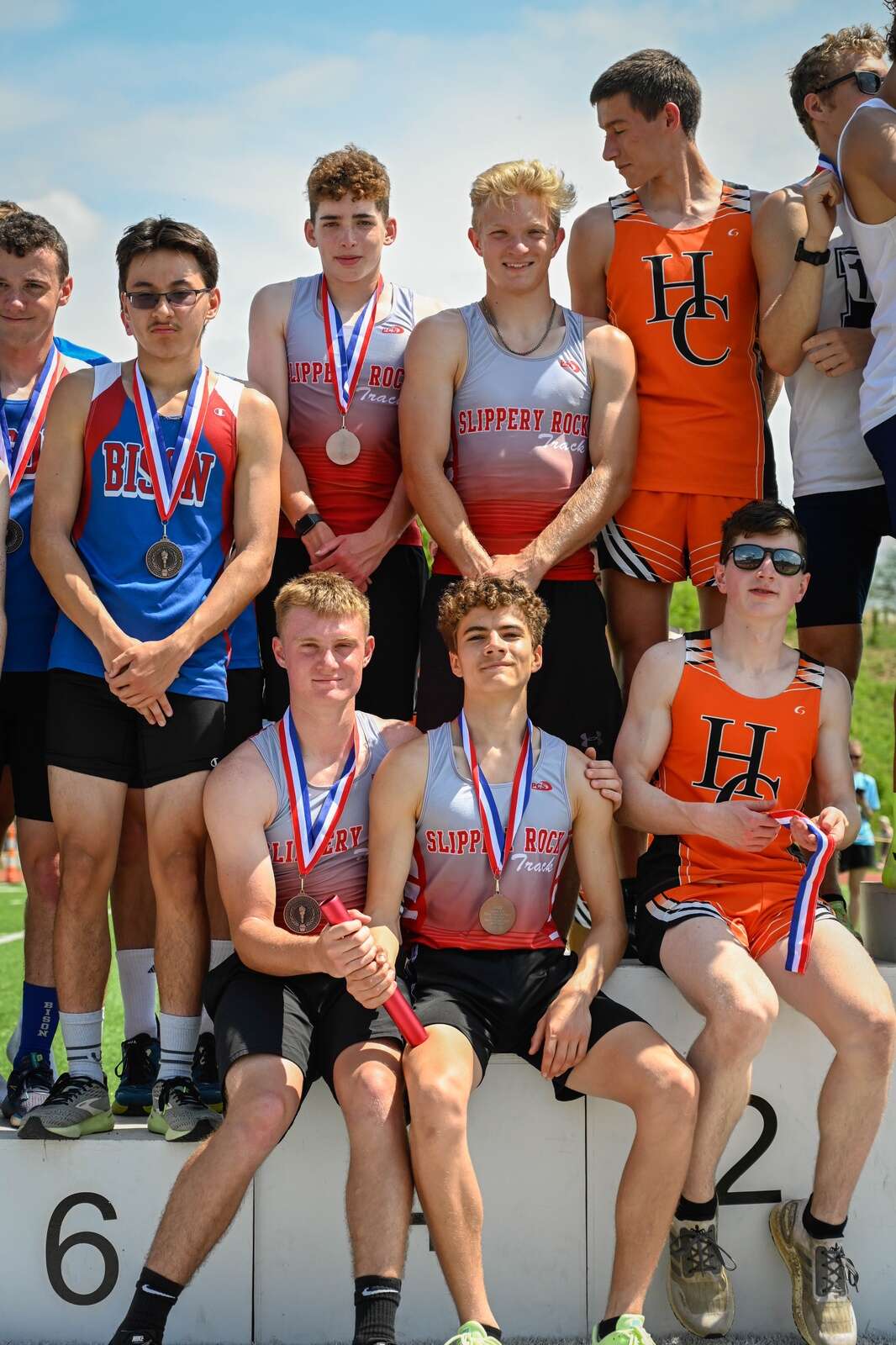 Class 3A
Boys
3,200 relay: 4-Slippery Rock (Robare, Schwartz, Zahn, Clark) 8:45.58
110 hurdles: 2-Levi Prementine (SR) 15.40; 4-Eli Anderson (SR) 16.39
100 dash: 7-Tom Tedesco (SR) 11.27
1,600 run: 7-Viktor Zahn (SR) 5:00.30
400 run: 3-Tyler Arblaster (SR) 52.66; 4-Sam Schwartz (SR) 54.16
400 relay: 4-Slippery Rock (Anderson, Earl, Tedesco, Sabo) 44.61
300 hurdles: 4-Levi Prementine (SR) 42.22
200 dash: 5-Tom Tedesco (SR) 23.65; 7-Tyler Arblaster (SR) 23.83
1,600 relay: 1-Slippery Rock (Zahn, Arblaster, Schwartz, Tedesco) 3:36.33
Shot put: 2-Seaton Wozniak (SR) 51-10½; 6-Zach Hoehn (SR) 43-8¾; 8-Jacob Humes (SR) 41-8¼
Discus: 2-Seaton Wozniak (SR) 148-3
Javelin: 6-Blaise Mullen (SR) 132-8
Long jump: 5-Levi Prementine (SR) 21-11½
Triple jump: 2-Ethan Folmer (SR) 44-0; 7-Dustin Joyce 40-7¼
High jump: 2-Ethan Folmer (SR) 5-11; 3-Levi Prementine (SR) 5-9
Class 2A
Girls
3,200 relay: 7-Slippery Rock (Bickel, Frazier, FaJohn, Robare) 10:46.16
100 hurdles: 3-Alexandrea Popovec (SR) 16.47
400 relay: 6-Slippery Rock (Book, Coffaro, Kura, Popovec) 52.01
400 dash: 3-Audrey Kura (SR) 1:00.73
300 hurdles: 8-Aiva Reich (SR) 50.80
200 dash: 3-Audrey Kura (SR) 27.35
High jump: 2-Gianna Bedel (SR) 5-2; 6(tied)-Laila Hackwelder (SR) 4-10
Pole vault: 4-Elise DiFrischia (SR) 9-0
Javelin: 4-Natalie Double (SR) 110-10
Long jump: 3-Julia Coffaro (SR) 17-1
Triple jump: 6-Julia Coffaro (SR) 33-6½; 8-Katie Book 32-11½