Living in history
Residents of LaFayette experience unique downtown living situation
Kay Roxbury now puts together 1,000-piece puzzles inside the vault where her father took her to the bank when she was a teenager.
The safe always remains open now in the Historic LaFayette Apartments, where Roxbury has lived since 2015 — relocating from Parker Township to downtown Butler where she can get around easier. The building, which once housed the Butler County National Bank and the Butler branch of Mellon Bank, resurfaced memories in Roxbury when she first moved in.
"It was like 'Wow, I have been in this building before,'" Roxbury said. "It's close to the bank, post office — my son he lives up on the hill by the cemetery. I don't drive anymore, so it's really nice to have everything close."
Although the LaFayette building hasn't been used as a bank since 1977, it still retains many of its key features, including multiple safes that have been turned into entertainment rooms, and even the teller area, which now serves as one of the main lobbies for apartment dwellers.
The county Housing and Redevelopment Authorities own and maintain the LaFayette, and its property manager, Cindy Wehner, of the housing authority, said it is one of the agency's most in-demand properties.
The apartments are only available to individuals age 55 and older, and each of the 59 units available on the seven floors of the building has an income requirement that is either a fixed flat rate or income-based.
"It has been pretty fully occupied since the renovation," Wehner said. "It's a nice building and nice personality-wise, and always has been. A lot of nice people in the building and a nice mix of people, and all the apartments are different on each floor."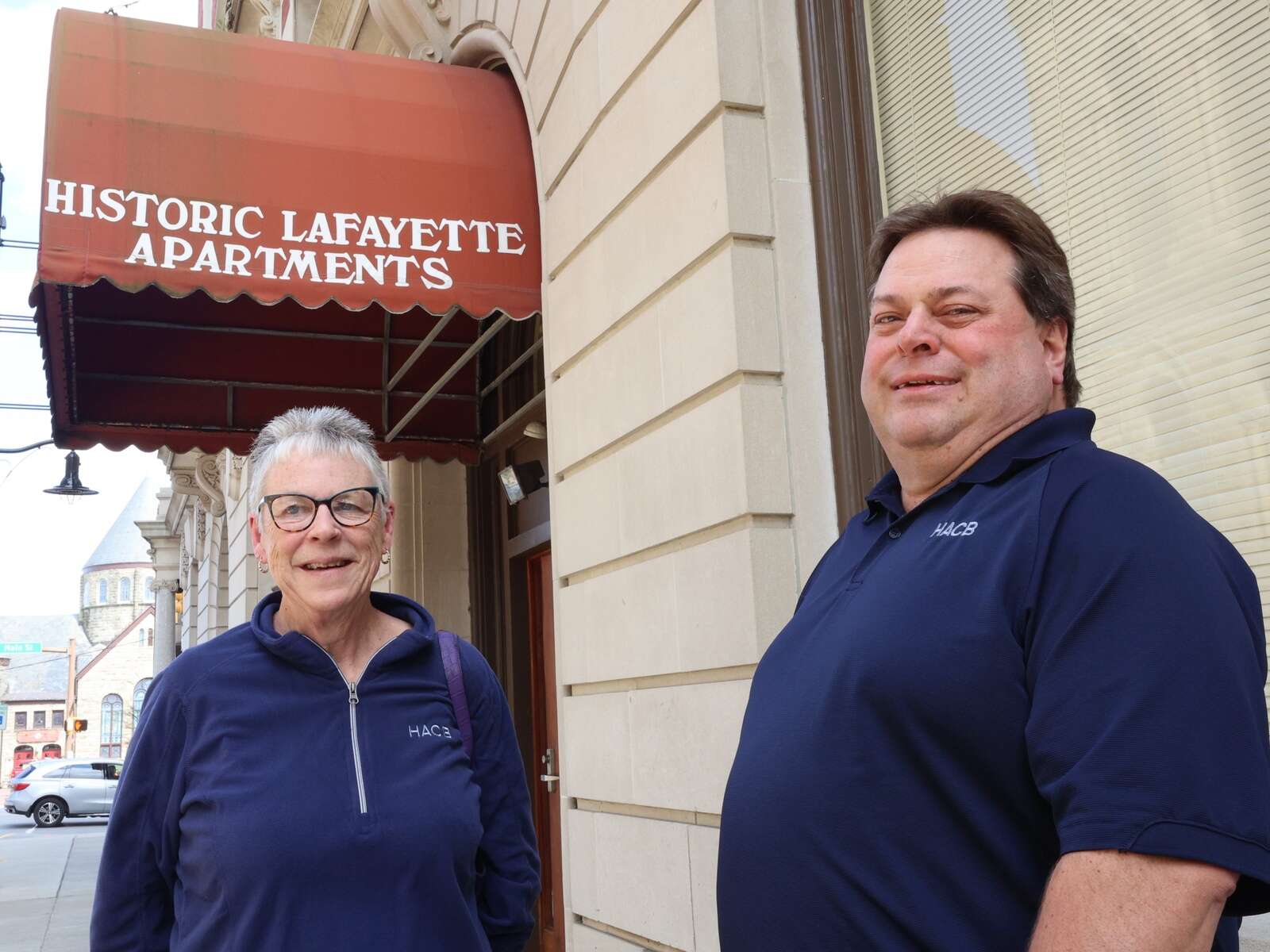 Renovating the building
Ed Mauk, CEO of the Housing and Redevelopment Authorities of the County of Butler, said many elements of the LaFayette Apartments have been part of the building for decades, including the "gigantic" windows on the first and second floors.
While the housing authority purchased the property in the 1990s, Wehner said it embarked on a major renovation project in 2012, which added three handicap-accessible rooms.
The authority is funded through the U.S. Department of Housing and Urban Development and the Pennsylvania Housing Finance Agency, and offering low-income housing at the property grants it a tax credit that Mauk said funded the 2012 renovation.
"We did an upgrade and renovation using the tax credit and re-syndicated it," Mauk said. "The Housing Authority is generally just housing management, so we do property management, development and work off of tax credit."
The renovation not only cleaned up the areas of the apartments that had fallen into disarray, but created spaces in which residents could meet and socialize, and also receive food from a food bank, according to Wehner.
"Prior to the renovation, it was really dismal in the hallways and in the common areas. It was easy to rent the apartments, but it was really rundown," she said.
"You have the community room in the basement now, which is nice, there is a kitchen down there. They do bingo, birthday dinners, and we have food distributions from a food bank. They also have some sitting areas on the first floor."
Almost all of the apartments are one bedroom, feature a small living area, kitchen and bathroom, and residents get a storage locker in the basement to keep some of their additional items.
Mauk said residents, even some in their 90s, walk through the building unassisted to do laundry or talk with friends, giving the building a dorm-like atmosphere.
Popular place
Mauk also said the housing authority owns several buildings spread all across Butler County, comprised of about 680 units. Wehner said the LaFayette's historical appeal and location create such a desirable atmosphere that she seldom has trouble filling units when they become available.
"Some people will move into one of our buildings and have an application in at the LaFayette in case an apartment opens up," Wehner said. "I actually have showed the apartments to a lot of people who told me they worked in the (bank) office here."
Mauk said the LaFayette has been in "good shape" since the renovation in 2012, and the housing authority does maintenance or restorative work on the building intermittently. He said recently, some of the exterior features of the building need a revamp.
He also said the LaFayette is probably his favorite property out of all of the buildings the housing authority maintains.
"There are some decorative pieces you have to clean up sometimes," Mauk said of the structure. "It's a cool building ... You can stand up on the roof, and it is one of the best views around. You can see everything."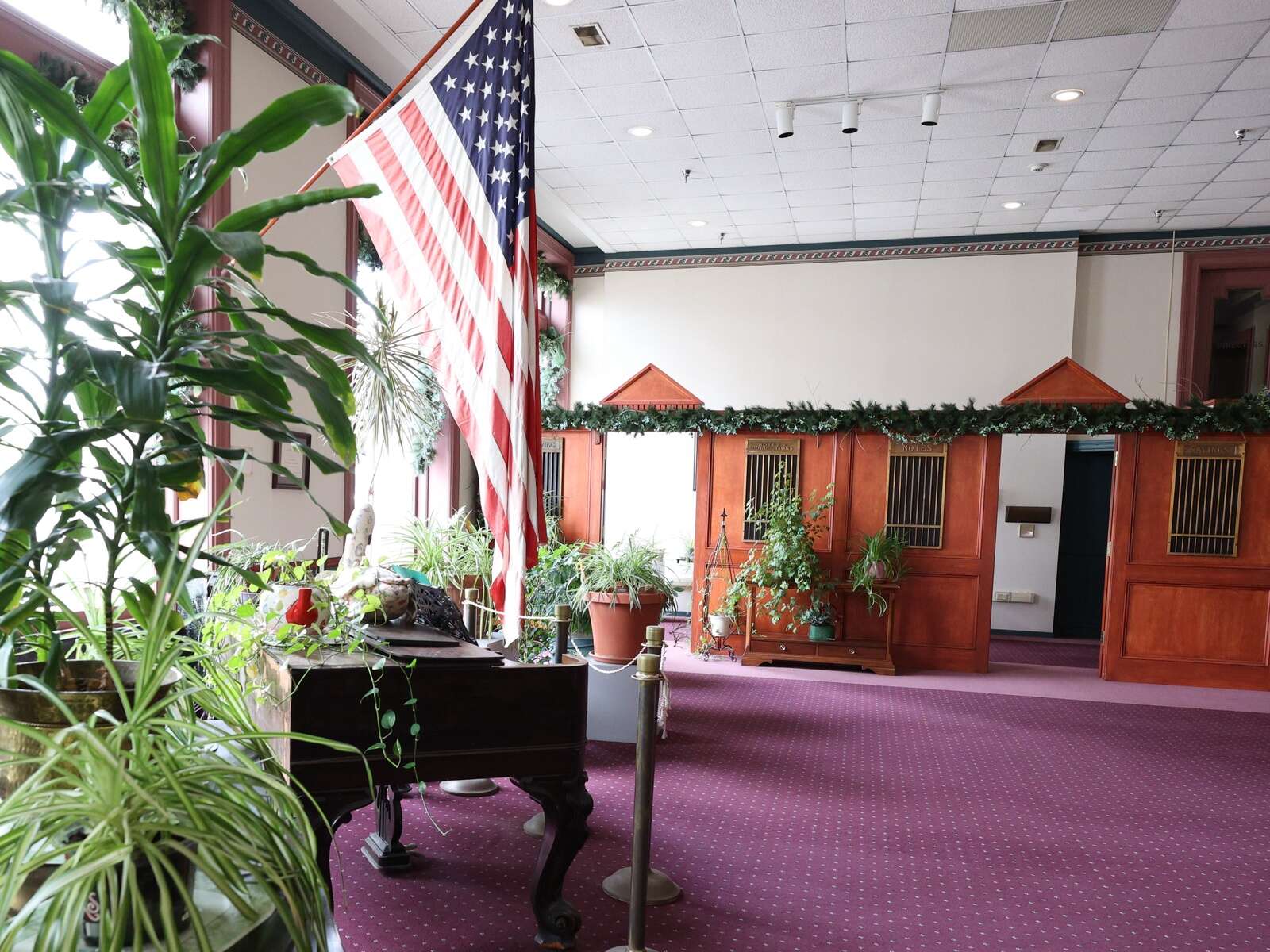 Extended family
Roxbury said that in her seven years living in LaFayette, she has become close with many of her neighbors, several of whom she calls her extended family.
Additionally, the building has a lot to offer in terms of amenities to keep residents happy.
"They have a community room downstairs, and we have dinners down there once a month," Roxbury said. "They have exercise equipment in the basement we can use. They have three sitting areas. It's kind of a homey feeling."
To further build camaraderie and to discuss concerns, the building also has a resident council that meets every month to discuss concerns. They also coordinate resident birthday parties and the food distributions.
Roxbury said the people she lives alongside in the apartments are what she enjoys most about living in the LaFayette. Several of her neighbors even organized a welcome back party for Roxbury when she returned from having been hospitalized in late April.
"There's a lot of good people here, and we are all here for each other — it's like an extended family," Roxbury said.
Judy Leight, a six-year resident of LaFayette, echoed these sentiments.
"It's fun living here," Leight said. "You make a lot of friends and they become like family."
She can often be found talking to friends on the apartment's first floor. Like Roxbury, Leight also said she found a family in the apartments.
Downtown living
Pearl Christie, a resident of the LaFayette for 10 years, is treasurer for the resident council. She said the building's location in downtown is one of the best parts about living in the apartments.
"I like being downtown, and I can walk right to work," Christie said.
Wehner said residents can often be seen around the city going to a store or restaurant, waiting for the bus or watching the many parades that traverse Main Street for holidays and special occasions.
She also spoke about one of the "cons" that has since become less of an issue.
"It's downtown, which has its pluses and minuses," she said. "When I first started here, we had a waiting list for parking, and now, I don't have that many people with cars, so it has changed in that respect."
Roxbury said she has never been disturbed by outside noise while in her apartment, and the lack of driving doesn't bother her.
Mauk also said every apartment has a pull chord that links residents directly to 911, should they experience an emergency.