Just motoring along
Meridian youngster contending for world kart title
BUTLER TWP — Desperately wanting to jump into a go-kart at age 6, Meridian resident Cullen Hutchison was forced to wait a year.
He's wasted no time since.
Cullen, who turns 10 in March, has tallied more than 50 feature victories in his kart racing career. He's picked up four track championships along the way.
He competed in the Pro class at Daytona Kart Week in Florida in late December — the opening race of the World Karting Association Dirt Series — and finished fourth among 32 karts in his division.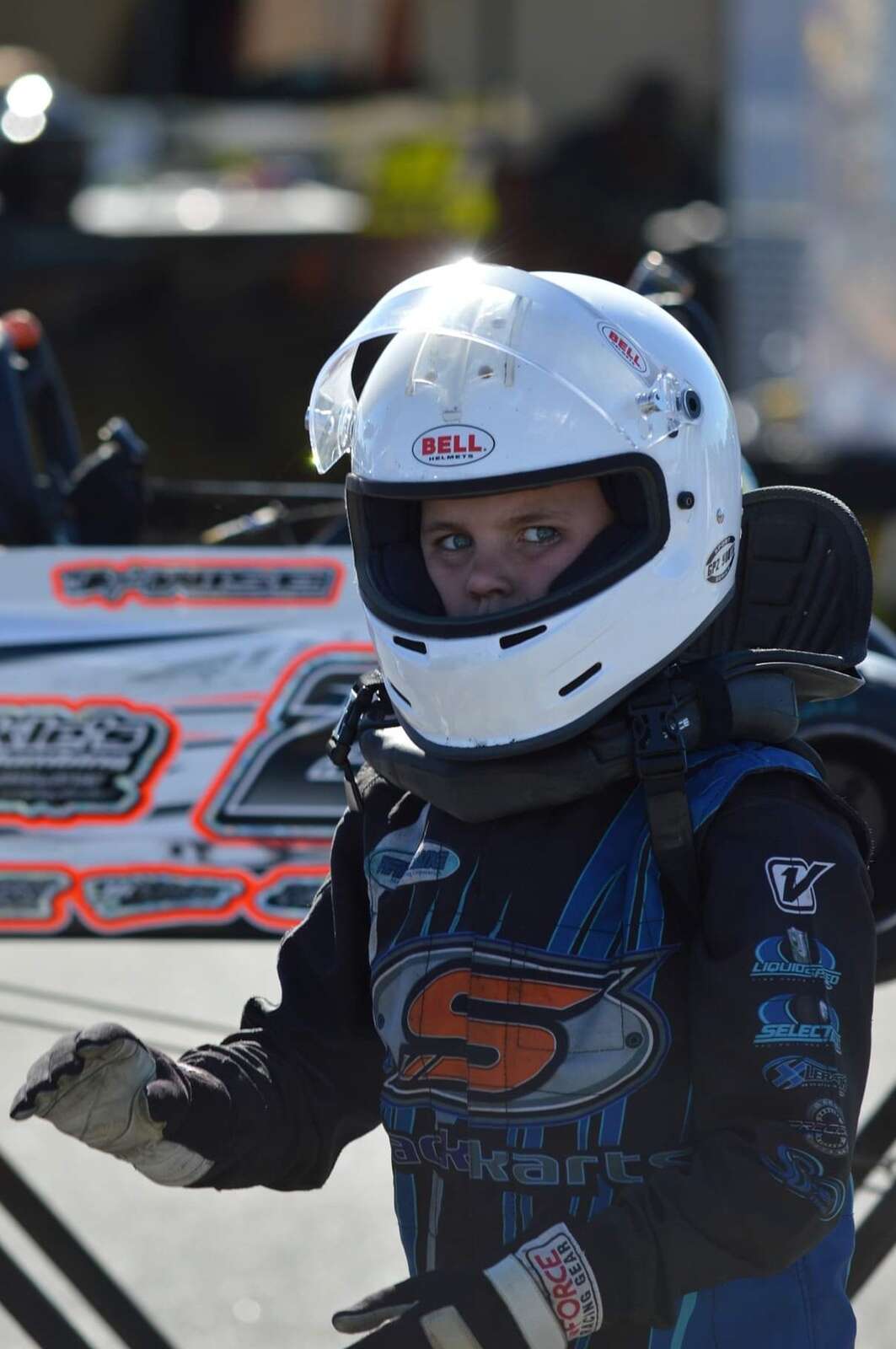 "He had interest in this as a 6-year-old," Cullen's father, Todd Hutchison, said. "He couldn't wait to get started. We used to take him to races at Lernerville and he was really into it.
"He practically begged us to let him race."
Hutchison served as crew chief for Butler resident Brian Ellenberger's World of Outlaws Sprint car race team. Now he works with Ellenberger as owners of Classic Ink USA, which designs racing apparel for numerous clients, including some in NASCAR.
"Cullen watched some friends race at Slippery Rock and wanted to get involved," his mother, Amy Hutchison, said. "They helped us get everything started. That first year, we got a used kart. Then things just took off."
Cullen began dominating the local kart racing scene at Slippery Rock, Aliquippa and a track near the Pittsburgh airport.
"It's just fun," Cullen said. "I like going fast."
"People who really know the sport suggested we try Cullen in some of the more competitive series," his father said. "Before we decided to travel, he had to make the commitment. He's a good listener. He likes to watch and learn.
"This is what he wants to do."
While he also plays soccer, Cullen doesn't hesitate when it comes to identifying his favorite participation sport.
"It's racing ... 99.9 percent," he declared. "I want to keep on doing it, maybe race a Sprint car (in later years). I've got 51 wins total so far."
And he's gunning for more.
Cullen will be racing the full Ohio Championship Karting Series this year. He ran a few of those events last season. The next World Kart Association race is back in Florida Feb. 19.
The series primarily runs down south, in North Carolina, South Carolina and Virginia as well. It entails seven races and the series runs through late October.
"It's expensive," Mrs. Hutchison admitted of racing karts. "But we're behind him."
A state-of-the-art kart, which Cullen drives, costs roughly $5,000. A set of tires runs from $300 to $500. Then there's the racing apparel, helmet and race entry fees, along with the travel.
"Cullen's pretty persistent about this," Mr. Hutchison said. "He races hard, but he races smart. He knows how to maneuver on the track. We have a racing simulator at our house and he logs two to four hours a day on it.
"I have no idea how far he'll go with this, but we have good ties with good people in the racing industry. He can probably go as far as he wants."
The karts generally run 40 miles per hour or faster. Daytona has a longer track and karts went 55 miles per hour there.
Cullen has been involved in one rough accident thus far, but not of his own doing.
"He got flipped one time," his mother said. "Another kart got underneath the back of his and up he went. He wound up with a concussion. That was a scary moment, but it's a racing thing.
"I trust him out there. He follows the rules, he drives carefully and he does really well. That's all I can ask."