Senior night spoilers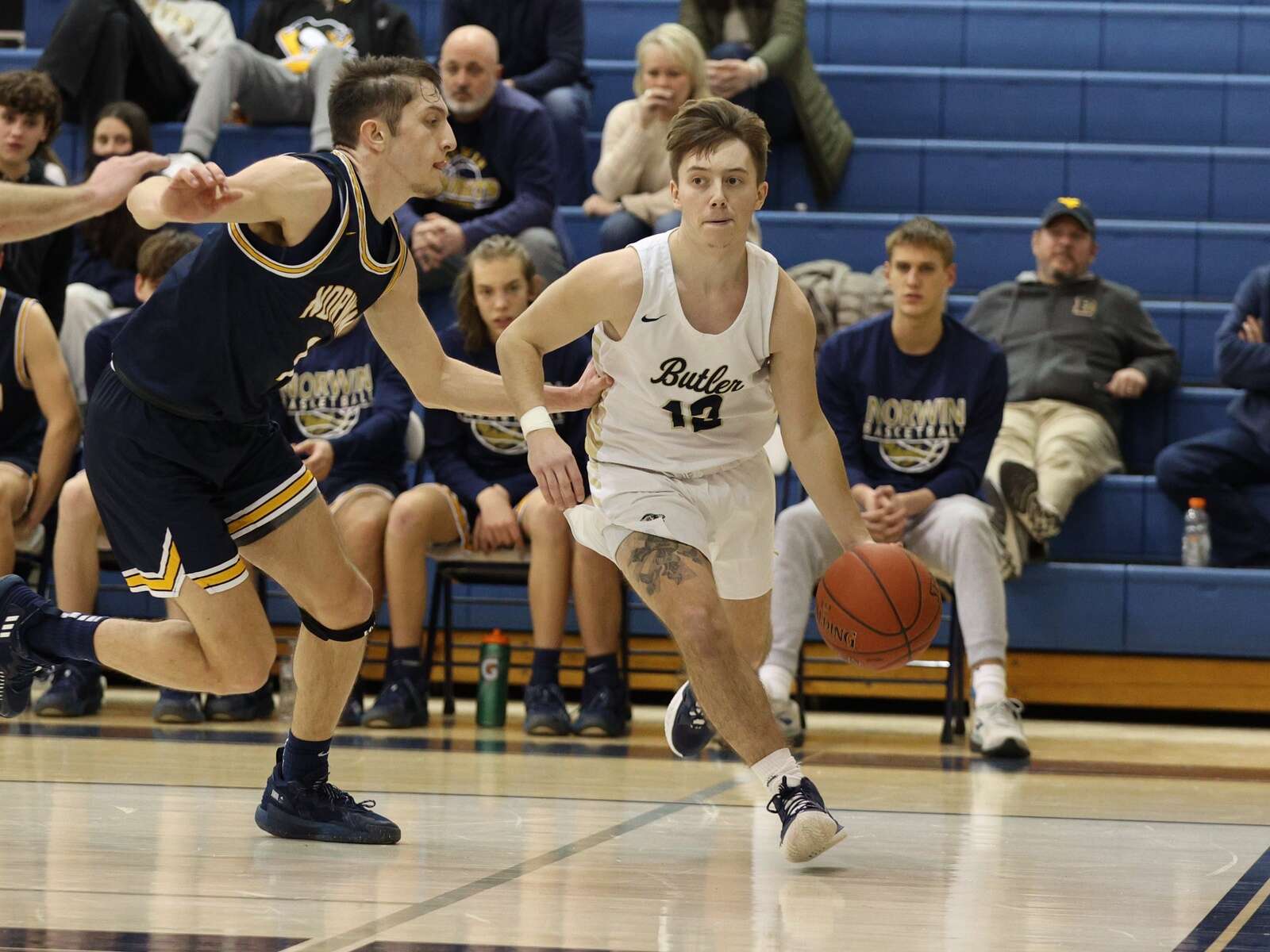 Hot-shooting Norwin upends Butler, 69-61
BUTLER TWP — Trailing by seven with 6:58 to play, Norwin outscored Butler 21-8 the rest of the way to secure a 69-61 non-section road boys basketball win Tuesday night.
The victory spoiled the Golden Tornado's Senior Night.
Well, sort of.
All nine Butler seniors saw minutes in the contest, including seldom-used guard Hayden Thompson, who made his first career varsity start.
"I knew about a week ago," Thompson said about getting the word he'd be in the starting lineup. "It gave me time to study a lot of film, to get mentally prepared."
The effort paid off as Thompson drained a pair of treys in the game's first three minutes.
"A lifetime memory, for sure," he said, smiling. "There's nothing like doing something to get the crowd excited, to hear them react. We do this for the fans. I'll never forget what that felt like."
The game itself saw six ties and 10 lead changes. Norwin (5-8), which snapped a three-game losing streak, took the lead for good at 61-58 on an Adam Bilinsky three-point play with 2:32 remaining. The Knights sank six of seven free throws in the final minute to put the game away.
"This is a nice win for us," Norwin coach Lance Maha said. "We'd been knocking on the door. We've only played three home games and our starters log a lot of minutes, so we get tired late in games.
"We were able to finish this one and it feels good."
Butler (9-6) trailed by nine at the end of the first quarter. The Tornado pulled even for the first time on a pair of Madden Clement treys with 4:10 left in the first half. Butler's first lead (29-27) came on a Kaleb Proudfoot layup with 1:41 to play before intermission.
But Butler never built a lead bigger than that seven-point margin early in the final quarter.
"Our Achilles heel is giving up offensive rebounds and that got us tonight," Butler coach Matt Clement said. "They scored 14 to 16 points off offensive boards. That's way too much. That's a quarter of their points.
"They shot the well and we didn't. That was the difference in this game."
Ty Stecko led the Knights with 22 points, including six treys. Bilinsky added 21 points, nine rebounds and four assists to Norwin's cause. Ryan Edwards had 12 points and three assists, Michael Fleming seven assists and Justin Weaver eight rebounds.
Norwin's starters played 30 of the 32 minutes.
"Our younger players are coming, but they're just not ready yet," Maha said. "And most of our games have been close."
Devin Carney led Butler with 22 points, sinking six treys. He had three rebounds, three assists and a pair of steals as well. Raine Gratzmiller contributed 17 points, 10 rebounds and four rebounds.
The nine Tornado seniors honored before the game were Gratzmiller, Carney, Thompson, Colin Patterson, CJ Singleton, Charlie Kreinbucher, Lance Slater, Braden Marcellus and Proudfoot.
Joining Thompson in the all-senior starting lineup were Carney, Gratzmiller, Proudfoot and Singleton.
"Hayden was an easy choice to be a starter for us tonight," Clement said. "He's not a kid who sits at the end of the bench, talking to somebody, not paying much attention. He's always into the game, cheering and supporting his teammates.
"It was great seeing him hit those threes. He deserved that moment. I'm happy for him."
And Thompson is happy he's stuck around the program for all four years.
"This is a brotherhood. We're all best friends," Thompson said. "That's what this is about, enjoying this time together with your friends. No way was I ever gonna quit on that."
Butler returns to section play Friday night, traveling to North Hills.
"I said before the season started North Hills was the best team in the WPIAL and I still feel that way," Clement said. "They will be a challenge, but we'll game-plan for it, go down there and get after it."
NORWIN 69
Adam Bilinsky 10-16 1-1 21, Ryan Edwards 4-10 2-2 12, Michael Fleming 1-115-6 7, Justin Weaver 3-5 0-0 7, Ty Stecko 7-9 2-3 22, Jacob Murray 0-0 0-0 0, Trent Raspotnik 0-0 0-0 0. Totals: 25-50 10-12 69.
BUTLER 61
Braylon Littlejohn 1-3 0-0 3, Raine Gratzmiller 6-8 4-4 17, Devin Carney 8-22 0-0 22, Madden Clement 2-9 0-0 6, Ryan Porch 0-0 0-0 0, Colin Patterson 0-2 0-0 0, Charlie Kreinbucher 1-3 1-2 3, Lance Slater 0-0 0-0 0, Kaleb Proudfoot 1-2 23-4, Hasyden Thompson 2-2 0-0 6. Totals: 21-51 7-12 61.
Norwin 22 9 15 23 — 69
Butler 13 16 19 13 — 61
3-point goals: Norwin 9 (Edwards 2, Weaver, Stecko 6), Butler 12 (Littlejohn, Gratzmiller, Carney 6, Clement 2, Thompson 2)
JV: Butler, 53-33 (B: Ryan Porch 11, Colin Casteel 11; N: Luke Denny 10)
Friday: Butler at North Hills