Butler's Jennifer Cichra signs to compete at SRU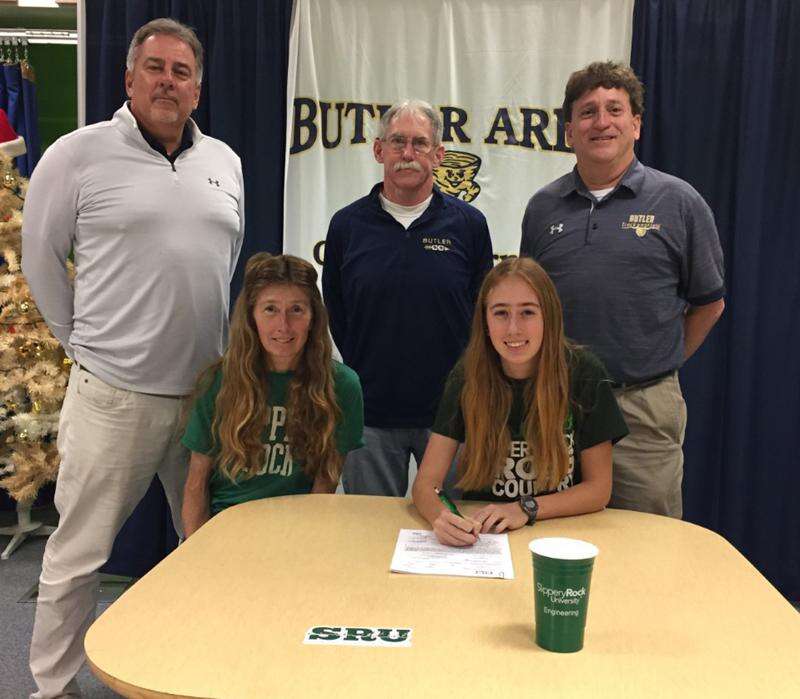 BUTLER TWP — Jennifer Cichra is well aware of the two sides to distance running.
"It can be tough mentally, but once I'm done with a race, I feel like I accomplished something," she said.
Cichra should know. She was a member of Butler's girls cross-country team all four years and will be a four-year distance runner on the track team in the spring.
Her acceptance of the challenges that come with both sports has helped her succeed and is a big reason why she will be competing in both at the collegiate level.
On Wednesday, Cichra signed a letter of intent to continue her athletic and academic careers at Slippery Rock University, where she will be on scholarship.
She also considered Youngstown State and Pitt-Johnstown.
"On the athletic side, I felt like the programs at SRU really fit me," she said. "They also have a new mechanical engineering program with a lot of new equipment and that's what I will be studying."
Cichra qualified for the state cross-country meet her sophomore and senior seasons.
"The only reason she didn't make it as a junior was they took less runners because of COVID," said Butler cross-country coach Rick Davanzati. "She was one of our top five runners as a freshman and has progressed and gotten stronger every year. That bodes well for her as she heads to SRU.
"I know it sounds cliché, but she is so coachable. You tell her to do something and you just know it's going to get done."
The training involved in competitive running often involves structured team workouts, but to be successful, one must also put in a lot of time on their own.
"I live in Renfrew," said Cichra. "There are hills on all sides of my house and I've run up and down every one of them."
Those practice runs aren't unlike a cross-country meet.
"Cross-country has always been my favorite sport," said Cichra, who also is running on the indoor track team this winter. "I like the change of scenery and the challenge of the hills. Every course is different."
But her passion to improve has also been evident on the track. She helped Butler win WPIAL Class 3A team championships in 2019 and 2021.
She earned a medal by placing eighth in the 800-meter run at districts last spring.
"My goal this spring is to get to states," she said. "I've been an alternate in relays there, but have never gone individually."
Mike Seybert, distance coach at Butler, isn't betting against her.
"She has good balance in all three events (800, 1,600 and 3,200) and will be the anchor for our 4x800 relay," he said. "Her form, strength and speed have all improved and it's been fun to watch her growth.
"She's always doing what she needs to do to improve."