Karns City softball standout Fox opts to join PSAC's Golden Knights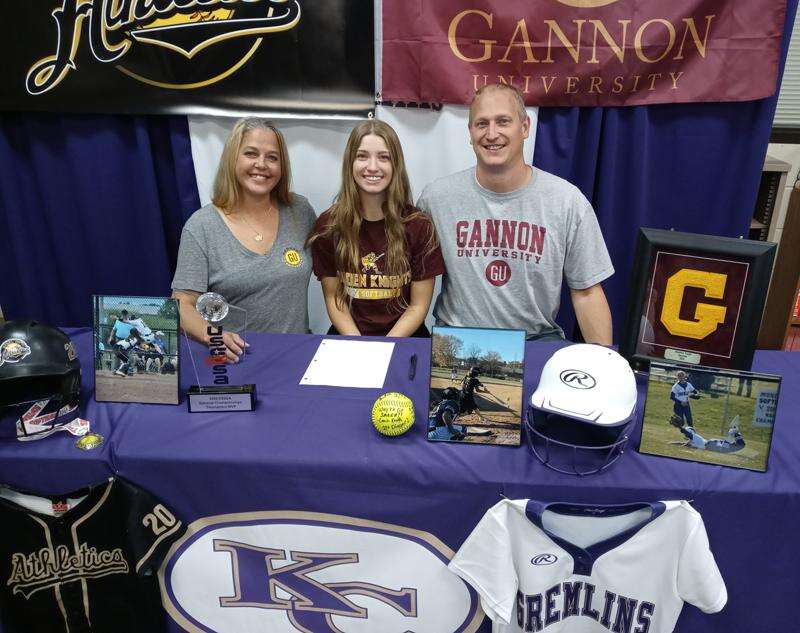 KARNS CITY — From one winner to another.
That's the plan for Karns City senior softball player Ashley Fox, who signed a letter of intent Monday to continue her academic and softball career at Gannon University.
A center fielder, Fox is joining a Golden Knight program that has reached the Pennsylvania State Athletic Conference championship game in two of the past three seasons.
"I love the coaching situation up there and the high level of competition," Fox said. "They have a great engineering program, too, which will be my major."
Fox also considered Penn State Behrend, Seton Hill and Clarion before opting for Gannon.
She played sparingly as a freshman at Karns City before losing her sophomore season to the COVID-19 cancellations. Fox made up for that lost year with a stellar junior campaign.
She hit .551 with six home runs, both figures leading the team. Fox had a .621 on-base percentage and collected 30 RBI while hitting third in the Gremlins' batting order.
Karns City finished 16-3 last spring, losing the District 9 championship game to Punxsutawney.
"Ashley steals a lot of bases, too," KC softball coach Mike Stitt said. "Really, there are no weaknesses to her game.
"She's a pleasure to coach and it's fun to watch her play. She makes amazing catches in the outfield."
Fox has been playing softball since she was 8. Her mother, Nicole, played high school softball at Ford City and played recreationally in college.
"I guess that's where I get it from," Ashley said. "I've always loved the game.
"Base running is my favorite part of softball. I love making the catchers upset."
Fox had 10 RBI in a game against Redbank Valley last spring.
"I put no restrictions on her when she's at the plate or on the bases," Stitt said. "I totally trust her instincts."
Fox began her softball playing days as a third baseman. She switched to the outfield at age 12 and never switched back.
"I love the running, chasing down fly balls," she said.
Also a longtime member of the Steel City Select travel ball team, Fox hit .370 for that team over the summer.
"She's a robber in the outfield," Steel City Select coach Shannon Sullivan said of Fox. "She robs hitters of home runs. She robs them of hits. She makes diving catches to the left, diving catches to the right.
"Her attitude and ability are top of the line. There's nothing she can't do on a softball field. Ashley can switch-hit. She can drag-bunt or slap-hit from the left side. Her versatility that way is impressive."
While Gannon is coming off a 30-16 season that resulted in a PSAC title game loss to Seton Hill, Sullivan said there is no question Fox will contribute to the Golden Knights right away.
"Absolutely, she will play there as a freshman," Sullivan said. "She will slide right into their lineup and make an impact.
"I tell my players all the time ... go with the feeling that feels like home. Gannon feels like home to her. It's where she wants to be."
Fox recognizes the challenge of cracking a lineup on a college team as a freshman — particularly a championship contender.
"I know I'll have to work at it, but everybody's goal is to play right away," she said. "Nobody wants to sit. I want to get on the field like everybody else."
Of course, she's not through with her athletic career at Karns City yet.
Fox played volleyball for the Gremlins and competes in track and field. She runs the 100 and 200 meters, a leg of the 4x100 relay, does the long jump and throws the javelin.
She placed fifth in the javelin at the PIAA Championships last spring.
And she has one remaining goal in high school softball.
"Win District 9," she said. "We've come so close before. It's time to bring that home."