Brewing a career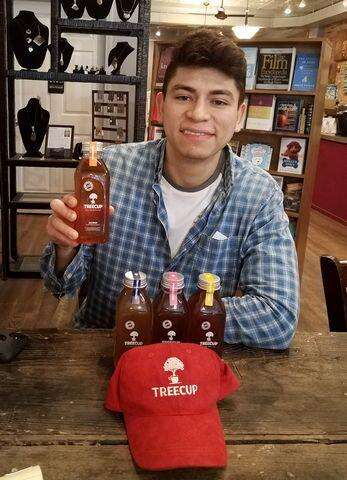 Grove City College student aids Haiti reforestation with tea business
Mark Sotomayor, 22, is on track to graduate this spring with a degree in entrepreneurship from Grove City College.
But his Treecup organic tea brand already has made the grade as far as Whole Foods is concerned.
The organic supermarket chain has agreed to carry his iced teas in six flavors (Berry Jasmine, Lemon Ginseng Green, Peach Turmeric, Gyokuro Matcha, Lumberjack Black and Peruvian Chai) at its stores in East Liberty, Wexford and Upper St. Clair.
Sotomayor considers it a big win for him and his fledgling product line.
"I pitched them back in September. I pitch a lot of the top retailers. I pitched at the Sheetz HQ in Latrobe, but they didn't respond as well as Whole Foods," said Sotomayor.
How long his Treecup brand of bottled teas stay in Whole Foods will depend on sales, he said.
"It's imperative to energize the local community. I think we will be able to move it just fine," he said.
Good news for Treecup sales also means good news for reforestation efforts in Haiti.Sotomayor said 10 percent of the retail price of every bottle of Treecup sold goes to Haiti Friends, a nonprofit based in Pittsburgh dedicated to planting trees in Haiti.According to Haiti Friends, by the turn of the last century, 98 percent of Haiti had been deforested due to logging for timber, slash-and-burn agriculture and to fill the great demand for cooking fuel. Most of the land's rich topsoil has washed into the sea.Haiti's mountains have eroded to bedrock and its aquifers are drying up. The deforestation and the resulting desertification is Haiti's single largest ecological problem, according to Haiti Friends.Sotomayor said it costs 35 cents to plant a tree — either mahogany, Haitian oak or cassia."I came up with the slogan, 'Buy a tea, plant a tree.' It just felt right," he said.Edward Rawson, the executive director of Haiti Friends, said, "Mark's a startup company. It's great he's using his platform to help spread the word of the deforestation in Haiti."Rawson said the tree-planting program is in its 16th year and has planted 3 million trees so far, mostly in the center of the country in the Argibonte River valley, the breadbasket of Haiti.In addition to tree planting, Rawson said his organization is working with Haitian farmers to change their method of farming away from slash-and-burn practices and to reduce their reliance on corn crops.
Treecup teas and its connection to the reforestation effort in Haiti began in the unlikeliest of places — Sotomayor's mother's kitchen in Evans City two years ago.His mother, Vitalia Sotomayor, grew up drinking the tea made by her mother, Vitalia Montez, and passed the taste for it to her son.Home from college, he was enjoying a pitcher of his childhood favorite when he told his mother she could bottle and sell this tea.His mother said, "You study entrepreneurship, why don't you?"But Sotomayor has had a few missteps along the way with his iced tea brand.At first, he called his teas, which grew to number six flavors, Té Amo, meaning "I love you" in Spanish.He first sold his teas at the Evans City "Night of the Living Dead" Weekend event.One cease-and-desist order from a Guatemalan company with the same name later, and Sotomayor needed to come up with a new brand name.A consultation with a patent attorney created the new name: Treecup.With legalities straightened out and new labels printed, Sotomayor is back to actually brewing his tea."I make it in the Evans City VFW every Saturday," he said. "It's the only commercial kitchen that's available."Using six three-gallon pots, he heats water to boiling before adding loose-leaf ethically sourced organic tea.He brings it to a boil, strains it and cools the tea to 40 degrees.He adds spices such as cinnamon, cloves and anise to create different flavors.The tea is poured into biodegradable bottles and refrigerated."I make it to order, there's no excess. Because there's no preservatives, the tea has a two-month shelf life," he said.After he graduates, Sotomayor said he plans to spend the summer selling Treecup teas and getting its name known.He hopes to expand Treecup's retail presence to Market District stores and bring his tea to a lot of vendor events such as Pickelsburgh.