Rock rolls past East Stroudsburg, 45-14, in playoff opener
Bouncing Back
SLIPPERY ROCK — East Stroudsburg's defensive game-plan against Slippery Rock was clear. Don't allow any deep passes downfield.
"We wanted to take away Brayden Long throwing deep to Kyle Sheets," Warriors coach Jimmy Terwilliger said. "That combination can do a lot of damage in a hurry.
"We wanted to make them run the football."
Be careful what you wish for.
The Rock (11-1) rushed for 287 yards and five touchdowns on Saturday at Mihalik-Thompson Stadium, rolling to a 45-14 first-round Division II football playoff win over East Stroudsburg (9-3).
The Warriors entered the game ranked No. 1 in the PSAC against the run and 10th in the country in that category.
"This is the best game our offensive line has played all year," SRU coach Shawn Lutz said. "They consistently pushed their line back. Our tempo hurt East Stroudsburg, I think. Their line was getting a little tired.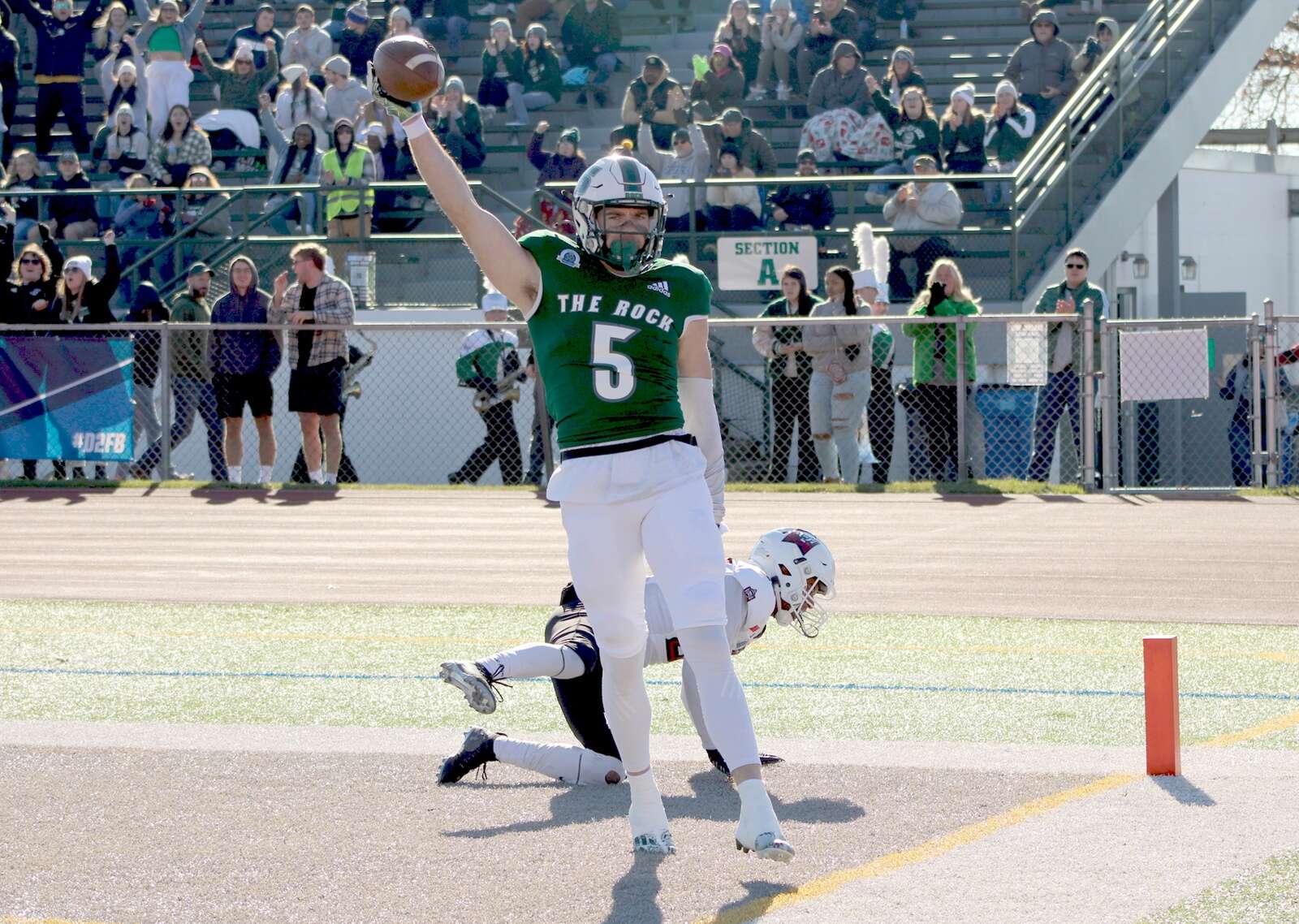 "They imposed their will on us," Warriors defensive end Daryn Blackwell admitted. "We had no answer."
The Warriors didn't have many answers for SRU's defense as well. The Rock defense allowed only seven points — Justin Cook had a 95-yard kickoff return for a score — and 220 total yards. The Rock generated 521 total yards.
"Our coaches came up with a great defensive game-plan," SRU linebacker Kyle Kudla said. "I'm proud of our defense the way we executed that game-plan.
"We put together four solid quarters of football defensively for the first time all year."
Only three teams rushed for more than 100 yards against the Warriors all season before SRU struck for the 287 on Saturday.
"Slippery Rock was 10-0 during the regular season with an impressive body of work," Terwilliger said. "They can do so many things. It's like, cut the head off the snake and three other heads pop up and beat you."
East Stroudsburg grabbed an early 7-0 lead. Rock running back Khalid Dorsey lost a fumble on SRU's second snap from scrimmage. The Warriors took the ball 65 yards in nine plays to get on the scoreboard as Tyriq Lewis scored on a 1-yard run.
The Rock responded with a 10-play, 80-yard drive of its own, Dorsey scoring on an 8-yard run to knot the game.
"That felt pretty good," Dorsey said of the touchdown. "I felt terrible after losing that fumble, but I knew my teammates had my back. That's the way this team is. We pick each other up.
"The way our offensive line was playing, I knew we were gonna get plenty of carries today."
The Rock took the lead it never lost on a fake punt. On 4th-and-10 from the East Stroudsburg 46, Kylon Wilson took the short snap, raced to the near sideline and got free down that sideline for a touchdown.
"If (East Stroudsburg's) formation wasn't right, we were gonna call it off," Lutz said of the fake punt. "But the play was there. Kylon's not a big guy, so he can be lost in our punt protection. He got to the edge and made a couple of guys miss for the touchdown."
Sheets caught a 20-yard touchdown pass for a 14-point lead, but Cook responded with his 95-yard kickoff return. SRU then put together a 15-play, 69-yard drive that resulted in a Mason Yohn 28-yard field goal and a 24-14 edge at halftime.
The field goal was the team's first of the season. SRU and Shaw (3-7) were the only two Division II teams in the country without a field goal all season before that kick.
Isaiah Edwards culminated a pair of 65-yard drives with short touchdown runs in the third quarter to put the game out of reach.
"I give credit and congratulations to East Stroudsburg for making the national playoffs," Lutz said. "I have a lot of respect for Coach Terwilliger and that's an up and coming program. But I'm so happy and proud of my football team right now.
"After last week (31-7 loss to Kutztown in PSAC title game), everybody was asking, 'What's wrong with The Rock?' There wasn't much wrong with us today."
Notes: SRU had 29 first downs to East Stroudsburg's 13 and possessed the ball for 36 minutes. ... The Rock went 4-for-4 on fourth down and never formally punted. SRU ran the fake punt and had its only other punt attempt negated by an East Stroudsburg penalty. ... Kudla led SRU with 11 tackles and went over 300 for his career. ... Sheets ranks third all-time with 28 TD catches in his Rock career. ... SRU is 16-3 all-time against East Stroudsburg. ... The Rock travels to unbeaten Tiffin for a noon kickoff this Saturday.
East Stroudsburg 7 7 0 0 — 14
Slippery Rock 14 10 14 7 — 45
First Quarter
ESU — Tyriq Lewis 1 run (Ty Quintois kick), 7:35
SRU — Khalid Dorsey 8 run (Mason Yohn kick), 4:04
SRU — Kylon Wilson 46 run (Yohn kick), :42
Second Quarter
SRU — Kyle Sheets 20 pass from Brayden Long (Yohn kick), 9:54
ESU — Justin Cook 95 kick return (Quintois kick), 9:42
SRU — Yohn 28 field goal, 3:25
Third Quarter
SRU — Isaiah Edwards 3 run (Yohn kick), 12:10
SRU — Edwards 14 run (Yohn kick), 3:05
Fourth Quarter
SRU — Chris D'Or 42 run (Yohn kick), 3:46
Individual Statistics
Rushing: East Stroudsburg, Triq Lewis 11-51, Charlie McKee 9-33, Tahir Mills 7-27, Adrian Lambert 2-3, Deante Crawford 2-1. SRU, Chris D'Or 15-90, Khalid Dorsey 14-85, Isaiah Edwards 15-64, Kylon Wilson 1-46, Brayden Long 2-9, TEAM 1-(-1), Jawon Hall 1-(-6).
Passing: East Stroudsburg, Charlie McKee 8-15-86-0, Aaron Tobias 3-8-19-0. SRU, Braydon Long 21-30-234-0.
Receiving: East Stroudsburg, DJ Thomson 4-24, Jonathan Post 2-18, Deante Crawford 1-36, Tyriq Lewis 1-11, Justin Cook 1-9, Randy Fizer 1-5, Beau Heyser 1-2. SRU, Cohen Russell 5-66, Chris D'Or 4-30, Kyle Sheets 3-48, Kam Kruzelyak 3-46, Jawon Hall 3-20, Khalid Dorsey 1-9, Isaiah Edwards 1-8, Logan Ramper 1-7.

More in College