In visit here, Mrs. Carter shakes hands at plant gate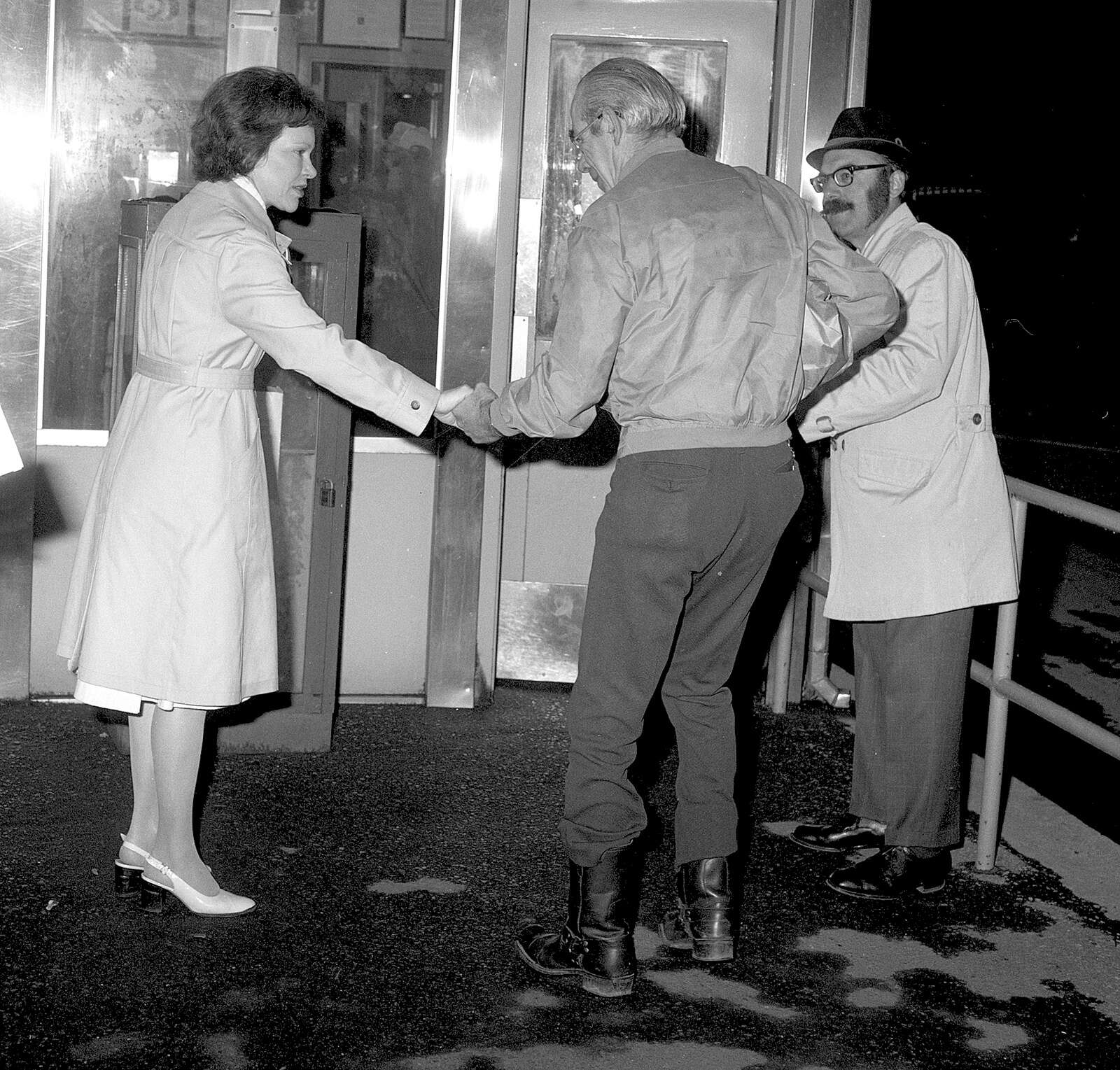 This story was originally printed in the April 26, 1976, Butler Eagle. We are reprinting it on the event of the death of former first lady Rosalynn Carter on Sunday.
Cold breezes and a few blowing snowflakes surrounded Mrs. Jimmy Carter at 6:30 a.m. today when she continued her campaign for her husband's presidential candidacy by shaking hands with Armco workers at the main gate.
Rosalynn Carter later thanked supporters and delegate candidates at an invited breakfast at Perkin's Pancake House before moving on to Pittsburgh for more appearances in the closing of the final day of the Pennsylvania primary campaign.
A New Hampshire campaign worker reported that Carter supporters were ordered to leave the Pullman Standard gate area this morning immediately after they arrived and began to distribute campaign literature.
Speaking briefly about the campaign, Mrs. Carter emphasized that her husband's freshness has been an attractive factor to many voters, and stressed the impact of tomorrow's primary in maintaining the Carter momentum.
"What we do in Pennsylvania," said Mrs. Carter, "is important. It can really give us a boost. But it certainly can't stop us."
After being introduced this morning by Slippery Rock State College Prof. Donald Megnin, a candidate for delegate to the Democratic National Convention pledged to Carter, Mrs. Carter brushed off any doubts about the reasons for her husband's frontrunner position.
"Every time that we win an election," she said, "somebody acts surprised. But at what?"
According to Mrs. Carter, Jimmy has been able to refer to his record as former governor of Georgia in his pledge to clean up federal bureaucracy, and has had the advantage of getting the support of Americans in both large and small towns in his campaign swings across the country.
"If Jimmy is elected, it will be with no strings attached. We don't owe any lobbies in Washington."
Mrs. Carter noted that campaigning for Jimmy since April 14 has left little time for family gatherings, since everyone has been traveling on the primary route. In addition to Mr. and Mrs. Carter, the family campaign staff boasts of three married sons, including Chip Carter, who with his wife, Caron, visited Butler for a reception three weeks ago.
Among the supporters in attendance at this morning's breakfast were Gene Zarnick, Butler County Democratic Chairman Marc Selman, and Slippery Rock State College Student President Jim Ross.
Mrs. Carter spent Sunday night at the home of Gene G. Zarnick, 112 Coventry Dr., who with his son, Dave, spoke to Jimmy Carter when they met Mrs. Carter at the Pittsburgh airport yesterday.
More in Local News