Zelienople's history stretches back to the frontier days
Prior to 1800, the area that would become Zelienople was a dense, old-growth forest without roads or significant settlement.
Indian villages and trails traversed the area and were centuries old. The only notable early traveler to enter this valley was a 21-year-old George Washington on his first public mission. He was delivering a letter to the commander of the French-held Ohio Country on behalf of the governor of Virginia. He and his entourage of Indian guides and interpreters traveled through the area in 1753. The trail from Logstown — now Ambridge — went directly through what would later become Zelienople.
It wasn't until after the Revolutionary War and the creation of Butler County in 1800, that any other known person visited here. In 1802, recently widowed Dettmar Basse, a German diplomat from the Frankfort government to Napoleon's court, purchased 10,000 acres north of Fort Pitt. He headed overland from Philadelphia to the frontier village of Pittsburgh, where he gathered workers and materials. He traveled down the Ohio and over Indian trails to see his new lands, called "The Creek Meadows."
He and his workers set up tents and started building a sawmill, brick yard, iron furnace, distillery, grist mill and a dam for water-power, and laid out lots for a town. His vision was to create a barony here like the ones he knew in Europe. His famous Bassenheim Mansion (Basse's Home) was the finest building in Zelienople, taking seven years and $7,000 to build. It was three stories high with castle-like towers, turrets, and battlements. The mansion was on a hill just west of town, enabling Basse to overlook the fertile valley below. The mansion was destroyed by fire, as reported in the Pittsburgh Gazette of Aug. 4, 1841.
In 1806, Basse traveled back to Germany to get his daughter, Zelie, and her French husband Philippe Passavant. They were reluctant to come to America and live in primitive conditions on the frontier, but Basse insisted they live in the town he'd named for her. They built a log store, and the following year they built a brick house. The 1808 Passavant House is Zelienople's oldest structure and was acquired by the Zelienople Historical Society in 1978. It now houses a museum and offices.
Zelie had five children, and one of Zelie's sons, Rev. William A. Passavant, is listed on the Calendar of Saints of the Lutheran Church in America. During his lifetime, he helped found over 40 benevolent institutions including schools, orphanages, churches and hospitals, and he brought the Lutheran women's deaconess movement to America.
In 1848, he founded the first Protestant hospital in America in Pittsburgh and founded the Orphans Home in Zelienople in 1854. He was so well known and respected that Andrew Carnegie asked for his daughter's hand in marriage, but the Passavant's refused due to the families' religious differences.
Christian Buhl of Germany came to Zelienople shortly after Dettmar Basse. He was a hatter and furrier by trade, and in 1819 he built a brick house on Main Street. He married Dorothea Goehring of Cranberry, and they had 11 children, some of whom distinguished themselves in the world of business: Frederick and Christian Buhl moved to Detroit where they were very successful and both served as mayors of the city.
Frank Buhl was president of Sharon Steel — located in Farrell and Sharon — and founded Sharon General Hospital. His mansion house is now a bed and breakfast.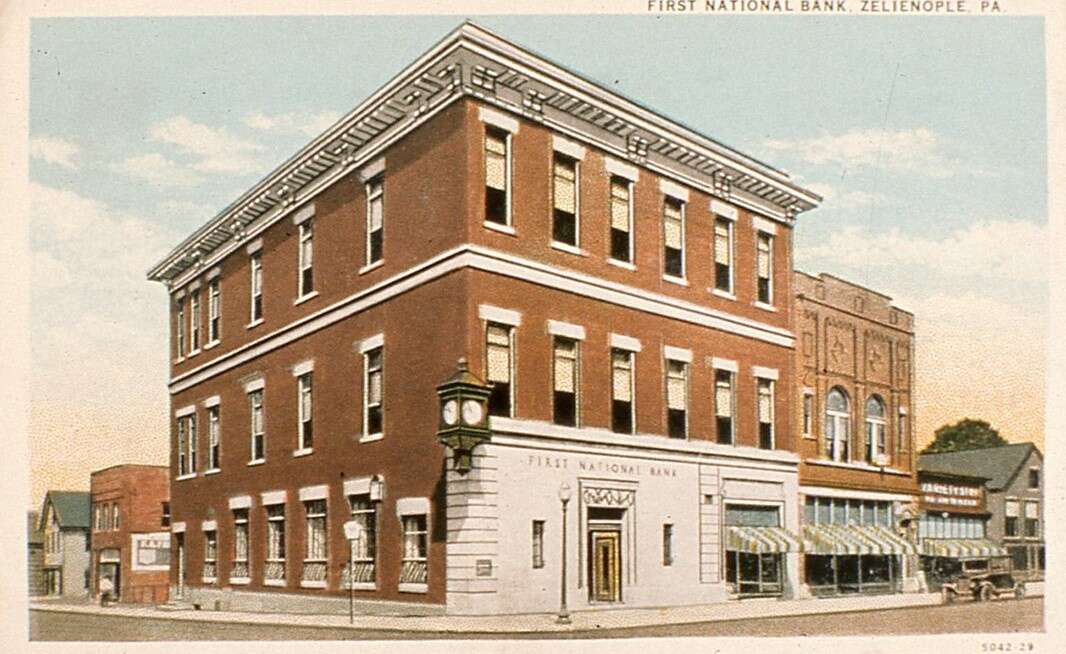 Grandson Henry Buhl Jr. founded the Boggs & Buhl Department Store in Pittsburgh. He also helped create the Harmony Route electric trolley line, serving Pittsburgh, Butler, Zelienople, and New Castle. Upon his death, he left an $ 11 million endowment to the city of Pittsburgh that was responsible for the Buhl Foundation, Buhl Science Center, and Buhl Planetarium.
Early settlers in Zelienople were interested in building schools and churches. The first church was the 1821 St. Paul (German) Lutheran Church, on land donated by the Passavant family.
Philippe and Zelie Passavant attended the church, as did their son, the Rev. William A. Passavant. Soon there were churches of several denominations in the town.
The first school was a one-room octagon-shaped wooded building on the town square. The teacher stood in the middle of the room with grades one to eight around her. In 1884, a larger building was built, housing 12 grades. The Zelienople High School was built in 1909 and was in use until the last class graduated in 1964. Seneca Valley was built for the class of 1965.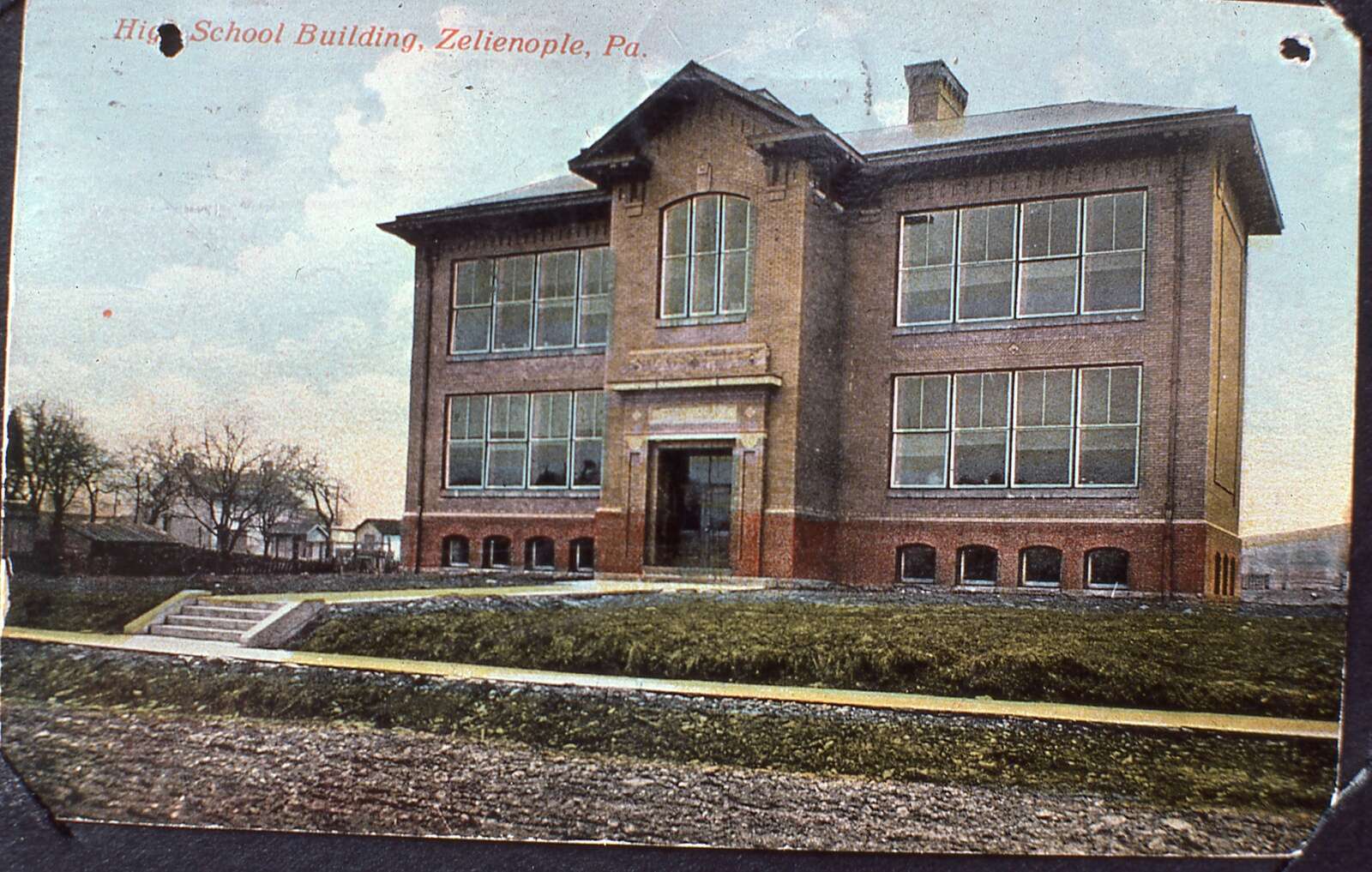 The early 1900s was a time of many clubs and social organizations: the Lions, Rotary, Fortnightly Club, Zelia Rebekah Lodge, Romanian Society, Hungarian Society, Odd Fellows, Maccabees Lodge, American Legion, and the Old Furnace Polo Club.
Zelienople never had a hospital, but it had many local doctors to provide necessary health care.
Dr. Orrin Palmer was probably the first in town, arriving in 1835. He was followed by Dr. Loring Lusk and his two sons, Amos and Joseph Lusk. The early fire, police, library, and borough office was housed in a wooden building on West New Castle Street. The current borough building dates from 1931 at that same location.
In early Zelienople, the town was filled with small trade shops, livery stables, and general merchandise stores. Industry as we know it didn't arrive until 1879 when the railroad came to town. Some of the early industries were: Iron City Sanitation, Kavanaugh Machine, Flexible Bolt, Herman Pneumatic, John Ifft Lumber, C.B. Harper Flouring Mill, Empire Glass Works, Laderer Carriage, Universal Manufacturing, Robinson Industrial Fans, Cunningham, Shirley, and TASA Coal Companies.
There has been a tavern at Main and New Castle streets since Andrew McClure's tavern in 1810. Commodore Oliver Hazard Perry's troops tarred and feathered McClure as a British sympathizer in 1813 on their way to battle the British on Lake Erie.
Another early tavern, The Golden Eagle Hotel, was built by Rudolph Kelker in 1825, but the former stage coach stop was demolished in 1935.
After the great fire of 1902 destroyed five buildings, including the Grand Central Hotel, the New Hotel Stokey, now Kaufman Tavern, was built on the same location.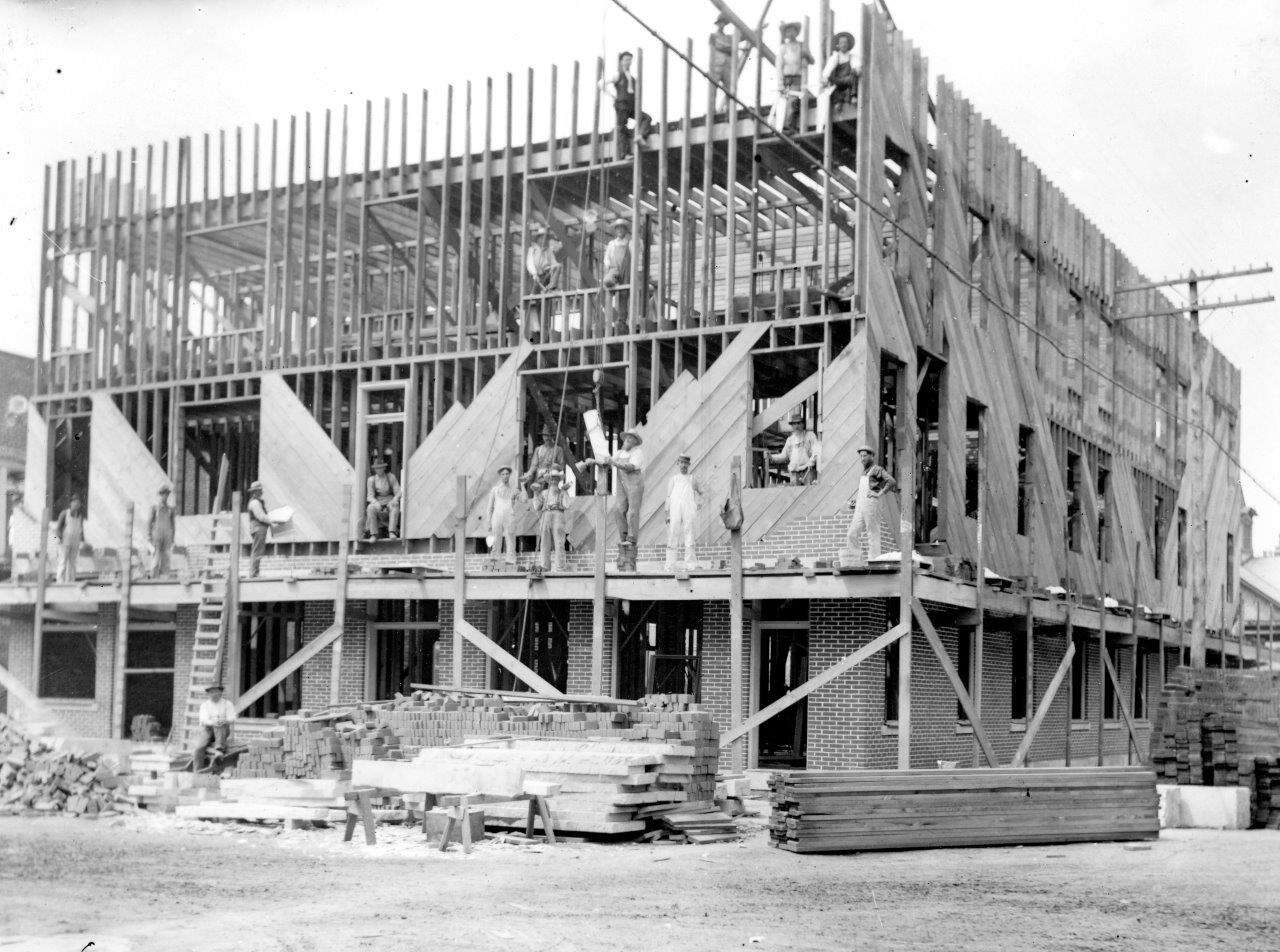 However, much to the surprise of the building contractor, a skeleton was found buried under the ruins. Older residents said that a horse-drover stopped there about 50 years ago with a large amount of money in his saddle bags. He stayed overnight but was not seen the following morning or ever again. It was suspected that he had been murdered, but since his body was never found, the crime was never solved. The victim and the murderer remain unidentified to this day.
One of the most impressive buildings in town is the First National Bank of Zelienople, a fine three-story brick building, built in 1906. The second floor contained a "commodious opera house," and the third floor held a lodge headquarters. The famous town clock was added during the 1920s, and it was recently restored by the borough.
In 1914, a new form of entertainment was added with the newly built Strand Theater. Joseph Sapienza built a vaudeville-style theater with a stage and a fruit market next door. In 1939, it was remodeled for showing movies, perhaps for a premiere of "Gone with the Wind," released that same year.
Many fine houses were built in Zelienople during the late 1800s, including large two- and two-and-a-half story houses, with stone, brick and slate construction. A few of these were destroyed, but many others have survived and have been restored by the current owners. Over 300 houses are 100 years old, including the Stauffer House 1847, which is also reputed to have been a stop on the Underground Railroad.
For more on the history of Zelienople, contact the Zelienople Historical Society, 243 S. Main St., at 724-452-9457 or www.zeliehistory.org.
Tom Nesbitt is an author and historian.
More in America 250