Butler runs well in Hershey
In the rain and mud, the Butler cross country teams competed in Saturday's PIAA Foundation Invitational in Hershey. The boys' team placed eighth out of 41 teams — all from Pennsylvania — as Drew Griffith finished first in a field of 301 runners (15:48).
The girls finished in 17th place out of 42 teams — led by Ava Brewster in 35th place, running 20:46. She was followed by the personal best runs of Makayla McLister (21:17), Madison McGarrah (21:24), and Elizabeth Keffalas (22:37).
Boys Soccer
Butler beat Kiski Area, 4-1, Saturday night, as Nick Niebauer had two goals and one assist. Thomas Sheptak had one goal and one assist. Mason Anderson also scored, while Lawson Neigh and Cody Lubinsky each had an assist.
Slippery Rock 2, Hickory 1 (2OT) — Trent Davey scored both goals for the Rockets (9-2, 4-0).
Braden Callen had an assist and Josh Book made seven saves in net.
Girls Soccer
Leah Deal and Leah Weiland scored two goals each Saturday as Butler shut out Kiski Area, 7-0. Ella Rekich, Paige Griest and Ella Nichols also scored for the Golden Tornado, the latter notching her first varsity goal.
Deal had two assists, Rekich, Weiland and Kaitlyn McGuire one each for Butler.
Pine-Richland 3, Butler 1 — Wolford scored off an assist from Rekich for the Tornado (8-4, 5-3) in this Monday loss that snapped the team's five-game winning streak.
Karns City 8, Brookville 0 — Bree O'Donnell found the net three times in the Gremlins' rout.
Sarah Dodd added two goals, Hanna Dailey one goal and two assists, Carleigh Lucas one goal and one assist and Audrina Hobaugh one goal.
Aubrey Price contributed two assists and Phoebe Brandon one.
Savanna Prescott earned the shutout in goal.
Mars 5, Hampton 0 — The Planets improved to 9-0 overall and 7-0 in section play. No other details were available.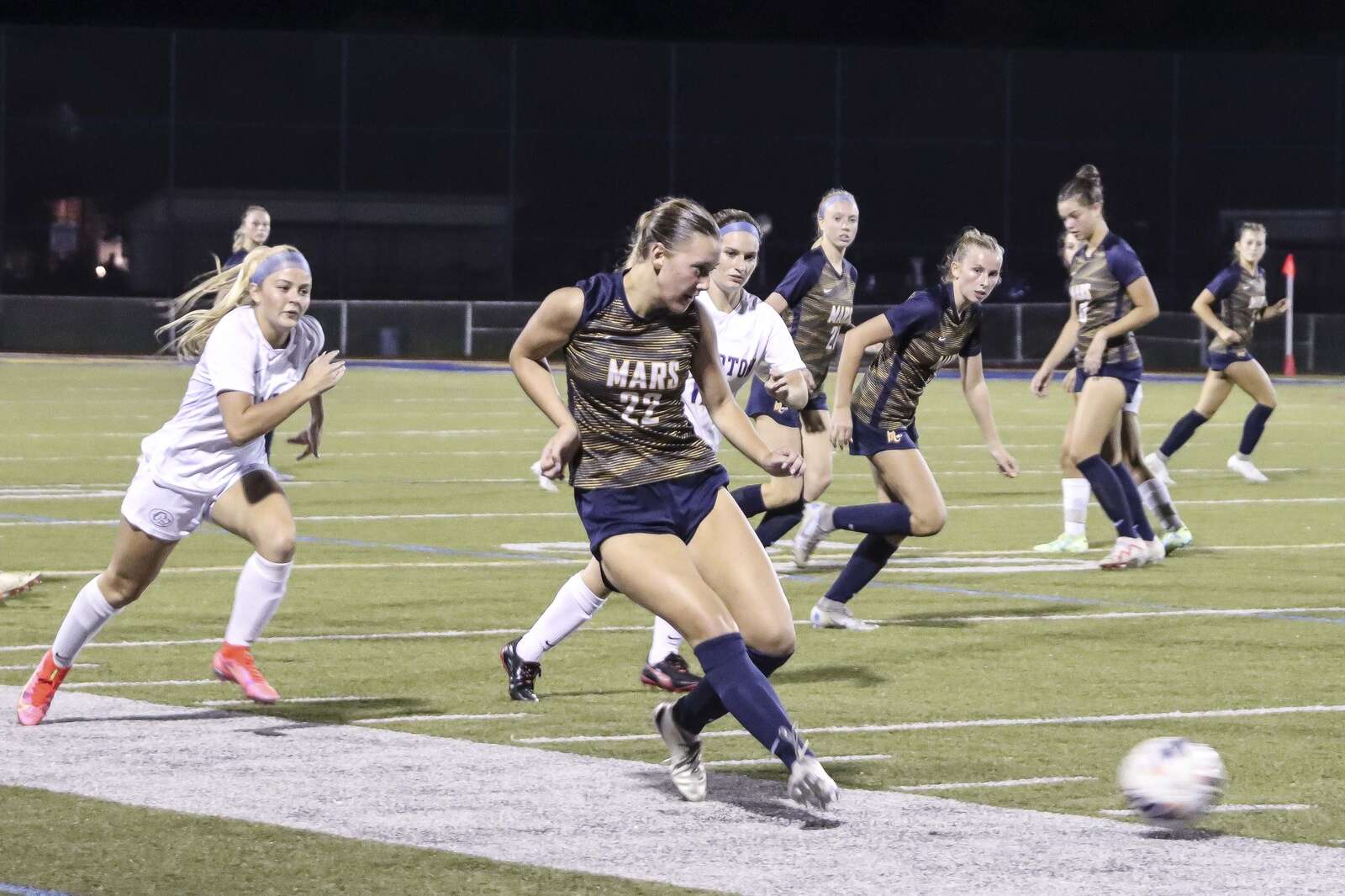 Boys Golf
Five county golfers qualified for the WPIAL Class AAA Individual; Championship final by placing among the top 36 in the semifinal round held Monday at Latrobe Country Club.
Butler's Hunter Swidzinski carded a 77 to place fifth. The Golden Tornado's Wyatt Kos shot an 81 to finish 20th. Mars' Lukas Singh and Colin Stevenson, along with Seneca Valley's Payton Brown, tied for 30th with an 82.
The championship round will be played Oct. 2 an Valleybrook Country Club.
In Class AA, Knoch's Mason Phillips carded an 84 and tied for 31st during the WPIAL Individual Championship semifinals Monday at Willowbrook Country Club in Apollo. The top 36 golfers qualified for the finals.
The championship round will be Oct. 2 at Butler Country Club.
Girls Volleyball
Karlee Buterbaugh had 10 kills in Knoch's 3-0 victory against Highlands.
Jess Farbacher served for 17 points and had six kills for the Knights (8-2, 4-1). Brynne Smith added eight service points and six kills.
Knoch won by scores of 25-16, 25-11 and 25-19.
Sharpsville 3, Karns City 1 — Ava Fox had nine digs, seven kills and four aces for the Gremlins. Match scores were 28-26, 18-25, 22-25, 15-25.
Haylie Karenbauer had four kills, Cayley Craig three aces and three digs, Ashley Mauer eight assists and six digs, Jaysa Capone 13 digs, Naomi Venesky three kills, Nicole Taylor six kills, 11 assists and seven digs.
Sheffield 3, A-C Valley 0 — Bella Ielease had two kills and 19 digs for the Falcons (2-6() in this defeat. Match scores were 25-15, 25-20, 25-13.
Maddy Dehart had seven digs, Brianna Schmidt two kills for A-C Valley, which hosts Union on Tuesday.
Girls Tennis
Seneca Valley won at No.'s 1 and 2 singles in defeating Shaler, 4-1. The Raiders (8-5, 4-3) swept the doubles matches and earned a spot in the WPIAL playoffs.
Singles: Kylie Staudt (SV) def. Josie Wilkins, 6-1, 6-0; Lillie McElhinney (SV) def. Paige Sigmund 6-1, 6-0; Grace Grabowski (S) def. Sydney Blucher 6-1, 6-2
Doubles: Anna Coon-Marlee Jones (SV) def. Alexis Grabewski-Devyn Campbell 6-1, 6-3; Lily Wood-Alaina Brody (SV) def. Hannah Guiste-Maggie Mills 6-0, 6-1
Moon 4, Butler 0 — The Golden Tornado dropped this rain-shortened match to the Tigers.

More in Sports